Maggie Stiefvater Get Reading Interview
At just 29 years old, Maggie Stiefvater can already boast five New York Times best sellers and a worldwide hit book series. A publishing prodigy, Maggie Stiefvater is currently touring with the 2011 Australia Council's Get Reading! program to inspire other young writers.

Maggie's books are published in 32 countries around the world and a film adaptation of Shiver is already optioned. Sales of her books in Australia exceed 200,000 copies.

In addition to her publishing success, Maggie is an award-winning coloured pencil artist and professional musician, playing the Celtic harp, the piano, and the bagpipes. She juggles international literary success with being a wife and mother.

"All of my life decisions have been based around my inability to be gainfully employed," jokes Maggie. "Talking to yourself, staring into space, and coming to work in your pyjamas are frowned upon when you're a waitress, calligraphy instructor, or technical editor - all of which I've tried. But these are highly-prized traits in novelists, musicians, and artists, and I've made my living as one of these since I was 22."

Get Reading! has selected Lament: The Faerie Queen's Deception as one of 'The 50 Books You Can't Put Down' in the 2011 Get Reading! Guide. The Books of Faerie; Lament and Ballad, touch on a world filled with dangerous faeries, otherworldly music and unrequited love. Deirdre Monaghan and her best friend James Morgan's lives change forever as they encounter the vicious and beautiful world of Faerie.

The Wolves of Mercy Falls (Shiver, Linger and Forever) series tells the story of Grace who falls in love with Sam, a boy who must become a wolf each winter. They must decide how much they're willing to risk in order to be together. These books are at times harrowing and euphoric, but are ultimately a spellbinding love story that explores both sides of love.

"The supernatural world is an enticing read for everyone, young and old. It's society's new obsession. Stories of romance with supernatural beings like werewolves are captivating and enchanting but also carry a sense of danger and risk. It is this combination that reels in readers and keeps them hooked," says Maggie.

Andrew Berkhut, Head of Publishing at Scholastic, says, "With the plethora of paranormal romances in the market, it's fantastic to have such a beautiful and lyrical series from such a talented young writer. Though these books are fantasy, the issues they explore are refreshingly real. Maggie's writing is sure to have timeless appeal."


Interview with Maggie Stiefvater
Question: Why did you choose to participate in the Australia's Council's Get Reading! Program?

Maggie Stiefvater: I actually participated in a very similar program in the US, this year and getting teens to read is something I feel very passionate about. Sometimes all you need to do is put an author in front of teenagers and instantly it turns it into a social event, instead of reading alone. When I was asked to participate in Australia's Council's Get Reading! Program I said 'yes' instantly!


Question: Why do you think the world has fallen in love with fantasy fiction?

Maggie Stiefvater: I really think it is because when we're kids we have the idea that there is possibilities just around the corner, whether they're good or bad but you don't know what they are. Fantasy fiction really rekindles the idea that anything could happen around the corner.


Question: Can you tell us about the Wolves of Mercy Falls series?

Maggie Stiefvater: Absolutely! Wolves of Mercy Falls is about a girl who has always loved the wolves who live behind her house and a boy who has to become a wolf, each winter and each year he gets fewer and fewer months as a human until eventually he is a wolf forever. The wolves lose everything about their humanity, hopes and dreams from their memory which is why it is a bittersweet love story.


Question: How did you come up with the idea for the Wolves of Mercy Falls series?

Maggie Stiefvater: I was reading the Time Travellers Wife and cried, like a baby and I thought 'I want to do that to people'!


Question: A film adaptation of Shiver has been optioned, who do you imagine playing Grace?

Maggie Stiefvater: Oh no, difficult question because I don't have any rule in the casting of the film, at all! I know this is pretend but I really like Rachel Hurd Wood who is starring in the new Peter Pan as Grace because I think she would do a good job.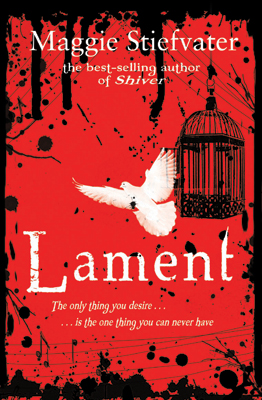 Lament
Sixteen year-old Dee is a cloverhand - someone who sees faeries. When she finds herself irresistibly drawn to beautiful mysterious Luke, Dee senses that he wants something more dangerous than a summer romance. But Dee doesn't realise that Luke is an assassin from the faerie world. And she is his next target.

Lament
Scholastic
Author: Maggie Stiefvater
ISBN: 9780545259088
Price: $24.99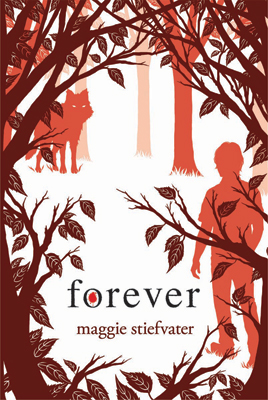 Forever
The conclusion to #1 bestselling Shiver trilogy. In Shiver, Grace and Sam found each other. In Linger, they fought to be together. Now, in Forever, the stakes are even higher than before. Wolves are being hunted. Lives are being threatened. And love is harder and harder to hold on to as death comes closing in.

Forever
Scholastic
Author: Maggie Stiefvater
ISBN: 9781407120317
Price: $19.99


Interview by Brooke Hunter