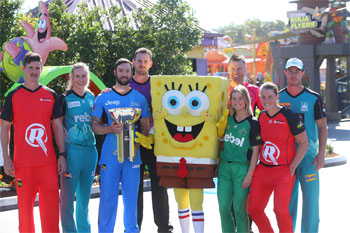 Crash The Bash
Wednesdays from Wednesday 20th of December at 5:30pm
This summer, Nickelodeon is bringing you the ultimate front row seat to all the action on the ground at the Big Bash League with the 6-episode series Crash the Bash. Join hosts, Kristy Best and former cricketer and Australian Survivor star Lee Carseldine, as they bring all the excitement from the cricket pitch into Australian lounge rooms.

Jam-packed with fun stunts, pranks and jokes, Crash the Bash goes in and around the Big Bash League to bring you all the action every week. You won't believe what the crazy hosts come up with!

This is Nickelodeon's second year of Crash The Bash, a content collaboration between a sporting body and a global children's entertainment brand, which provides young fans with more opportunities to interact with the BBL and Rebel WBBL than ever before.

Paradise Run
Monday to Friday from Monday 4th of December at 5:30pm
Tune in for an epic gameshow this summer as kids compete in tropical Hawaii, racing to solve puzzles and complete challenges with their friends alongside stars of popular Nickelodeon live-action shows including The Thundermans and Nicky, Ricky, Dicky & Dawn.

For one week, expect wild challenges with pedal boats, a giant ukulele, a fish and zip-line, an unusual volcano and a flowery lei.

In the first brand new episode, Thundermans in Paradise, Kira Kosarin, Addison Riecke, and Ryan Newman from the hit Nickelodeon show The Thundermans, pair up with their biggest superfans to zip into a 70's dance party. Keep an eye out for a special appearance from super, on-screen Thundermans sibling, Jack Griffo!

Nick Original Movie: Tiny Christmas
Friday 19th of December at 6:30pm
Enjoy a Nickelodeon original movie this December to celebrate the holidays!

In the movie premiere Tiny Christmas, it is Christmas Eve, and a clumsy elf accidentally shrinks down two kids into miniature sizes. The kids are scooped up into Santa's sack and dropped off across the street at their neighbour's house. In order to make it home for Christmas (just one house away!), the tiny kids have to work together to navigate holiday hazards. Will they get home on time?

Tiny Christmas stars Nickelodeon stars Lizzy Greene fromNicky, Ricky, Dicky and Dawn fame and Riele Downs from Henry Danger.

Welcome To The Wayne
Monday to Thursday from Monday 4th of December at 4:30pm
Welcome to the Wayne is the recently launched Nickelodeon animated mystery series full of kooky characters and laugh-out-loud jokes. The series is set in a quirky apartment block full of secrets, with three kids on a mission to uncover truth about where they live.

Brother and sister duo Olly and Saraline Timbers, along with the help of their best friend Ansi, go on adventures inside their strange apartment building – the Wayne. The group calls themselves Team Timbers and each mystery brings them face-to-face with 'Wayne Phenomena," unlocking new information about the place where they live.

In the first brand new episode, a supernatural storm strikes and Olly and Ansi's favourite TV characters come to life! Meanwhile, Saraline learns some terrifying truths about the Wayne from the mysterious figure who has been tracking her and her friends.

Lip Sync Battle Shorties
Friday 8th of December at 6pm
In a kid-focused version of Spike's Emmy-nominated global hit, Lip Sync Battle, Nickelodeon will premiere a holiday-themed episode of Lip Sync Battle Shorties in December to celebrate the lead-up to Christmas! Featuring everyday kids lip syncing to their favourite songs and performing like their favourite artists, Lip Sync Battle Shorties will be full of energy and entertainment. Hosted by Nick Cannon and his sidekick, the kid-favourite, singing, dancing, social media sensation JoJo Siwa, Lip Sync Battle Shorties will celebrate kids' top artists. JoJo Siwa will provide commentary on each performance, and the episode will also feature the Shorties Dance Crew, a 10-person backup crew that has mastered all styles of dance from break-dancing to ballroom.

The episode will conclude with a special celebrity appearance and a final performance from all the kids.