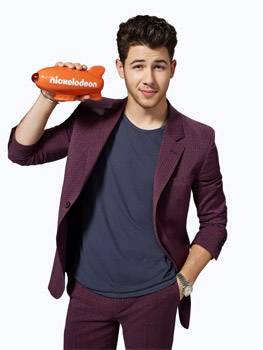 Nickelodeon's 28th Annual Kids' Choice Awards
Mega super-star, Nick Jonas will host Nickelodeon's 28th Annual Kids' Choice Awards (KCAs) from LA's legendary -Fabulous' Forum on Sunday, 29 March (AEDT), with the broadcast airing LIVE to Aussie audiences at 11am and then prime-time at 6pm.

Nick Jonas released his debut self-titled solo album on 11 November 2014 via Island Records. The album's double-platinum smash single 'Jealous" soared to the No. 1 position on the U.S. Radio charts, and peaked at No. 7 on the Billboard Hot 100. Showing no signs of slowing down in 2015, Jonas will be joining Aussie, Iggy Azalea on her Great Escape tour in April.

Nickelodeon's 28th Annual Kids' Choice Awards is a celebration of kids' favourite stars across the worlds of film, television, sports and music. As only Nickelodeon can, Kids' Choice Awards offers a front-row seat to stunts, slime and celebrities. Additional performers and presenters will be announced in the coming weeks.

Voting for the 2015 KCAs will span six continents across 19 localised voting sites, including Twitter hashtag voting (#KCA), giving kids practically everywhere the chance to have their say. Aussie kids will not only get to vote for global nominees (to be announced soon), but will also be able to vote for local stars that they deem worthy of a coveted orange blimp. The show will roll out in international markets within hours of airing live in Australia, the United States and Canada, giving kids around the globe the opportunity to tune into their local Nickelodeon channel to enjoy.

Nick fans can get in on the slime online from today, by logging on to nickelodeon.com.au/kca. Late February, the complete Kids' Choice Awards digital experience will launch across desktop and mobile devices and leading up to the event, fans will be able to watch wacky videos, play KCA-themed games, and get constant updates on the mess-fest to come.

The 2014 Nickelodeon Kids' Choice Awards, hosted by Mark Wahlberg featured mega-star appearances by: Pharrell Williams, Chris Rock, Robert Downey Jr., Jim Parsons, Jayma Mays, Kristen Bell and Selena Gomez amongst many others. Five local and 22 global categories were included for Aussie kids to vote on. Throughout the live telecast, Nickelodeon Australia's Luke And Wyatt presented the Aussie winners from a slime hot tub, including Five Seconds Of Summer for Aussies' Fave Hot New Talent, Cody Simpson for Aussies' Fave Homegrown Talent, Liam Hemsworth for Fave Aussie in Hollywood, Harry Styles for Aussies' Fave Hottie and Sam And Cat for Aussies' Fave Nick Show.