Poppy Starr Olsen is Australia's number one Park Skateboarder who at aged 16 was the first Australian female skateboarder to be invited to compete in the X Games has made history again.

Officially ranked world number 4 female park skateboarder, Poppy has just been confirmed to be the first and only female to represent Australia in the 2021 Tokyo Olympics in Park Skateboarding. She will compete in Tokyo on 3rd August 2021.

Park skateboarding encompasses a variety of sub-styles adopted by those who ride skateboards in purpose-built skate parks. Most skateparks combine half pipes and quarter pipes with various other "vert" skateboarding features as well as "street" obstacles such as stairs, ledges, and rails.

"A girl who just loved to skate from the age of eight, Poppy Starr Olsen became the number one female bowl skater in Australia at 14 and went on to take out bronze at the X Games at 17 - the ultimate competition in the world of skateboarding. The same year, skateboarding was announced as an official additional sport category at the Tokyo 2020 Olympics. Now faced with the opportunity to represent Australia on the world stage Poppy grapples with the transition from skater to athlete and the pressure of competition mounts in a way it has never done before. A coming of age story told over 12 years, TALL POPPY: A SKATER'S STORY documents Poppy's journey intimately as she navigates the uncomfortable idea of what it means to be a competitive athlete, the complexities of a relationship with a mum turned manager and finding her place in a male-dominated industry."

On having her life documented, Poppy Olsen says, "It's a little weird but I hope it helps others know that they're not alone and it's not always as easy as it looks on the outside".

Watch Poppy Starr here!
Interview with Poppy Starr Olsen
Question: What can you tell us about Tall Poppy; A Skater's story?

Poppy Starr Olsen: Tall poppy is a journey about the unfiltered ups and downs of my life over the past 10 years. It's a story about me growing up in the world of skateboarding which involves a lot of self-discovery inside and outside. The film follows some of the incredible places I've travelled and lifelong friends I've met along the way. I've been so lucky to live the life I have so far and this little film just covers a moment of it.


Question: How does it feel to have your life turned into a documentary?

Poppy Starr Olsen: It's still very surreal having a big part of my life on screen. It's very interesting watching the film back and going through all those moments again.


Question: Is there a particular message you hope viewers take from the documentary?

Poppy Starr Olsen: It makes me feel really special to think that I could possibly help someone to be unapologetically themselves by sharing my story. There was a big part of my life I wasn't fully comfortable with myself but I slowly started learning and still am every single day! Life is so short to hide the best version of yourself.


Question: What's your favourite part of Tall Poppy; A Skater's story?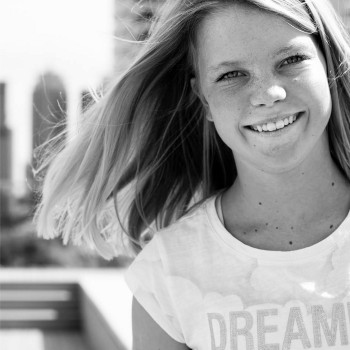 Poppy Starr Olsen: My favourite part of the film is probably one of the best parts of my life too. It's probably starts when I went on a trip to Seattle for Wheels of Fortune. I had so much fun on that trip and started realising how much there is to this beautiful world of skating!


Question: What or who was your inspiration to start skateboarding?

Poppy Starr Olsen: I was 8 when I was first given a skateboard off my neighbour. We were walking home from the beach and I stole his skateboard and tried to figure it out the whole walk home. I had remembered never seeing anyone on a skateboard before that.


Question: How does it feel to compete in X-Games and now the Olympics?

Poppy Starr Olsen: It's always crazy competing at Xgames, the crowds are always massive and its very surreal competing on such a big stage. The Olympics is going to be even bigger plus all the people watching from around the world. So it's going to be a wild experience, I don't even know what to expect!


Question: How are you preparing for the Olympics?

Poppy Starr Olsen: Preparing for the Olympics for me right now is skating every single day at different parks and working out pretty much. While enjoying being in beautiful California.


Question: What is the best part about competing?

Poppy Starr Olsen: The best part of competing is being skating with my friends and hyping each other up to land tricks when the comp is on! Having a loud supportive crowd is always so fun too!


Question: How do you manage to focus and shake off any nerves?

Poppy Starr Olsen: I get nervous every single competition and every time I think I'm more nervous than the last comp. I just do some deep breaths but nothing calms me down too much haha. I always do well under pressure though so I don't do that much to calm me down!


Question: What advice do you have for aspiring athletes?

Poppy Starr Olsen: Have fun and work hard and you'll live your best life!


Question: What's a typical day like?

Poppy Starr Olsen: A typical day for me at the moment consists of waking up - skating - beach - skating - trampoline/workout – music.


Question: What's next for you?

Poppy Starr Olsen: I guess the Olympics is the next big thing! It's coming up very quick, after that I have no idea what I'm going to do with my life or where it's going to take me. I'm excited to see where it goes though.


Interview by Gwen van Montfort