Squid Game has officially broken records, becoming Netflix's biggest series launch by reaching more than 111 million viewers. It follows Seong Gi-hun, as he and hundreds of other desperate and deeply indebted contestants compete in a violent competition. Reagan's role has become a viral phenomenon. SNL even did a recent skit featuring her character. Also to note, she voices the daughter of the main character. Reagan is no stranger to the small screen as she has multiple credits including skits on Jimmy Kimmel Live! as a lead alongside big stars such as Channing Tatum, Rami Malek, Lena Waithe and Guillermo Rodriguez.

Reagan has quickly built a dedicated fanbase on social media including a TikTok with over 584,000 likes and over 35,000 followers as well as a verified Instagram. In a testament to the impact of her Squid Game role in popular culture, her recent video with Young Hollywood host Joely Live went viral on TikTok racking up over 16 million views to date.


Interview with Reagan To
Question: What or who inspired your love of acting?

Reagan To: I have loved acting ever since I was little! But it became my passion after I became ill with a sudden sickness. It came on very quickly when I was five years old, and it was terrifying! The doctor informed my family that I had a lung infection, and I had to have intensive treatment in the ICU. While I was in my room all by myself, the television was the only thing that made the fears go away"watching shows made me feel happy and helped me stay awake during my hospital stay! I started to treasure these little moments; I began to feel inspired by the performances on TV. My mom asked me what my dream was if I recovered from my illness. I told her that I wanted to become an actress one day. I thought I could become the inspiration for other kids who may also be sick, and I could be their encouragement! In that year, I started to audition and tried my hardest. I feel so blessed that I landed my first role on Jane the Virgin the same year. I felt like I was in a dream!


Question: How does it feel to be part of one of Netflix's most popular TV shows in the world?

Reagan To: It feels magical! I still get surprised by the show's success worldwide! Hearing my voice on Saturday Night Live was weird. It feels super strange when I see people in the doll costumes, but with my voice on the internet and social media. I sometimes have to pinch myself to see if this isn't a dream! It's a great honor to be part of the most-watched series of all time. At the studio, it was incredible to work with a diverse cast! I love that I could help share an amazing story from Korea. The entire team is so talented; I am thrilled for them to win many awards worldwide.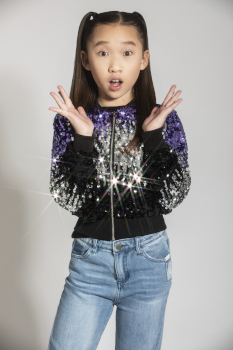 Question: Do you prefer acting or voice over work?

Reagan To: I love performing both on-camera and in voiceover! They are very different, but voice acting feels a little harder sometimes. When working with the camera, I feel like I'm more free to show my emotions. I can pour myself into the performance and I get to show myself in character.

For voice acting, the performance feels like it has a new layer. It makes dubbing more challenging in some scenes. In The King's Affection on Netflix, I took some time to prepare for how I would feel as Young Hwi to get my performance right for the role. It was also important for me to think about how the actress played the role on-camera. There are some parts where I needed to scream, laugh, and even cry in the same scene; I needed to use different parts of my voice to sound like a natural performance. It was a great experience, and I got to take what I learned from voiceover work to on-camera acting too!


Question: What's your favourite part of your job?

Reagan To: Performing as an actress is honestly so much fun, and I love my job! I feel really blessed to perform and try new roles that I would have never imagined. Auditions are entertaining, but also very challenging. I like to make friends with other performers"it's fun being around others who also feel the same way about acting. My roles are always new characters, and the stories are something I have never heard about before. Like recently, in The King's Affection, I learned a lot about how people thought about Korea and how it was so different back then. My new projects put me in new cultures, and it just amazes me that I get to learn so much about history. The stories have these unique situations that my characters must face. I love sharing stories from communities worldwide, and it is an incredible experience to be an actress!


Question: If you could work with any other actor or director, who would it be?

Reagan To: Wow, this is a very tough question! I have a lot of actors I look up to. I really enjoy watching Dove Cameron; I love her as an actress. She has a great personality, and she seems very nice! It would be my dream to meet my idol JoJo Siwa. It's very encouraging when I see how strong JoJo is by just being herself through dance! She is very focused and talented, and watching her dance helps my dancing. I get inspired by her performances too. It's great when I can do the same while acting! I enjoy on-camera acting with a great director. It would be inspiring to work with director Chloé Zhao on a project.


Question: How do you manage schoolwork and acting?

Reagan To: Acting as a job is fun, but it is hard when I need to make sure I get all my homework in on time! I feel fortunate that my teacher Mr. Henley Chu supports my career. My school is amazing, and I love it when I get to play with my friends again. They work with my acting schedule to balance my acting and my schoolwork. I don't get time to do homework when I'm at the studio, so my mom and I figured out the best time to do all my homework is in the car! I am so thankful that my mom drives me all over Los Angeles, and I use the time to finish my giant packet of homework whenever I have to miss school. This is good for me because I also get time to prepare for my roles. It helps me a lot when I know all my homework is finished, and I get to focus and get ready for my performances!


Question: What else do you like to do when you're not in school?

Reagan To: Dancing is my love too! Latin and ballroom dancing is entertaining for me. When I perform a new dance, it feels like I'm performing a new role in front of the camera! It is very thrilling, like I'm exploring something new. It lets me just focus on myself, which is very relaxing. I find I do my best when I can focus on how I can improve. It's beneficial because I don't have to focus on how people think of my performances. Even though I get tired at the end of the day, dancing makes me feel strong, and I've been dancing for over five years! I get to travel to many states for dance competitions, and it's been fun meeting other performers in New York and Texas. They are great friends, and dancing together in competition taught me what is important when performing in front of the camera. It has also helped me when I modeled for Forever 21 and Little Tikes. It's like a party when I get to try on different clothes and express myself in different poses. I just finished a modeling project with a really big sports print job. It was very fun shooting photos, and it made me feel strong and confident. I love sharing my behind-the-scenes on social media.


Question: What's next for you?

Reagan To: I also have some recent projects that I want to discuss, but I can't spoil anything! I was on my first animation project, and I'm so excited to see my animated character. Working with the animation team was a whole new experience. I feel very lucky to be with the crew and the director to get the animated performance right. I also just finished more voiceovers for many new TV series! They are really fun to balance with my on-camera performances. I got very excited to voice new characters that are different from what I portrayed in Squid Game and Sisyphus: The Myth on Netflix. They are dubbing roles from drama series in Mexico, Spain, Korea, and even Italy! I'm also getting ready for more dance competitions for the new year, and I am getting ready to travel and perform again. It will be really exciting for me, and I love sharing my backstage experiences with my friends on my Instagram. You can follow me @Reagan_To!


Interview by Gwen van Montfort