A riveting new novel of rural suspense from the bestselling Voice of the Outback.
With the sickening realisation that his cover has been blown, Detective Dave Burrows knows his family is in serious danger from the vicious stock thieves and murderers, Bulldust and his brother Scotty.

Devastating news brings Dave back to Barrabine, where circumstances force him to question his determination to stay in the police force. How could he live with himself if anything happened to Mel and the kids?

Mel, understandably frightened, must decide who she'll listen to. Can she trust Dave to handle this threat hanging over their family, or is her father right to argue that she should leave her marriage immediately?

With her acclaimed skill for tension and drama, Fleur McDonald has delivered another richly compelling story in Something to Hide.

About the author:
Fleur McDonald has lived and worked on farms for much of her life. After growing up in the small town of Orroroo in South Australia, she became a jillaroo before spending twenty years farming 8000 acres, east of Esperance, WA.

Fleur likes to write about strong women overcoming adversity, drawing inspiration from her own experiences in rural Australia. She is the best-selling author of Red Dust, Blue Skies, Purple Roads, Silver Clouds, Crimson Dawn, Emerald Springs, Indigo Storm, Sapphire Falls, The Missing Pieces of Us, Suddenly One Summer, Fool's Gold, Where the Rivers Run, Without a Doubt, Starting From Now, Red Dirt Country and The Shearer's Wife, as well as the ebook exclusives If You Were Here and A Farmer's Choice.

Fleur currently lives in Esperance with her two children, an energetic kelpie and a Jack Russell terrier.

Something to Hide
Author: Fleur McDonald
Allen & Unwin
ISBN: 9781760876821 RRP: $29.99
Interview with Fleur McDonald
Question: What originally inspired the idea of Something to Hide?

Fleur McDonald: Having already written Bulldust and Scotty into two previous books, I needed to make sure we had a hard hitting storyline to continue their reasons for being the novels. I spent a long time thinking about how I could do this and a little bit of time in the Kalgoorlie region, which is where the book is set. It's such a 'wild' place where sometimes, in the bush, there doesn't seem to be any laws, which is perfect for Bulldust and Scotty; neither of them have any regard for rules.

After a few conversations with my detective friend and throwing crazy ideas around, that fitted into the settings, Something to Hide is what we came up with.


Question: With Something to Hide being your fourth novel in the crime series, how do you keep readers interested?

Fleur McDonald: I have a detective friend who reads everything I write to make sure what I've written is authentic to policing and investigations. We catch up on a regular basis and talk about writing, storylines, what is happening in the media regarding crimes and how we can fit real life happenings into stories.

I think writing realistically makes storylines interesting and the crazy thing is, often when I write something, the crime then appears in the media soon afterwards, which makes me realise I'm writing about things that aren't so way out there that they can't happen.

I love reading and watching anything to do with crime, forensic science and court cases so it seemed only natural to take that love over to my writing.


Question: Are the characters based on anyone you know, in real life?

Fleur McDonald: I'm really wary about doing this unless the people know that I've brought them into a book. Kim, Dave's second wife, is based on my friend Heather and back in Crimson Dawn, Catherine is based on my friend, Catherine! BUT, I made sure they knew and were comfortable with that.

My Detective Dave is based on many people combined – it's interesting how you can make a flawed character so loved and admired, by adding in hot headedness and a grim persistence to find truth and justice for the underdog makes people fall in love with a character… Which I have with Dave! I would have married him years ago, if he were real. (SIGH) however, I just have to be content to write about him on the page. Funny how no other man in real life has stood next to the shine of Dave!


Question: How much of your inspiration comes from real life and real people?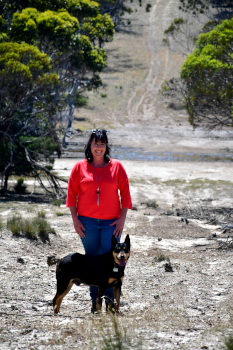 Fleur McDonald: The settings are certainly real. They've what I've experienced, lived and know like the back of my hand. Station country, the Flinders Ranges and farming are what I've lived a breathed all my life so I can write about that with expertise. Luckily, I've never had anyone come onto my farm to try and steal anything from me. All I can do is imagine how that must feel when someone has penetrated your safe space.

And certainly, there an element of using stories I hear in the media or read in the papers that I use, but also stories or conversations I have with people. A classic is the storyline behind Emerald Springs, and when my dad was the treasurer for the Carrieton rodeo. I asked where he kept the money when he left the grounds and he told me in the back of the car. I asked what happened if he got car jacked and gave me the look my parents have been giving me all my life when my imagination runs away with me and said that was never going to happen! I said I could make it happen so I did! In the second chapter there is a car jacking and money stolen. At the time I was the secretary for our local ag society which puts on our agricultural show, so I knew how committees worked and the politics that can go on inside them.

Incidentally, in case anyone gets any ideas (!) the Carrieton rodeo now employee security guards to handle the money which comes through the gate.


Question: What's the main message you hope readers take from Something to Hide?

Fleur McDonald: I don't know there is a hard hitting message in Something to Hide; rather information about how tricky it can be to be a policeman's wife/husband and how real the fear of them not coming home can be.

Cattle, sheep and farm theft in Australia is a real thing and more people are made aware of it, the more likely people are to report something odd when they see it.


Question: What research did you do, prior to writing Something to Hide?

Fleur McDonald: I spent a bit of time in the goldfields of WA and got a feel for the isolation and country. It's similar to the NT, where I spent a lot of times in my younger days and I just love the red dirt and landscapes of these two areas. That makes them very easy to write about.

My detective mate is awesome in answering any questions I have, about anything, which is where the line of being of cops wife came from.

But really, Something to Hide is mostly pure imagination in a very real, raw and hard-living landscape.


Question: What advice do you have for aspiring writers or artists?

Fleur McDonald: To read, read and read. Look at what you love; why does that sentence or paragraph or chapter work for you?

Write every day. If you need help in creating a new habit of writing, and want a little insight into the mysterious world of publishing, I run a short writing course over on my website which will assist you with this. (www.fleurmcdonald.com and click on the Products tab).


Question: What or who inspired your love of reading/writing?

Fleur McDonald: I think my Nana Parnell inspired this. She used to stand in front of an open fire and hoist her skirt up, warming her bum, all the while telling me stories. I grew up being told stories rather than having them read to me, which is why I can imagine scenes in my head as if they were actually happening. That helps writing them realistically. I know to look for the small details; the smells and the way that dirt has fallen on someone's face, to make the scene's lift off the page and for the reader to be able to smell and see what I do. Nana helped with that, no doubt.


Question: What's next, for you?

Fleur McDonald: I'm typing away for the next two books. I'm contract until the end of next year which will take me to book 20! If you'd asked me back in 2009 when Red Dust was first published, whether I had it in me to write 20 books, I would have stared at you with a dumb look on my face then laughed! I never thought I'd be here! Happily, I am but that's all due to you guys as readers, and I'm forever grateful you read my books so I can write them for you.

I'm farming still – or rather, share farming. So that means I have the next of both worlds; I have a farm, get to go and put my fingers in the dirt, help with seeding and harvest but there is no expectation I'll be there.

My son is starting up a YouTube channel, called Wings Without Barriers, explaining about his life as an autistic adult and helping us who don't have autism to understand what it's like to live inside a body which is autistic. I'm helping him to achieve his dream there.

I'm the Secretary for both Australian Women in Agriculture and The Esperance and Districts Agricultural Soc, which certainly keeps me out of trouble!

And with any spare time I get, I'll be reading, walking on the beach. Talking with my friends or drinking coffee.


Interview by Gwen van Montfort