A Unique Blend Of Pop And Neo-Soul Sound
After the release of 'Take My Hand' in 2018, Perth's rising multi-talented pop artist Stefanie Passione continues to glide through in the Aussie music scene with her unique blend of pop and neo-soul sound in her newest single 'Put on the Brakes' available now on all streaming platforms.

'Put on the Brakes' explores the inner conflict of her decision of taking her relationship at a slower pace and her partner wanting to speed things up. Her use of wordplay combined with her strong vocals wrapped in a catchy beat will surely find her listenership breaking the replay button.

"I believe music is so powerful and can really help people escape reality, forget their troubles and just live in the moment." -Stefanie Passione on her music Stefanie conquered her childhood dream to sing on live television not only once but thrice in Channel 7's Perth's Telethon. She had several live performances across Perth including the Welcoming Home Ceremony for the Olympic Athletes, the Wildcats MVP Ball, and the MDNi Soiree.


Interview with Stefanie Passione
Question: How would you describe your music?

Stefanie Passione: My music is a blend of pop and dance. I like to create music that either resonates with people or allows them to feel, or music that makes them want to dance! My pop dance tracks have an upbeat energizing chorus whereas my pop ballads are more soulful.


Question: What inspired the track, Put On The Brakes?

Stefanie Passione: This song was inspired by past relationships. It's basically about when one person in the relationship wants to take things to the next level but you personally don't feel ready for that step. So I was in the shower one day and just making up some melodies and thought it would be really cool to create a song that uses symbolism with driving in a car.


Question: What motivates you most when writing music?

Stefanie Passione: I am most motivated to write music when I am in the shower and thinking about past experiences. I pretty much pour all my feelings and thoughts into writing as it's really therapeutic.


Question: Do you prefer performing live or recording?
Stefanie Passione
: I love both singing live and recording in the studio; they are completely two different experiences that are both so incredible. Performing live is such an exhilarating experience. There is so much adrenaline, loud music and you really feel the energy and vibe from the audience. There is so much more to it than just singing. You have to put on a performance, entertain the crowd and try to make them feel the emotions of the song. With recording you can purely just focus on the music and your voice. It's focusing on trying to create the best blend of sounds and expressing your voice in different ways to add layers to the song. I love how it's such a creative process as you experiment with all different elements like echoes, harmonies and adlibs.
Question:
Which music/artists are you currently listening to?
Stefanie Passione
: At the moment i really love pop artists such as Dua Lipa, Ariana Grande and Camila Cabello. I absolutely adore their voices and love how upbeat and catchy their songs are! I still also listen to the classics such as Amy Winehouse, Whitney Houston and Mariah Carey.
Question:
What or who was your inspiration to go into the music industry?
Stefanie Passione
: It wasn't a single person or event that made me want to pursue music. It was just my love and passion for singing that I had since I was eight years-old. I always knew singing was going to be a big part of my life!
Question:
If you could collaborate with another artist, who would it be?
Stefanie Passione
: It would be a dream to collaborate with Ed Sheeran, I absolutely love his music!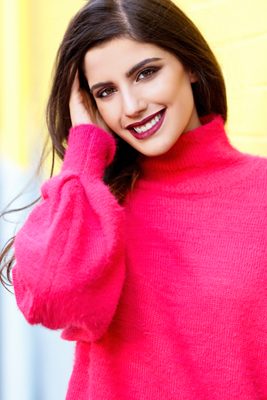 Question:
What is the biggest challenge you have faced along the way to your musical success?
Stefanie Passione
: As an independent artist in Australia being in the pop genre can be hard. It can be seen as being too mainstream. In the end I'm being who I am making music that fits me, there's nothing mainstream about that!
Question:
What's a typical day like?
Stefanie Passione
: I start off the day in the shower. This is where I do majority of my songwriting! Later on I will sit by the piano and do my vocal warm ups. As a singer it's super important to constantly try to improve your voice in vocal range, style and technique! I'll then practise all my material, record myself on recording equipment and listen back to each recording.
Later in the day I'll go to University as I am studying broadcasting journalism whilst I pursue my music career.
I actually listen to music all day every day. While I'm eating, exercising and even when I am supposed to be studying!
Question:
What has been your favourite part of becoming a music artist?
Stefanie Passione
: My favourite part about becoming a music artist is being able to create my own style and sound through my music. I get complete freedom and control over the entire creative process!
Question:
Can you share your socials?
Stefanie Passione
:
Facebook
YouTube
@stefaniepassione/
Interview by Brooke Hunter