Tara Simich The Jungle Body Interview
'Just one lively dance session can slay depression more than vigorous exercise or listening to upbeat music, according to a study in The Arts in Psychotherapy. Getting jiggy with others also leads to less stress and stronger social bonds, key factors in both mental and physical health, says Verghese." - Womens Health

The fitness industry is fierce and it's only getting hotter as society recognise's the benefits of a healthy lifestyle in 2016. With the likes of Madonna and Gwyneth Paltrow joining the Dance Cardio movement, The Jungle Body has now launched in Sydney with the Daily Mail calling it 'The newest fitness craze taking over the world".



Haven't heard of The Jungle Body yet? What if we told you that you can workout to bustin' beats you all know and love, with simple
dance cardio moves that make you sweat from your head to your toes, while burning up to 700 calories? But what about it we also said it could potentially slay depression and help battle anxiety?

The Jungle Body was created by Perth fitness guru Tara Simich to fill the gap in the market for Mums who wanted to workout but didn't feel confident in intimidating gym classes nor could they keep up with hip shaking Zumba workouts. The Jungle Body has made its way up the fitness food chain and is now killing it in 11 countries, with over 600 instructors and thousands of people of all ages, races and fitness levels working out like one big party!
Interview with Tara Simich, Founder and Director of The Jungle Body
Question: What is The Jungle Body?

Tara Simich: The Jungle Body is a fitness company that has five unique licensed workouts that are taught in over 11 countries. The programs are all based around our Philosophy that working out should be fun, inspiring, easy to follow (even if you are seriously uncoordinated) and totally inclusive.


Question: What originally inspired you to bring The Jungle Body to Australia?

Tara Simich: After spending 12 months in the USA I was shocked that when I returned home to Perth there was really only Les Mills in majority of the gyms. I couldn't believe how much we were missing out on in Australia! I knew then and there that I needed to bring some unique & exciting workouts to Oz.


Question: What inspired this style of exercise?

Tara Simich: All my inspiration came from living in NY and LA for a year! I would sometimes go to 5 or 6 different workouts in one day because I fell in love with group fitness! But, I still felt there was something missing in the market for the woman who couldn't keep up with Zumba or was too uncoordinated for fancy Dance fitness classes. So, I designed a range of workouts infused with Dance that were what I believed, the ultimate workout.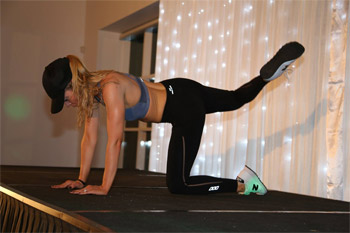 Question: What is involved in The Jungle Body workout?

Tara Simich: We have five unique Workouts, but our most popular is KONGA®. KONGA® is a fusion of Dance, Cardio, Boxing & Sculpting done to the hottest music like Beyonce, Drake & Michael Jackson! You begin with a Warm Up and then each track after that is a totally different style. You will go from hardcore boxing to SKrillex, twerking to Rihanna, Hip Hop Squats & then finish It up with an Ab workout to Beyonce.


Question: What music do you do these moves, to?

Tara Simich: Each class has a carefully curated mix of Hip Hop, Old School, 80s, 90s, Electronic and Pop beats so that there is something for everyone!


Question: How do these workouts lead to less stress?

Tara Simich: The Jungle Body workouts are designed to not just shape your body but also your mindset. When we workout we stimulate the production of endorphins which are chemicals in the brain that are the body's natural painkillers and mood elevators. The results is a 'Jungle Body high" and a feeling of optimism post-workout that you cannot get anywhere else.


Question: How does The Jungle Body workout slay depression?

Tara Simich: The Jungle Body is the best 'pick-me-up" for three main reasons. Firstly, by keeping the moves easy to follow you can smash out the class no matter how unco you are giving you a sense of accomplishment. We hear stories every week of woman who haven't ever been able to enjoy fitness but finally they can master a workout & actually leave dripping in sweat. Secondly, we believe music is therapy. Our playlists are carefully selected every month to motivate, inspire & whisk away any negativity in your mind. When you go to a Jungle Body class you escape into the beats & get taken on a journey like no other workout can. Lastly, when you attend Jungle Body classes you become part of our Tribe of supportive women who are there to lift you up.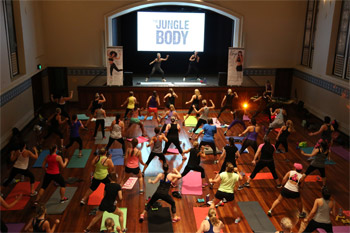 Question: Will we see The Jungle Body in other parts of Australia?

Tara Simich: We have classes in WA, SA, QLD, VIC & NSW plus Europe, the UK, USA & some parts of Asia!


Question: Can you give us an example of a typical class at The Jungle Body?

Tara Simich: Warm Up – Born Ready – Disco Fries
Hip Hop Cardio – Formation by Beyonce
Pop – Work From Home by Fifth Harmony
Squats – U Cant Touch This – MC Hammer
Cardio – When Love Takes Over – Airi L
Hip Hop – 679 – Fetty Wap
Boxing – Get Ur Freak On – Missy Elliot
Abs – Girls Just Wanna Have Fun – Cindy Lauper
Cool Down – The Time Of My Life – Bill Medley & Jennifer Warnes


Interview by Brooke Hunter