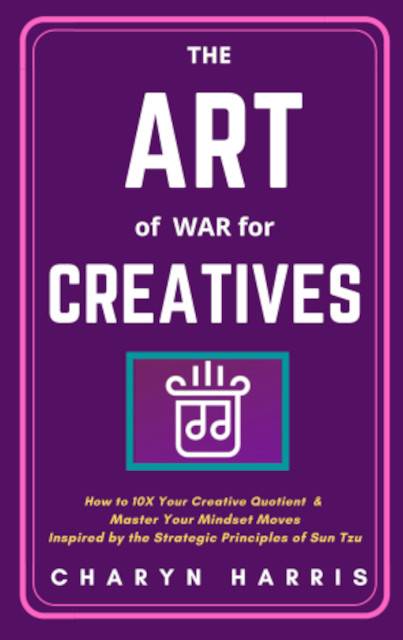 A thriving artist needs three essential things: a) a clear plan of action, b) awareness of potential barriers and how to move around them, c) and consistency that will convert into opportunities into visibility, audience growth, and a fulfilling career. The Art of War for Creatives, authored by Charyn Harris, is designed especially for creatives of all types. This includes musicians, actors, dancers, visual artists, and creative thinkers. The content in this book will encourage focus, teach you how to increase awareness, and help you organize to build a rock-solid career. Every creative needs a blueprint and a high level of awareness. This book is great for creatives of all ages who are ready

Charyn Harris draws heavily upon her decades of experience from her beginnings as a young musician to transitioning through various stages of her storied career. Charyn generously shares the exact steps, tricks, and tactics used to build her career. Even if you are NOT a musician, this book can show you how to develop and apply your transferrable skills to your specific industry.

Concepts in this book include:
• How to convert the concept of "failure" into a success. pg. 5
• The basics of gaining a competitive advantage. pg. 11
• The myths around talent and luck and shifting perspective. pg. 15
• Strategies to start building the framework that will allow you to connect with and build your audience. pg. 22
• The importance of widening your network with key people and where to find them. pg. 31
• How to master your mindset and gain a better understanding of self. pg. 37

About the author
Charyn Harris has leveraged her career as a touring musician, an award-winning music educator, nonprofit arts specialist, and music industry professional to build a platform that encapsulates her multiple layers of unique experience. Charyn recorded and performed with Al B Sure!, MC Hammer, Billy Porter, among many others, and most notably was the only female keyboardist to tour with the iconic Barry White.

Charyn gained recognition for building the music department of A Place Called Home in Los Angeles, and became the first national network partner of the Berklee City Music Network, resulting in over 40 summer and full scholarships for aspiring musicians. Her young students were called on regularly to perform with top talent including Stevie Wonder, The Isley Brothers, opening for Diana Ross, The Black Eyed Peas, and others.

As her reputation in providing a contemporary approach to music education preceded her, Charyn became one of the most in-demand music instructors working with some of Hollywood's most notable families including Eddie Murphy, John Tesh, and others. Several of her students have gone on to develop impressive careers of their own including Sunny War, Bryce Vine, Angela Muñoz and Rachel Matthews, and others. Many of her former students are also now enjoying careers in the music field as musicians, educators, songwriters, producers, audio engineers, and music business professionals..

"The Art of War for Creatives" was inspired by her trajectory as a creative pursuing a career while navigating the terrain of the music industry. Among Charyn's clients are the iconic Macy Gray and Melanie Charles. Charyn's superpower is making sure that her clients not only stand out but are outstanding.