Valeria is making her mark on the small screen with her large role on the hit FOX drama Deputy. When the elected sheriff dies, Bill Hollister (Stephen Dorff), a lawman only interested in justice, gets thrown into the job as acting sheriff. Valeria stars as Bill's daughter, Maggie. You can see a clip of her from the show here.


Interview with Valeria Jauregui
Question: How does it feel to see yourself in Deputy?

Valeria Jauregui : Pretty weird, I'm not going to lie! I've never really liked watching myself, so it was hard at first. As the episodes progressed, I got more excited to see our scenes come to life on the screen, and it started to feel a bit more surreal.


Question: Can you relate to Maggie, the character you play in Deputy?

Valeria Jauregui : Well, I think Maggie gets sarcastic with her parents sometimes, and I for sure do all the time. We are both understanding and love our family.


Question: Do you prefer acting or singing?

Valeria Jauregui : Both! Depending on the day, some days I swear I like acting more and then I'll change my mind the next week. Although, as a career, I would choose acting because I love the technicalities of it vs. singing, I enjoy doing it more as a hobby.


Question: What can you tell us about your music?

Valeria Jauregui : It's got an indie alternative feel to it. I'm still working on defining the sound as I am also still growing myself in songwriting, so it might change.


Question: What's your favourite part of your job?

Valeria Jauregui : My favorite part of the job is the research of my character before shooting a project. The preparation to take on the role of a specific person. Researching their skill set, their life, and how it affects their personality. The weird quirks they have. Relationships with everyone and anything. Speaking to the director about what they want and how they want the story portrayed, reading the script multiple times thinking about different things every time and taking notes"making a playlist for my character or a journal"basically creating a person. I could go on and on about this, but I'll stop by saying I love psychology and getting to create a character and giving them flaws, and their uniqueness fascinates me…there's nothing quite like it.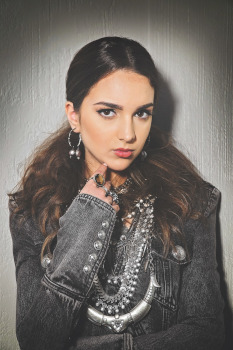 Question: You've achieved so much, can you provide your tips for creating a successful schedule?

Valeria Jauregui : Dedication is vital. Right now, with quarantine, I've been struggling with fighting the boredom and finding the motivation to keep going, and that's also okay. Make sure you know what you want and maybe make a vision board of your goals…think about the smaller goals you have to make to help you accomplish the big one and work towards that!


Question: How would you describe your personal style?

Valeria Jauregui : Relaxed. I like comfy clothes that can also be cute, so loose skirts and crop tops or beachy pants and lots of fun jewellery.


Question: What's a typical day like for you?

Valeria Jauregui : Every day is different for me. I do school work, and sometimes I'll sing and write songs. I like to practice skills daily like guitar, stretching and working out, painting, etc. I want to switch it up every day because I get bored very easily!


Question: What's next, for you?

Valeria Jauregui : I am currently working on my music, auditioning, continuing to train, and looking forward to whatever this crazy life has planned for me in the future!


Question: Can you share your socials? (links please)

Valeria Jauregui : Instagram

#deputyonfox
Photo Credit: X Level Inc. and Jorge Campos
Interview by Gwen van Montfort