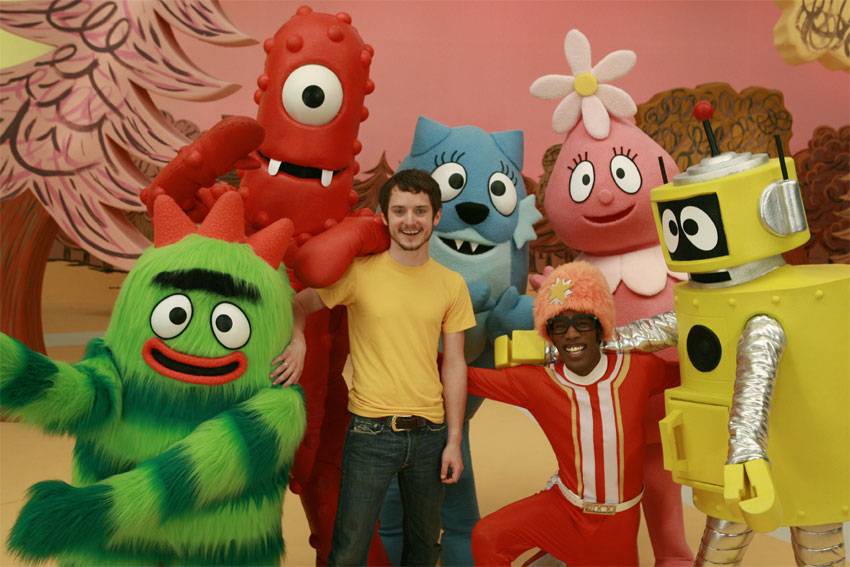 Bringing the Funk to Kids TV
Get ready for the funkiest new addition to kids TV, Yo Gabba Gabba!

Our energetic host DJ Lance Rock arrives with his boombox and speaks these magic words to bring to life five friendly toy monsters. They welcome you into their colourful retro world of music, laughter, celebrity guests, cool tricks and beatboxing!

Yo Gabba Gabba! is a sing-along, dance-along, magazine show for 21st centurypreschoolers and parents, with a unique blend of loveable characters, original tunes fromhip hop to electronic beats, real kids, quirky animation and extraordinarily catchy songs.Plus celebrity and musical guest appearances in every episode.

Muno, the tall red Cyclops; Foofa the cute pink flower monster; Brobee, the green longarmedcreature; Toodee the blue cat-dragon; and Plex, the magic yellow robot, areready to sing, dance and play, engaging viewers with fun songs and activities. Likechildren, they learn concepts and simple life lessons, including shapes, colours and theimportance of sharing, brushing your teeth, and good manners.

Joining our monster friends is an impressive line-up of musical, sporting and celebrity talent- guest stars include Elijah Wood, Supernova, Sean Kingston, Tony Hawk, Mya, Sugarland,Rahzel, The Shins, The Salteens, Laila Ali, The Aquabats, The Aggrolites, Cornelius, Devo'sMark Mothersbaugh and hip hop legend Biz Markie, who teaches kids how to beat-box in'Biz's Beat of the Day'.

Through an original beat-driven soundtrack and innovative retro style Yo Gabba Gabba!teaches simple life lessons with a beat. Lessons such as eating your vegetables, cleaningup and not biting your friends are taught through songs with simple, danceable beats andcatchy melodies.

Yo Gabba Gabba! was created by Christian Jacobs, former child actor and frontman ofthe ska-punk band The Aquabats, together with Scott Schultz, the lead singer ofelectronica group Majestic.

The pair hooked up to create a show with a decent soundtrack that wouldn't driveparents up the wall! Using their favourite childhood shows as inspiration (including theBanana Splits and HR Pufnstuff), and drawing on their real life parenting experiences, thissuper-fun series was born.

The first series includes more than 100 original tunes and songs such as 'Try It, You'll LikeIt', 'Excuse Me', 'Sometimes We Win, Sometimes We Lose', and 'I'm So Sorry'.o Episode 'Eat' - The characters learn about eating a balanced diet with theirresistible songs, 'Party in My Tummy' and 'Snacky Snack Snack'.

o Episode 'Summer' - At a pool party they learn to take turns on the slide during the'Wait Your Turn' song.

o Episode 'Sleep' - The 'Settle Down' song teaches how to have fun while gettingready for bed.

o Episode 'Friends' - 'My Turn, Your Turn' teaches everyone how to appreciate andrespect other people.

o Episode 'Scary' - 'Try It, You'll Like It' teaches the Gabba gang different ways tolearn about, and not be scared by, new things.

o Episode 'Together' - The song 'Don't Bite Your Friends' shows the gang why theyshouldn't hurt their friends.

o Episode 'Share' - The Gabba gang learns about sharing by singing 'Mine andYours', 'Share' and 'Don't Take it Away'.

o Episode - 'Imagine' - A valuable lesson is learned in the song 'Tell the Truth' whichshows the difference between pretending and lying.

Yo Gabba Gabba! is currently airing on ABC1, ABC2 and Nick Jnr.