Newman was born in Port Antonio Jamaica and spent her formative years in Kingston before migrating to Australia at the age of 14 with her mother. Her interest in the performing arts was nurtured through her involvement with Father HoLung and Friends, the Caribbean-style music and theatre arts group associated with Missionaries of the Poor. Later, in Brisbane Australia, performance opportunities with Harvest Rain Theatre Company served to cement her passion for and commitment to the stage. She graduated from the Victorian College of the Arts in 2008.

She currently plays the female lead of the new Australian romantic comedy/drama, Long Story Short which is now screening in cinemas.

LONG STORY SHORT
Serial procrastinator Teddy (RAFE SPALL) thinks he has all the time in the world, but after an odd encounter with a stranger (NONI HAZLEHURST), he wakes up the morning after his wedding to discover that he's jumped forward a year in his life to his first anniversary. His wife Leanne (ZAHRA NEWMAN) is now heavily pregnant, with a full year of marriage behind them that he doesn't remember living. Trapped in a cycle of time jumps, transported another year ahead every few minutes, Teddy is faced with a race against time as his life crumbles around him. With the help of his best friend Sam (RONNY CHIENG), Teddy tries to piece together where it all went wrong and, as his life flashes before his eyes, Teddy must learn how to live life in the precious moments to win back the woman he loves, even if it's just for a second.


Interview with Zahra Newman
Question: Can you tell us about your role in Long Story Short?

Zahra Newman: I play Leanne - she's fun and witty and has a really great repartee with Teddy. She's easy going, but not complacent.


Question: Without giving too much away, what's your favourite part of Long Story Short?

Zahra Newman: Ronny Chieng..., And the great danes.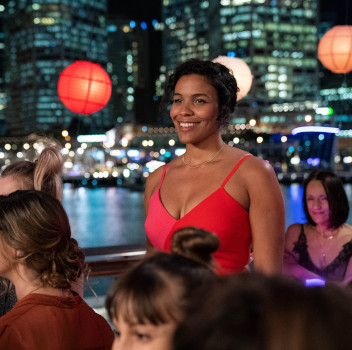 Question: What was your first performance?

Zahra Newman: It was probably in the living room imitating my mother.


Question: Do you prefer theatre or film?

Zahra Newman: Both have their merits. Theatre for the live, in the moment relationship you get to build with an audience. Film for the ability to capture an amazingly delicate interaction in the moment.


Question: Do you have any tips for aspiring actors?

Zahra Newman: Don't read reviews. Do at least one project that scares you.


Question: What moment in your career stands out the most?

Zahra Newman: I've been lucky enough to have a few cool moments (big and small) over my career. When I found myself sitting at a table with Robert Redford, Dennis Quaid and Cate Blanchett about to shoot a scene - that was surreal. I had one line, but still, surreal. On the other hand I've also had the opportunity to do 2 solo shows, and the process/challenge of making and building those pieces, overcoming the terror of failure was so rewarding. both those shows were definitely standout moments for me.


Question: If you could work with any other actor or director, who would it be?

Zahra Newman: Michaela Coel


Question: What's a typical day like?

Zahra Newman: Hardly a typical day. My schedule is constantly changing and I go through periods of having no spare time at all to having all the time in the world. I do love the routine of a rehearsal process and the growth that happens over that period.


Question: What's next for you?

Zahra Newman: At the moment I'm doing some small one off gigs to help support live theatre starting up again, and then hopefully some television and film projects later on in the year. Stay tuned...


Interview by Gwen van Montfort