DISHLICKERS DESIGN INTRODUCES FLEA TAXI


All home makers pride themselves on creating a distinctively unique and welcoming environment. Time, care and strategy all go into the overall look - from the colours to the finishes of everything from the walls to the couches. Everything counts. So when it comes to purchasing items for pets, why should there be any less options available or time taken to purchase?
At what point did pale pink dog beds with a paw print motif become acceptable? In what home does this classify as style?
Rachel Knoester wants to change all that. Enter Flea Taxi by Dishlickers Design Pty Ltd.
Flea Taxi encompasses a full range of beds, collars and toys that are innovative, practical and stylish. With an assortment of colours, patterns and fabrics, each item has been created with the thought of introducing a personalised and essential addition to the home and lifestyle. These are not items that need to - or rather should be - hidden from view when guests arrive.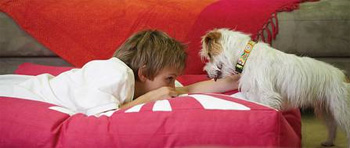 FLEA TAXI COLLARS


All Flea Taxi collars are strong, backed with high tensile polyester webbing but the feature is the beautiful 100% cotton limited edition prints. The collars are manufactured by hand in Melbourne showcasing an Australian personality and sense of fun with themed designs including paisley, jelly bean, aboriginal looks and beachy florals.

"Collars are essential - your dog wears one every day -Rather than leather collars - which really don't handle the Australian lifestyle too well - water, sun and sand - Flea Taxi is excited to provide options that are fun, functional and individual to reflect your taste, and your dog's personality." - Rachel Knoester.

FLEA TAXI DOG DUVET BEDS


The highlight in the Flea Taxi range are the 'Dog Duvet Beds'. A stylised version of traditional dog beds, the Duvet Beds are stylish, luxurious and innovative in their practical design. Flea Taxi Medium and Large size beds have hidden internal tunnels which hold 3 individual smaller cushion pads which make regular washing of any of these beds effortless, not to mention both your pooch and your home smelling fresh!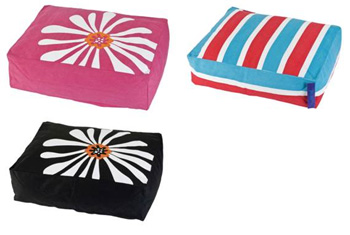 And much like our own doonas, Additional Dog Duvet covers are sold individually, making changing the look and feel of your pet's bed incredibly easy and more cost effective than purchasing a second or third bed.
Dishlickers Design - and Flea Taxi - were formed out of the idea that the joy of a pet is in embracing the relationship between dog and owner as opposed to treating ones furry friends like human babies. Whilst most people love to indulge their dogs, it should be done by spoiling them with comfort and style in practical necessities rather than dressing them up and decorating them with impractical ribbons and bows.
The lifestyle of ones pets should reflect the lifestyle of the family and by introducing items that compliment the ambiance and décor of the home, makes ones pet a part of the natural feel and character of the house. For this reason, the Flea Taxi range can be purchased directly through their website, leading high end pet stores and innovative homewares retailers who recognise the need to offer stylish dog accessories as part of their total 'home lifestyle' range.
Once your dog has the perfect collar and bed, the next item can be a dog door for easy entrance and exits out of the house.