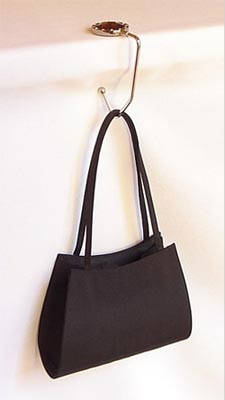 Handbag Hanger is a New stylish way to hang your handbag on the edge of a table. Keep you handbag off the ground, keep it clean and within reach for security. In a restaurant, bar or club, you can hang your handbag, designer handbag, evening bag or purse, off the table or edge of the bar.
Your bag is off the ground, close to you and secure. Easy to use and functional, you will love the Handbag Hanger. Handbag Hanger is a fantastic gift.
Available in a variety of colours and styles, the Handbag Hanger fits easily into your handbag and is the smart girls accessory, for style & security.
Prices range between $9.95 and $29.95.
Handbag Hanger is available from
www.handbaghanger.com.au