Meg Lanning Cricket Australia The Southern Stars Interview
Australia's women's cricket team, the Commonwealth Bank Southern Stars, is one of the country's most successful national sporting teams, but its players are far from household names.
How many Australians, for example, followed captain Jodie Fields' courageous 18-month battle to return to the crease following what many expected to be a career ending injury?
And how many people know that rising star Meg Lanning was the youngest player - male or female - to score a century for Australia, a feat achieved on just her second outing for the team.
Fields and Lanning feature in a series of four short films which introduce these gutsy, talented athletes to both the broader cricket and sporting community of players and fans and provide an insight into what makes them tick. The films are part of the pair's role as Commonwealth Bank Southern Stars ambassadors, aimed to encourage greater following and participation in women's cricket and help it become one of Australia's most recognisable female sports.
Also featuring in the biopic stories are fellow Commonwealth Bank Southern Star ambassadors, motivated and versatile player Alyssa Healy and fast bowler Ellyse Perry, whose multi-sport career has led some observers to note that if she were a male athlete, she would be recognised as perhaps the country's most talented sportsperson.
Each of these four players feature in their own short film, shot in a way that allows us to see not only what makes them tick, but also showcases their athleticism in a whole new light.
The four stories are being released throughout January to support and highlight the Commonwealth Bank Southern Stars during the Women's T20 INTL series and Women's Rose Bowl ODI series against the New Zealand White Ferns in a bid to generate interest in this accomplished team and show Australians just who these sporting heroes are!
Short Films
Triumphant over a potentially career ending injury, Commonwealth Bank Southern Stars captain
Jodie Fields
reveals how her own battle to return to the crease has made the wicket keeper even more determined and proud to play for Australia:
http://bit.ly/zIgRIx
What drives the dedicated fast bowling sensation of
Ellyse Perry
, the 21 year old sporting superstar who has been playing for the Commonwealth Bank Southern Stars Australian women's cricket team since she was 16:
http://bit.ly/yBfAZe
Australian Women's Team the Southern Stars five-match Twenty20 series against New Zealand's The White Ferns
20th of January - 3rd of Febuary 2012
Follow the Commonwealth Bank Southern Stars:
www.www.cricket.com.au/southernstars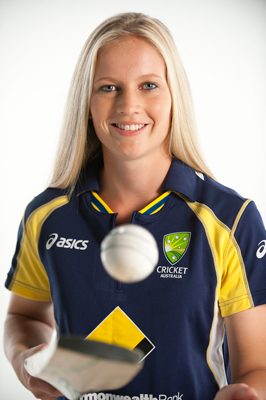 Interview with Meg Lanning
At just 19, Meg is the rising star of women's cricket - she's got the potential to be the next great Aussie player. She's arguably the most promising and exciting young batter in women's cricket, a great striker of the ball and a run machine in all forms of the game.
Question:
Can you talk a little bit about the preparation you are doing for the upcoming five-match Twenty20 series?
Meg Lanning
: We have been training each day, for about two and a half hours where we hone in our specific skills and ensure that we are in good form heading into the Twenty20 series. We have just come off our domestic season; we only had a couple of days before we started this series as we have mainly been playing at state, over the last couple of months.
We arrived at camp, two days before the five-match series began and had a few training sessions before we started playing.
Question:
Can you explain what a five-match Twenty20 series is?
Meg Lanning
: It is five matches and a Twenty20 game is twenty overs per five which is a shortened version of a cricket game, it is an exciting version because a lot of players are trying to score more runs a lot quicker which means it is more exhilarating for the younger viewers.
Question:
Can you walk us through your weekly training schedule?
Meg Lanning
: Generally we train for state Monday and Wednesday nights which is generally two hours training and we also participate in a gym session, throughout the week, as well. I have club training on a Thursday night and I have an individual skill session, on my own, for an hour and half each week as well.
Then we have matches on the weekend.
Question:
What do you enjoy most about playing cricket?
Meg Lanning
: I think it is the contest that happens throughout the match. I am a batter and the bowler will run in and try and get me out whilst I am trying to prevent that. My opponent is trying to do one thing whilst I am trying to do the other and I love trying to counteract what the opposition is trying to do.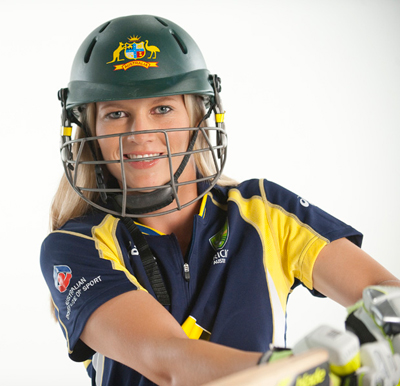 Question:
The Australian women's cricket team is being exposed to the wider public via videos, can you talk about your video?
Meg Lanning
: Yes, I flew up to Sydney to record the video where I had an hour long, videoed, interview where I spoke about certain moments that have happened in my career and how I grew up with cricket. We were able to get hold of a slow motion camera and they filmed us at the Sydney Cricket Ground (SCG), I was batting, because I am a batter for the team.
The videos are all about the promotion of women's cricket in a different way. I think it is going pretty well so far. I think all the videos that have been released have had a great response and we have been very happy with them.
Question:
What do you hope to see in your cricket future?
Meg Lanning
: Personally I want to make the Twenty20 World Cup squad which is in September and that is coming up, quite quickly and that is pretty much all I am looking to do, at the moment. I have a few tours coming up, one to India and I am looking to cement my spot in the team so I am able to go and compete at the World Cup.
Question:
Where is the greatest place cricket has taken you?
Meg Lanning
: I'd have to say India; I travelled there, last year, for a ten day cricket training camp. In India I enjoyed that the culture was so different to Australia, it was very interesting and I really enjoyed experiencing that for the first time. I am looking forward to getting back to India in a couple of months.
Question:
What is a typical day like, for you?
Meg Lanning
: I am at University studying Exercise and Health Science. Generally I will spend about five hours at University then I will go home before heading out to training which starts at about 6pm and often we train through until about 8:30pm. For me, it's not too bad; everyone in the team usually works or studies at University. For the team members who work full time, training can mean they are out of the house from before 9am through to after 8:30pm - I get it a little bit easier!
Question:
Are you on a strict training diet?
Meg Lanning
: Yes, obviously we have a few nutritionists who tell us what we should and shouldn't be eating. Generally I make sure that I am consuming a lot of fruit and vegetables whilst keeping away from the really unhealthy foods including soft drink and chocolate. Every now and again we are allowed to eat unhealthy foods and I make the most of that opportunity.
I suggest that you make things yourself rather than going and buying it at a restaurant because when you make it yourself you know what you're putting into it and what you're eating.
Question:
What advise do you have for young girls getting into cricket?
Meg Lanning
: Cricket is a lot of fun because you're playing in a team with eleven other people. You don't have to play at an elite level, if you don't want too. There are plenty of opportunities to play when you're younger and at any level.
Cricket is about enjoying the game, if you enjoy playing the game you are going to want to come back and continue playing.
Interview by Brooke Hunter