Emily Rodda Get Reading Interview
Emily Rodda is touring Australia as part of the 2011 Australian Council of the Arts Get Reading! Program, 29 August to 30 September.

Emily Rodda has authored the Get Reading! 2011 free giveaway book, The Land of Dragons and 60,000 copies will be available with purchase of a title from the 50 Books You Can't Put Down guide.

"The Land of Dragons takes readers back to when the world was young, the sea was alive with monsters and all the lands were islands. It will bridge the journey from Deltora Quest to The Golden Door." says Emily Rodda.

Emily Rodda's new book, The Golden Door, is included on the 2011 Australian Council's Get Reading! guide. This is the first instalment of her new trilogy, The Three Doors, which follow the adventures of an unlikely hero, Rye.

Hailed as Australia's own JK Rowling, Emily Rodda's series Deltora Quest achieved phenomenal world-wide sales of close to 16 million copies. The series has been published in 35 countries and translated into 29 languages.

Deltora Quest will be coming to life on the big screen, movie rights recently snapped up by a prominent Hollywood production company.
"It would be hard to find a someone under the age of 17 who has not read or heard of Deltora Quest," says Andrew Berkhut, Head of Publishing, Scholastic.
"Three Doors will capture the imagination of a new generation of children and is set to become a modern classic."

Emily Rodda (pen name for Jennifer Rowe) is indisputably Australia's most influential and successful children's author of her era. Rodda has won the Children's Book Council of Australia 'Book of the Year Award' (Younger Readers) a record five times.

Emily Rodda first started writing as a young child, a passion that continued into a career as a book editor and publisher. She was also the editor of the Australian Women's Weekly, during this time she started writing children's fiction, adopting the pseudonym of Emily Rodda.

Emily Rodda has authored more than 50 children's books including the Rondo Trilogy, Deltora Quest series, the Rowan of Rin series and The Fairy Realm. Jennifer Rowe has also written popular adult fiction and television series.

The second book in the Three Doors trilogy is scheduled for release in 2012.
Interview with Emily Rodda
Question: Why have you chosen to be involved in the Australia's Council's Get Reading! Program?

Emily Rodda: I am very passionate about reading myself, not only do I love it; I think people are missing out on so much if they don't realise that books give you pictures in your mind that are more exciting than anything you can get out of a movie; as much as I love movies too!


Question: What is it about fantasy that has the Dymocks' annual booklovers survey showing fantasy fiction now outsells the Bible in Australia?

Emily Rodda: It is due to a lot of things. From way back in time people have told each other fantasy stories, from Greek mythology to fairytales. I think one of the great things about fantasy is that it can discuss the really big issues in a way that people find interesting and exciting. The reader can use their imagination to make the story as wild as they like. People are empowered to take part in great quests and adventures with fantasy and that's thrilling for the reader. Readers can also engage with characters who can actually right wrongs in a way that it is hard to do, in normal life.


Question: Can you tell us a little bit about The Land of Dragons?

Emily Rodda: The Land of Dragons is the free book being given away when you buy one of the 50 Books You Can't Put Down and it's a book of tales about Deltora which is one of my best known fantasy worlds. The Land of Dragons also tells tales of the island of Dawn and its relationship to Deltora, the island of Dawn is where my new trilogy of books is set and where The Golden Door (which is one of the 50 Books You Can't Put Down) is set. The Land of Dragons is a bridge between the two worlds of Dawn and Deltora.


Question: You've had great success with the Deltora Quest series and it is about to be made into a film; can you share with us any information on the upcoming movie?

Emily Rodda: Yes, I can't talk too much about it because the film studio doesn't want me to give away details but I have finally signed a contract. I hope it is what everyone might hope.


Question: How much of your inspiration, when writing, comes from real life and real people?

Emily Rodda: As most authors will tell you the inspiration comes from all around you; all the little things (and big) that you see around you, in your ordinary life, inspire you. When I was writing The Golden Door I suddenly become very interested in doors and I realised that books were like doors and as you open a book you go into another place. You can see libraries and bookshops as rooms filled with doors into other worlds and minds. The other part of my inspiration was the land of Deltora and its surroundings which are now very real to me, as real as my real life (laughing). I also became very interested in the art of choosing and having to choose; my hero has to choose between three magic doors, a gold door, a silver door and a wooden one - the hero has to choose which of the doors to go through to save his brothers. The series is about three brothers and I have three sons. You draw inspiration from all around you, everything that happens to you every day.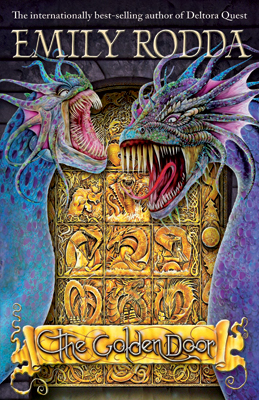 The Golden Door
The walled city of Weld is under attack from ferocious flying creatures that raid in the night, bringing death and destruction. The Warden calls for Volunteers to find and destroy the Enemy who is sending the invaders. The heroes of Weld answer the call one by one, never to return. Rye is officially too young to go but his brothers are among the lost and he must find them.

The Golden Door
Scholastic Australia
Author: Emily Rodda
ISBN: 9781862919129
Price: $16.99


Interview by Brooke Hunter


Buy it now at