Set Intentions Not Resolutions
Stoned Crystals have recently developed their Intention Cards, a new product designed to help guide our focus and goals in life. When creating and setting intentions we are programming our minds with positive mantras and affirmations towards the goals we seek.

The Stoned Crystals Intention Cards are available for sale and includes 6 x instructional cards, 18 x intention cards and 1 x acrylic stand all encased in a luxe card intention box. For those wishing to experience the power of setting their new years intentions with the help of crystals, Stoned Crystals have released Crystal Mini-Packs in Rose Quartz, Clear Quartz, Labradorite, Amazonite and Amethyst. Retailing for $34.50, the Stoned Crystals Mini Packs are a great present for the crystal enthusiast or a great help to those who feel they lose focus of their goals.

www.stonedcrystals.com



Interview with Ashley Bellino
Question: What is the difference between resolutions and intentions?

Ashley Bellino: Resolution: Lose Weight
Intention: I choose to find ways to enjoy being active and healthy

Resolution: Be more organised
Intention: Create spaces that allow peace and happiness to flow freely

As opposed to setting a once-off resolution we are almost bound to fail and forget, setting intentions programs our minds with positive mantras and affirmations that return the life experiences we seek. This positive self-talk guides us in how we want to live and engage with the world.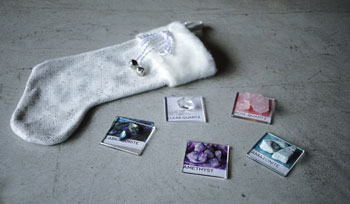 Question: Why do resolutions have negative connotations?

Ashley Bellino: Resolutions can be boxed in and unforgiving, and that negativity tends to be compounded by colossal rates of failure, as only 8% of people are successful in achieving their New Year's Resolution*.

By focusing our energy on fixing the things that are 'wrong' with us, it's inevitable that we will eventually meet with anxiety, depression and failure. So many people live with a tormentor in their head that continuously attacks and punishes them, eventually draining them of the vital energy required to really live. Compact this with a resolution that constantly reminds us of our shortcomings and you can see how these new 'goals' last a very short amount of time.


Question: Can you share your step-by-step guide on how to set ourselves up for success with our 2018 intentions?

Ashley Bellino: 3 Easy Steps To Setting Intentions:

Find a quiet place to still the mind
When we plant the seed of intention, it's important that we are in a restful space where our awareness remains focused on what we are trying to manifest. Intention is much more powerful when it comes from a place of contentment than if it arises from a sense of lack or need, so try to make it a frequent ritual that is not just borne of feelings of anguish or negativity. I find either before or after meditation, or in the morning whilst having your daily coffee is the best way to start the day.

Develop a positive intention
Before you state your intention it's important to think about a few things:

What is it that I really seek?
Is it this or something else?
Is it based on want or sense of lack?
What would make me a better version of myself?

Questions like these will help you to turn negative phrased aspirations into positive goals. For example, instead of focusing on the need for more money your intention could be, 'Prosperity flows through me and my needs will be met with ease and grace'. This has turned something potentially self-serving and negative into a positive statement that doesn't actually focus on needing excess and instead promotes benevolence and love.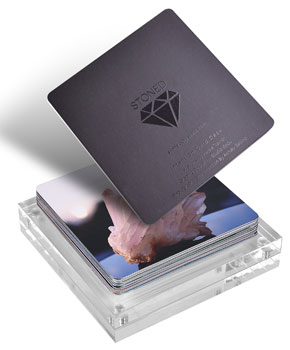 State your intention aloud and/or write it down
Say your intentions out loud. Voice is an incredible tool that helps to secure the state of the mind. You might also find that writing it down will help manifest your intention. Pop them throughout your space to ensure they act as a reminder to keep your thoughts and actions in line with your intentions.

Surrender your intentions to the universe
The concept of letting go is not an easy thing to do. However, it's necessary when setting intentions. Guess what? You're not in control. Embrace it and feel the freedom of not having to try to control everything in your life.


Question: Did you achieve intentions you set out to achieve in 2017?

Ashley Bellino: Using my Stoned Crystals Intention Card Deck made it very easy for me to shuffle the deck and pick an intention/positive message that resonated with me daily. About 5 of the cards were very in-tune with the themes I went through in 2017 and I think this year I will be focusing on some of the other and new cards in the deck!


Question: How can we ensure our intentions don't get forgotten?

Ashley Bellino: Setting intentions is not something we should only think about once at the beginning of the year like a resolution. It is something that we should repeat to ourselves daily to ensure we don't stray from our path and are always checking in to make sure that our thoughts and our actions are in line with our intentions.


Question: Can you share your 2018 intentions with us?

Ashley Bellino: Some of the intentions I believe will resonate with me this year come inside the Stoned Crystals Deck. The deck is a little bit cheeky and very engaging. They are exactly the kinds of positive messages you would love to display in your home. In 2018, I have a deep intent to learn – it's never a waste of time if you learnt something.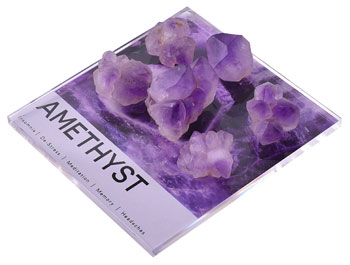 Question: Are you able to share examples of positive mantras and affirmations, with us?

Ashley Bellino: Of course, everybody needs something a little different when it comes to positive affirmations. Some great examples I use myself would have to be…

ATTRACT - I attract the things I am ready for
PEACE - This is a Zen Home... No drama past this point


Question: Can you tell us about the creation of the Stoned Crystals Intention Cards?

Ashley Bellino: Our Vision is to bring the wisdom and tradition of crystals into the modern world by translating their spiritual history into a wellness and lifestyle message. The creation of the Stoned Crystals Intention Card Deck is to help people to understand how to care for their crystals and set intentions for them. By activating our crystals with positive intentions, they act as a reminder to stay mindful that our behaviours remain consistent with our intentions. Plus, the Intention Cards make for beautiful styling together with your crystals and create lovely sacred spaces that bring light and energy to your home and workspace!


Question: Why are the Stoned Crystals Intention Cards the perfect present?

Ashley Bellino: The Intention Card Deck comes with 30 stunning artwork cards that can be displayed each day. They make a great introduction to caring for crystals and also setting intentions and positive affirmations. At an affordable price of only $37.50, they make a great gift for someone who already has crystals, someone who wants to get crystals, or even just on their own as beautiful messages and artwork for setting daily intentions.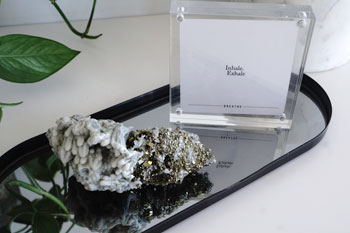 Question: How will you be using the Stoned Crystals Intention Cards as we approach 2018?

Ashley Bellino: The quote cards at the front of the deck are instructional cards explaining how to best cleanse, charge and activate your crystal. The cards at back of the deck will help you to set intentions and activate your crystal. I will be shuffling the deck and picking an intention card everyday to display in the acrylic frame included in the box!


Question: Can you tell us about the Stoned Crystals Mini Crystal Packs?

Ashley Bellino: The Stoned Crystals Mini Packs are made up of a few small stones. Each pack comes with a pantone style energy card and a gorgeous acrylic stand. They sit beautifully on the stand and turn a small crystal into an elaborate centrepiece to decorate your nightstand, coffee table or sacred space.


Interview by Brooke Hunter