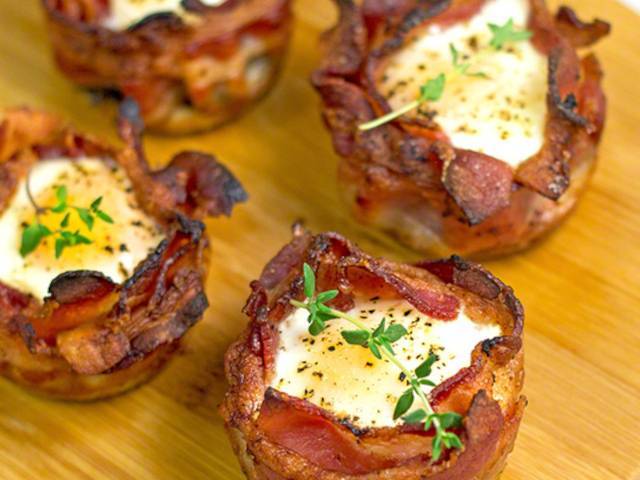 Borrowdale's Bacon and Egg Cups Recipe Show your mum how much you love her by treating her to breakfast in bed or a special brunch. Borrowdale Free Range Pork has got you covered for culinary inspiration this year, using the most ethical and sustainable meat products to ensure your mum is feeling spoilt and guilt-free.

Borrowdale Artisan Maple Streaky Bacon is free from added hormones or gluten, and it is Certified Free Range and Carbon Neutral. Use this delicious new range of bacon in an easy and child-friendly way with this Bacon and Egg Cups Recipe.

Borrowdale's Bacon and Egg Cups

Ingredients
12 rashers of Borrowdale's Artisan Maple Streaky Bacon
6 eggs
1 cup shredded cheese
Salt and pepper to taste
Paprika to taste
Chives to taste

Method:
Preheat the oven to 200°C.
Place the slices of bacon in the muffin tin, wrapping them in a circle.
Oven bake the bacon for 10 minutes.
Remove the bacon from the oven and pour out any excess grease, if desired. Crack 1 egg into each of the cups, then sprinkle with salt, pepper, and cheddar cheese.
Bake for another 10 minutes, or until the egg yolks reach your desired consistency.
Run a knife around the edge of each cup to loosen and remove.
Finish off with a dusting of paprika and a sprinkle of chives (optional).

A bit about Borrowdale…
Borrowdale was founded on the basis of caring for people, animals, and then land which underpins its long-term partnership with family farmers. Borrowdale's free-range pork adheres to the APIQ free range industry standards, ensuring all pigs have access to take responsibility for its footprint and carbon emissions across the entire business. That means every animal, product, and of course, every process. The entire carbon footprint has been calculated and Borrowdale has voluntarily chosen to ensure that it's 'neutralised' by offsetting it entirely.