Bain de Terre is a line of botanical-based products that provide spa results to replenish, revitalise and reinforce hair. These luxurious formulas ensure beautiful, healthy results that make your hair feel renewed.
The catalyst in all Bain de Terre products is bio-renew complex, a blend of soy protein, gingko biloba and sunflower seed extract.
Soy protein replenishes vital proteins lost due to styling and environmental stress, thus strengthening the hair fibre.

Gingko biloba improves scalp circulation to promote healthy growth, revitalising hair.

Sunflower Seed Extract reinforces hair's integrity adding a protective barrier to prevent environmental damage.

The infamous range of Bain De Terre shampoos and conditioners:


For Balance
A shampoo and conditioner for all hair types that restores and maintains a natural moisture balance necessary for healthy, brilliant hair.

green meadow balancing shampoo

Infused with nature's own botanicals from lush green meadows, this gentle formula thoroughly cleanses all hair types, while providing the perfect moisture balance for healthy, shiny hair.



white clover balancing conditioner

A light, daily conditioner for all hair types. White clover naturally detangles and moisturises, providing the perfect moisture balance. Leaves hair silky, manageable and healthy,


For Volume
A shampoo and a conditioner for all hair types that add extra volume and a brilliant shine.



lemongrass volumising shampoo

A gentle cleansing shampoo for all hair types, including colour-treated. Infused with lemongrass to provide volume, body and brilliant shine.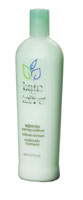 watercress volumising conditioner

A light rinse-out conditioner or all hair types, including colour-treated. Infused with watercress to add volume and body. Leaves hair healthy, manageable and lustrous.

To find out more about the full Bain de Terre range please contact Salon Support on 1800 111 770 or www.salonsupport.com.au