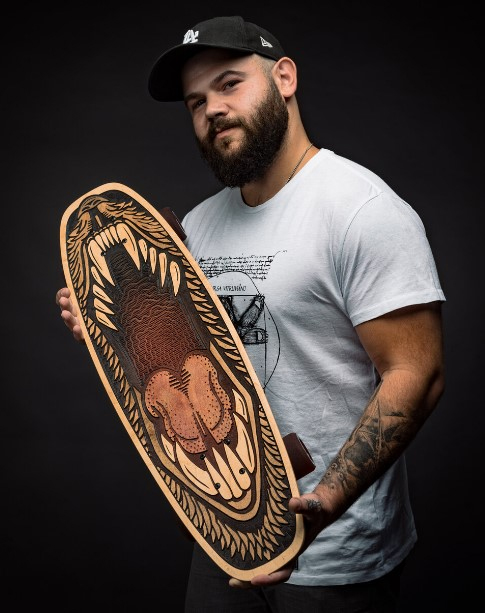 With celebrities fans like Jason Momoa (AQUAMAN) Zachary Levi (SHAZAM), Billie Eilish, Grant Gustin ("The Flash") and Killer Mike owning rare custom Bear Walker skateboards, we would love to arrange an interview with you & the designer/craftsman himself Bear Walker to share how he builds Hollywood's new skateboard obsession from his Alabama studio.
Bear Walker has become a legend as a famed skateboard craftsman, with his work featured in HypeBeast, The New York Times, and Forbes to name a few.
Bear will also be at this year's San Diego Comic-Con in July to reveal his latest custom boards and have fans take a glimpse behind-the-scenes of one of the most beloved custom skateboard makers in the world.
These premium collector items are unique in their complete lack of grip tape (the only councils in the world to offer this.) Instead of grip tape, the wood and character design are carved for ultimate traction and a statement design. As a result, each board is truly one of a kind.
Bear collaborates with the biggest names in comics, video games and Hollywood to get unheard of liscensing deals. Marvel recently tapped Bear Walker for a limited-edition set of Spider-Man skateboards. Bear has designed skateboards for Black Panther, Iron Man, The Hulk, Wolverine and Pokémon.
This Gamer/Comic/Sci-Fi/Horror fanatic & famed designer is changing the face of skateboarding and pushing it into the future with his one-of-a-kind wood-carved grips and makes his skateboards into rideable works of art. In addition to only using the highest quality materials, the company plants one tree for every board sold.