This Mother's Day give mum the perfect skin pamper gift with a Palmer's Cocoa Butter Formula with Vitamin E pack, including:

Palmer's Cocoa Butter Formula with Vitamin E

Palmer's Cocoa Butter Formula Body Gloss

Palmer's Cocoa Butter Formula Dark Chocolate & Peppermint Lip Butter

Palmer's Cocoa Butter Skin Success Anti Aging Kit

Palmer's Cocoa Butter Formula Moisturising Body Oil
Pack Value: $50



Palmer's Cocoa Butter Formula with Vitamin E
Enriched with Vitamin E, this advanced moisturiser softens, smooths and relieves dry skin. Also helps smooth and blend unattractive marks and scars. Tones skin. An excellent after tanning butter. Widely recommended for stretch marks, during and after pregnancy for stretch marks, during and after pregnancy. Use daily for soft and youthful appearance.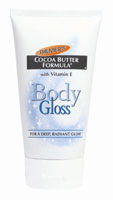 Palmer's Cocoa Butter Formula Body Gloss
Make an impact when sipping cocktails by the pool with this rich, luxurious lotion that will leave skin beautifully illuminated, and subtly shimmering.... Pure cocoa butter and Vitamin E provide just the right amount of moisture to keep skin soft and smooth to touch. Palmer's Cocoa Butter Body Gloss will leave skin lightly glistening, but without rish of an unnatural or glittery finish.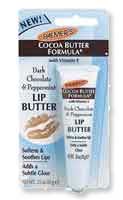 Palmer's Cocoa Butter Lip Butter
Soften and soothe your dry, chapped lips with this unique, dark chocolate peppermint lip butter. A special formulation of Palmer's 100% pure Cocoa Butter, Vitamin E and Petrolatum provides ultra-moisturization and a hint of gloss with the delicious scent of dark chocolate and peppermint. This one-of-a-kind lip butter gives you a slight tingle so you know it's working to combat even the driest lips. The addition of Peppermint Oil freshens breath naturally.
Palmer's Cocoa Lip Butter may be used under or over a lipstick or alone for a natural, glossy look.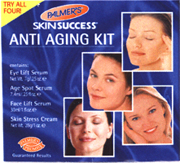 Palmers Cocoa Butter Skin Success Anti Ageing Kit
Do you need to turn back the clock, but not sure where to start?
Palmer's have added a new Anti Aging Kit to their already infamous Skin Success line. Now you have the option to trial all four of their best selling anti aging formulas and work out which product combination is best for you! Includes:
Palmer's Skin Stress Cream - which is a combination of Green Tea, Gorgonian and Chamomile extracts to gently treat hypersensitive skin symptoms.

Palmer's Age Spot Serum - effective combination of Alpha Hydroxy Acids and Kojic Dipalmitate Complex to reduce the appearance of age spots, freckles and discolorations of the skin.

Palmer's Face Lift Serum - will firm and tighten tired skin, while plumping and filling in lines and wrinkles. Ingredients include Merinox-C™ which is clinically proven to relax lines and wrinkles, Retinyl Palmitate to renew firmness and smooth texture for an immediately visible improvement, and Vitamin C Palmitate & Vitamin E which are proven antioxidants to protect against the damaging free radicals in our everyday environment.

Palmer's Eye Lift Serum - Smoothes wrinkles while reducing dark circles and puffiness, a revolutionary non-irritating eye serum. This product uses optical light reflections to work instantly, plumping and moisturising your eye area, and banishing those unsavoury 'crows fee' lines.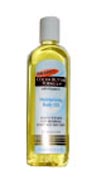 Palmer's Cocoa Butter Formula Moisturising Body Oil
Lightly scented, fast absorbing moisturizing body oil that leaves the skin silky soft. A light oil specially formulated with pure Cocoa Butter and Vitamin E to help soften and soothe rough, dry skin. The rich formula absorbs quickly, allowing you to put on even the most delicate of fabrics immediately. Apply to damp skin and pat dry.


Available through Australian Unity Pharmacies, Chemmart, My Chemist, National Pharmacies, Price Attack, Priceline, Target, Terry White Chemists or call 1800 640 043 for stockists.