Every night on those little black boxes perched precariously on cabinets in the corner of our lounge rooms, we watch TV divas perform in all their Technicolor glory. As we all know, life imitates art, and it's from the TV divas many of us draw fashion trend inspiration. Which stars do we think deserve a big gold star for flaunting the most fabulous fashions on the small screen?
Princess Jemma - Big Brother
Who can deny perfect Princess Jemma from the reality TV show, Big Brother hasn't had a major influence on Australian fashion in the last 2 months? Jemma sported low slung 80's belts, super tight hipster jeans, retro (faux) fur coats, wristbands, micro mini's and off the shoulder Fame inspired tops long before many of us dared to road test them ourselves. All hail Jemma the trendsetter! It is rumored she was sponsored by clothing companies such as Sass and Bide, Third Millennium and Bettina Liano to wear their threads on the program.
Sarah Jessica Parker aka Carrie - Sex and the City
The babe from the Big Apple single-handedly re-launched the nameplate necklace, the floral corsage brooch, metallic gold bags and shoes, clutch bags, and most recently a scary array of 80's numbers...some of which are best left alone. We are however, digging her gold lightning-bolt pendant necklace.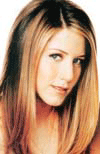 The cast of Friends
Jennifer Anniston (Rachel) followed the example set by Kate Moss, lopping her poker straight waist length locks into a chic bob and millions followed suit. Hey, she's got Brad - she's gotta be doing something right! Courtney Cox-Arquette (Monica) was sporting 70's inspired shirts, colored boots and a chic layered cut way before we jumped on the bandwagon and Lisa Kudrow (Phoebe) sets the best vintage retro example of all. Vivienne Westwood, Prada and Calvin Klein (to name a few) dress the girls.
The girls from Charmed
TV's sauciest witches have had their fair share of gorgeous costumes. Look to Shannen Doherty (Prue) for sexy numbers, such as leather backless tops, Holly-Marie Combs (Piper) for the sweetest accessories and Alyssa Milano (Phoebe) for the hippest casual ensembles.
And last but not least, lets not forget the Ramsey Street and Summer Bay soapie bella's! We can always turn to Danni (hip rock chick), Hayley (beach babe), Flick (urban cool), and Gypsy (misunderstood vixen) for a bit of homegrown inspiration.
- Rachael