Cook Like The Australian Women's Rugby 7s With Their Favourite Beef Recipes
Try these delicious and easy recipes made with the Greatest Meat on Earth that can help athletes and everyday Aussies perform at their best.

Have you ever wondered what it takes to be one of the greatest gold-medal winning athletes? From tough training, to eating right, there's more to it than just what happens on the field.

Dietitian to the Australian Women's Rugby 7s team, Peta Carige, has shared four of the ultimate beef recipes that she recommends and prepares for the players as part of their nutritious weekly meal plans. The recipes include a favourite of players Charlotte Caslick, Demi Hayes, Shannon Parry, and Emilee Cherry – -Spiced Beef and Hummus', that you can now try at home.

Australian Beef is an excellent protein source of iron, with dietitians recommending 130g of cooked lean red meat to be enjoyed every other day as a practical way for busy athletes and any busy woman to get the nutrients they need to perform at their best.

With a variety of cuts available, beef offers multiple ways to create diverse, healthy and balanced meals for everyone – from elite athletes to everyday Aussies. Nothing beats Australian Beef when it comes to taste, quality, and nutrition!


Interview with Demi Hayes
Question: What does a normal day on a plate look like for you?

Demi Hayes: Breakfast is usually pretty simple, I don't really like to eat a huge meal before a big field session. Lunch we nearly always have meat, such as a spag Bolognese, or beef stir fries are always one of my favourites. After a big session, I would love a piece of steak, however there are a few too many of us to cook that for!


Question: Does your diet change in the run up to a big game or competition?

Demi Hayes: For me personally, yes. I will often try to eat more meat for iron and energy before a tournament. It's sometimes a bit tricky when travelling in a totally different country though, so we work with what we have to eat the best we can!


Question: What is your normal training regime?

Demi Hayes: Training for me is daily. We usually have to be in at training between 7am and 9am. Depending on the day, we then either have physio for specific injuries or we stretch. Following that we have up to 2 hours on the field, come back for recovery and lunch, then finish off the day with gym and maybe a skills session after.


Question: What role does beef play in your diet (e.g. frequency you eat beef and what)?

Demi Hayes: As part of the meal plan that our dietitan Peta Carige prepares for us, I usually eat meat 3 to 4 times per week either at home, or Peta has our chef cook it for lunch post-training. It's always a great way to cap off a heavy session!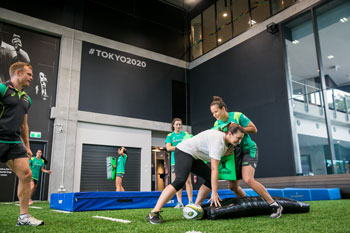 Question: How important is meal prep for you? How often do you do it and what are your tips to ensure you get the right amount of protein throughout your full week?

Demi Hayes: We always have a very busy schedule so I try to meal prep some go-to dishes that fill me up ahead of time, such as spaghetti bol, stir fry or satay beef. They're just easy and so yummy! Plus, it saves me cooking dinner after a big day of training.


Question: What is your earliest and/or favourite beef memory? (e.g. a beef recipe you were cooked as a child, or did you grow up on a farm with cattle, etc.)

Demi Hayes: My family actually live on a cattle farm which is where I grew up. I'm a country girl at heart. A favourite memory I have are all the special dinners we had, we got treated to skirt steak which was always so delicious.


Question: What is your favourite beef recipe?

Demi Hayes: I love satay beef, it's one of my mum's recipes I've eaten from a young age. She'd be impressed I can cook it for myself now!


Question: What are your plans for 2018?

Demi Hayes: My goals are to make the Commonwealth Games and World Cup teams. It would be a dream come true so I hope my hard work and training come to fruition!



Greek Beef Pita
This protein packed pita is filled with flavour, the perfect delicious and nutritious lunch.

Preparation time: 10 minutes
Cook Time: 90 minutes
Serves: 6

Ingredients
800g beef chuck, fat trimmed, 3cm dice
1 tbsp extra virgin olive oil
Juice of one lemon, plus wedges to serve
1 head garlic, halved
2 tbsp fresh oregano leaves
1 tbsp vino cotto or balsamic
1 cup (250ml) beef stock
1 red onion, finely sliced
1 green capsicum, finely sliced
¼ red cabbage finely shredded
½ cup Greek yoghurt
¼ cup mixed herbs (e.g. mint/parsley/oregano)
1 cup baba ganoush
Greek pita bread and mint sprigs, to serve

Method
Place beef chuck in a 2L cast iron casserole or baking dish. Add olive oil, lemon juice, garlic, oregano, vino cotto and stock, season with pepper and stir to combine. Cover meat tightly with baking paper, pressing it down and place lid on top. Cook in 180°c fan forced oven for 1hr 30 minutes or until tender. Check the beef every 30 minutes and stir during cooking.
Combine onion, capsicum and cabbage in a large bowl and rest. Stir herbs into yoghurt.
Remove the beef from the baking dish and let it rest for 10 to 15 minutes. Roughly shred beef (if desired, you can also leave in pieces), discarding garlic and toss with juices from the cooking dish in a bowl, seasoning to taste.
Assemble pitas by spreading with baba ganoush, topping with salad and beef and a little herb yoghurt, roll up to enclose. Garnish with mint sprigs.
Tips: If you want to try cooking with a different cut of beef, you can also use brisket, topside and silverside for this recipe.
You can use caramelised balsamic vinegar or red wine vinegar instead of the vino cotto if preferred