Diarna Cartwright Futsal Oz Interview
To celebrate its milestone 10th birthday, Futsal Oz is set to score high with its vision to unite communities through sport and entertainment.

Inspired by the entertainment and social hub created by sports such as the Ultimate Fighting Championship (UFC) and World Wrestling Entertainment (WWE), Futsal Oz is creating a sporting environment that caters to everyone in the community.

With Australia's love for the -world game' continuing to rise, Futsal Oz is meeting Melbourne's demand for the indoor version of the game but taking it to the next level in the entertainment stakes. At elite level games, there are live DJ's, bands and specially selected playlists acting as commentary throughout the game, leaving the crowd no choice but to get involved!

Peter Parthimos, Founder & CEO of Futsal Oz says the founding principles of the organisation is to get everyone involved and deliver an experience that encompasses elite sport with fun and entertainment.

'At the core of Futsal Oz is building a culture within a community. I'm a strong believer that futsal should be just as much about the spectators than it is about the players. We've worked tirelessly to create a complete futsal experience at elite level, similar to what you would experience at a UFC and WWE event.

'Futsal Oz is a forward thinking organisation and our aim is to unite communities through sport and entertainment. The atmosphere at all Futsal Oz games is electric and we want to build upon that. Before long, everyone will want to be part of the Futsal Oz community and we'll welcome them with open arms."

Futsal Oz is the home of elite, social and junior futsal in Victoria and Australia, providing a safe and competitive way for everyone to enjoy the game. With five players per team and a smaller, heavier, low-bounce version of a soccer ball, futsal includes all the basic options of the outdoor game but in a non-stop action mode.

With three world-class stadiums in Brunswick, Mount Evelyn and Thomastown, Futsal Oz is going from strength to strength, bringing together people of all ages and skill levels.

'Just because futsal is played on a small court, it doesn't mean it should be treated as a small game," added Parthimos.

'We started our first leagues in 2006 with a vision to watch the best players compete at the best level, and more importantly, to watch the passionate players grow – those who might not have the best skills but enjoy the game to the fullest.

'Now, 10 years later, with three stadiums under the Futsal Oz banner and thousands of teams enjoying the game, I am proud of what we have achieved – and the best bit is that we're only getting started!"

For more information or to sign up to be part of a team, visit: www.futsaloz.com.au



Interview with Diarna Cartwright
Futsal Oz rising star, Diarna Cartwright, began her Futsal career after suffering a horrific back injury playing tennis at a national-level. Turning to Soccer, Diarna played socially before joining the Futsal school team and discovering her love for the Futsal game!

Joining the recently launched elite women's league in 2012, Diarna loves the social aspect of the game, with Futsal allowing her to unleash her competitive side in a healthy, wholesome and social way.

Interestingly, Diarna is in the process of becoming a police officer, however will continue to juggle her career with elite-level women's Futsal.

Diarna is passionate about the game and is an excellent advocate for keeping fit as a youngster, and combining a professional career whilst playing high level sport.

Question: What is Futsal?

Diarna Cartwright: The sport: It's a modified version of soccer, played indoors with 5 players per side. Different to indoor soccer, there are sidelines where the ball is kicked in from.

To me: The game that consumes my life. It's the sport I play 5 days a week even after a busy day working/ coaching which is my favorite part of the day and a perfect way to finish it.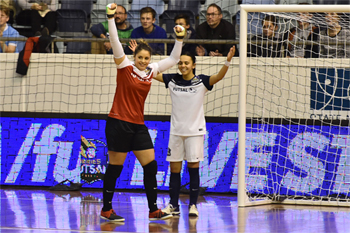 Question: What inspired you to begin playing Futsal?

Diarna Cartwright: I don't think I was necessarily inspired to play futsal, I almost just fell into the sport and grew a love for it.

I'm an ex-tennis player, who had a Junior National ranking with a promising future, until a back injury forced me out of the game when I had just turned 14.

I was a -sports nut' and couldn't sit still, so my friend told me to join her soccer team. As I wasn't afraid of the ball, I took up the goal keeper position. I loved it and have played soccer ever since.

My ex neighbour knew I played soccer and passed on my details to a man that coached futsal at a local community center who was looking for an assistant. He ended up calling my parents and asked if I wanted a job coaching kids, as he had heard I was a soccer player. At this point I said yes, not even knowing what Futsal was.

I picked it up quite quickly, and within the same few months we had a futsal tournament at school. I did really well at the tournament and the school coach told me I should trial for State Futsal. The first team I played with at Futsal Oz was the EFA Eagles when the competition was held in Brunswick. I was entered into the State League to play in my first tournament in Sydney, and from then on I haven't stopped playing!


Question: And, what do you enjoy most about Futsal?

Diarna Cartwright: I enjoy the fact that I can play at different levels and in various positions, whilst still having fun with my friends. Being a part of the Series Futsal Victoria (SFV) Competition as a goalkeeper for many seasons has allowed me to grow as a player and learn something new each time I step on the court. As a coach, its so important to keep learning – I love forwarding my knowledge to the children as when I learn, they learn too.

This season I have decided to change roles as a player which is assisting me even more with my knowledge of the game. It's fantastic that my coach and team mates are allowing me that opportunity for the season.

Friendships are the other aspect that I appreciate most about playing futsal. The friends I've made are the reason I enjoy playing so much futsal throughout the week in the social leagues and SFV both in Brunswick and Thomastown. I have made so many amazing friends throughout the years as well as meeting new people who are great connections both playing and coaching wise.


Question: Why should other women join the sport?

Diarna Cartwright: Other women should become a part of the futsal community because there's no reason they shouldn't! Apart from obviously being an excellent way to exercise and increase fitness, it's a sport for women of all ages. Futsal can be a game for 5 mothers who want to catch up once a week, have a laugh and enjoy their time together. It can also be a game for young women who are wanting to learn a sport and challenge themselves to become the best players they can be.

What I love above all, is seeing women hang around after their matches to watch others in the stadium play their games. Not many people are ever rushing out the doors after a game, instead they hang around to hopefully be called up to play an extra game afterwards when teams are short of players.


Question: Can you talk about the training involved for Futsal?

Diarna Cartwright: Depending on what level someone is at and where they want to be will affect their training.

Typically for myself, as a goalkeeper it's all about foot work and reflex actions. It took me a month with training twice a week to learn how to do a proper split save. It felt awkward and unusual, but soon enough with persistence I was able to master it.

As a player, there are so many things to work on at training. The most basic include first touch (using the sole of the foot to move the ball), passing and moving into space and obviously shooting. It's a lot different to the techniques used in soccer, hence why a lot of soccer players feel awkward playing futsal for the first time.

For me, I find futsal training and matches extremely intense compared to any other sport. The short sharp movements and the constant progression of the ball around the court will leave someone nothing less than breathless at the end- that is if you're doing your job properly!

When coaching young children, I include things like balance, hopping, jumping, ladder work and activities that get them thinking about the task at hand. As adults we take simple co-ordination for granted, so gaining the ability to have total control over your whole body and actively getting the young ones to think about colours and shapes will give them an advantage coming into their teenage years.


Question: How do you protect your back, after your injury?

Diarna Cartwright: It took me a good year to get my back right. I used to visit my osteopath fortnightly to work his magic and tell me each time what the next steps in my rehabilitation phase were. I visit him every so often now, whenever I have periods when my back and neck are aching as it's not possible for me to fix it or go on with it untreated.

The rehabilitation phases included stretches and core strengthening exercises to ensure that this injury would never re occur to the same capacity ever again. I have to check my posture when sitting down for long periods of time as it tends to strain my back and ache by the night time. To help this, in the beginning I had strips of tape down my back which would pull at my skin when I slumped over. That definitely helped.

As I've got older I have realised how much muscle strength plays a part in the recovery of someone like myself who does so much physical activity throughout the week. Hence, most mornings before work I go to the gym to keep building muscle mass and work on my overall fitness.

I believe that if I'd put more time into the off court work when playing tennis, I probably wouldn't have had an injury that took such a toll on my body.


Question: What's next for Futsal Oz?

Diarna Cartwright: That's a great question. I'm not too sure what direction Peter and the Managers will take.

Due to the latest success of the Series Futsal Australia matches being held in Perth, I think there could be great thing happening for Futsal Oz and the interstate partnerships that are being strengthened behind the scenes. I'm sure a fourth stadium isn't far off the mark either.

Women's futsal and sport in general seems to be taking off, so it would be great to see equality being built with many more women's leagues and trainings taking place with just as much enthusiasm and media coverage that the men's game possesses.

I guess we just have to wait and see.


Interview by Brooke Hunter