Ferial Youkaim International Pageants Interview
International Pageants offer a competition that is breaking the chains of conventional beauty pageants by showcasing social contribution and charity work over looks. The next pageant will be held on Thursday the 3rd of November and is part of the internationally esteemed Miss, Mrs and Miss Teen International Pageants. Open to all ladies from 13-56, the pageant does not discriminate and offers all participants a chance to discuss and raise awareness of a serious topic of their choosing.

The girls involved in International Pageants are committed to changing the world by way of charity work. Their main point of difference is the focus on the talents, accomplishments and personalities of the women taking part in the competition. They do not discriminate, with contestants from a range of different backgrounds and abilities.

Ferial Youkaim, the pageants director is incredibly proud of all the contestants and has said 'One of our proudest moments was seeing one of our Miss Teen Australia finalists join our 2015 pageant. This particular finalist has Asperger Syndrome and has difficulty with communication, social and emotional skills. After participating in the training and going on to compete amongst the other finalists, this Teen stood on the stage, spoke eloquently about her platform and earned her moment of glory. The change in her confidence and self-esteem is one of our biggest achievements."

International Pageants has worked hard to differentiate themselves from other pageants and empowers women by bringing light to their charitable endeavours. They also highlight the career accomplishments and personality traits of the women. Each participant commits to a charitable cause of their choosing and utilises the pageant platform to bring awareness of their charities and educate the public on how easy it is to make a small difference in the world.

The pageants allow all the girls the chance to have a voice and raise awareness. The beauty of this pageant is win or lose, they are actively making a difference in others' lives. Changing the negative stigma surrounding pageants and improving the world is what International Pageants is all about.

http://www.internationalpageants.com.au/



Interview with Ferial Youkaim
Question: What are International Pageants?

Ferial Youkaim: Mrs., Ms, Miss & Miss Teen Australia International is a competition that recognises gifted women from across the continent. Unlike pageants that focus mainly on beauty, this contest emphasises the talents, the accomplishments, the personalities, and the societal contributions of its participants. Each of the contestants in this pageant is committed to a worthwhile cause of her choosing, and each is allotted time during the proceedings to speak about that issue. In so doing, these women are able to educate viewers about the steps that they can take to make a positive difference. What's more, every winner spends a full year traveling throughout Australia and advocating for her beliefs.


Question: What makes International Pageants, different?

Ferial Youkaim: The International Pageants system is a unique system that differs from other pageant systems due to the authenticity in its aim to strive to serve others in the community. It simultaneously creates the opportunity for women to become self-empowered and empower others. As a part of the Australian International Pageant family, our women get the chance to choose a platform for which they have a true passion, and promote this on a national and international scale. Our humanitarian philosophy helps young women to grow into generous and charitable volunteers, who become aware of the world and community around them.


Question: Why do you believe pageants receive so much negative attention?

Ferial Youkaim: Unfortunately, and sad to say this is due to the lack of understanding what is beauty all about. We encourage you to join us to our Competition and crowning event to see what beauty is. To hear the stories these young and mature women have gone through. The Australian International Pageants reminds them that 'Life does get ugly at times, but it is imperative not to lose the total beauty of your humanity, inside and out. Pain is real. It can leave scars; but pain is instructive and therapeutic". However, in saying that we are finally getting places with media to see beauty as -normal' and not what you see on the cover of Vogue magazine. Beauty can come in many shapes, sizes and ages. The authentic beauty that shine from within.


Question: Why are the International Pageants positive role models for younger girls?

Ferial Youkaim: We believe low self-esteem is a factor in such widespread and varied problems in our society on our young generation as bullying, drug and alcohol abuse, eating disorders, poor academic achievement, teenage pregnancy, crime, violence and aggressiveness. (Robert W. Reasoner of the International Council for Self-Esteem). Whether or not self-esteem issues can be blamed for so many of society's ills, the truth is that just as with any other disability, low self-esteem can incapacitate and restrict how we live our lives, the way we act, and the choices we make.

Part of the human experience is having occasional self-doubt, but when negative self-talk overshadows your thinking, it may be time to look at methods others have used successfully to improve their self-esteem & self-image.

I have achieved both personal and professional success building my own business, launching a notable charitable organization and raising three children while remaining happily married for 33 years. Would it surprise you to learn that I was able to accomplish all of this in spite of struggling with self-esteem issues myself?

Drawing on my own experience as well as the insights gained by helping thousands of others overcome their self-esteem issues, by offering valuable methods for identifying low self-esteem along with powerful and practical tools for improving a person's self-image through positive action. The solution lies in five simple truths:

Awareness – being aware of the issue
Acceptance – embracing the issue
Attitude – changing our attitude and behaviour
Appearance – working with what we have by highlighting our assets and camouflaging any less desired areas
Assurance – owning and loving ourself


Question: Can you talk about the positive influence International Pageants has on the community and participants?

Ferial Youkaim: At the Australian International Pageants we teach contestant to build each other people up and not tear them down. All you have to do is talk to our past and present contestant they will tell you why so many of them competed last year and entered again this year.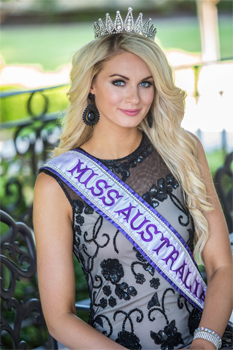 Question: Can you talk about charity work International Pageants contestants participant?

Ferial Youkaim: We have been involved and doing charity work more than 17 years, we are proud to say we have raised nearly 1 million dollars to various charities. Last year alone our contestant raised over $150K that went direct to charities of their choices. We encourage each contestant to give back to her community as the reward is far beyond description, the feeling the smiles they put on people's faces when you help them is incredible.


Question: Can you talk about the money International Pageants has raised for various charities across Australia?

Ferial Youkaim: It is our honour to give you a list of some of our partners and chosen charities by our contestants; The Children's Hospital at Westmead, Autism Awareness Australia, Cancer Council, Star Light Foundation, Sentebale Organization and Beyond blue just to name a few.


Question: How can women become involved with International Pageants?

Ferial Youkaim: Beauty pageants appear to be all the rage these days, they go from one pageant to another to apply. But those competitions seem to forget what makes people so unique and extraordinary. We welcome anyone in our International Family, it is not always about beauty these days. Hundreds of them apply every year and only few stay with us to continue in their journey and mission. Many women across the entire world, especially in Australia, have natural gifts and brilliance that needs to shine through for everyone to witness and enjoy. That is what The Australian International Pageants is all about. Mrs., Ms., Miss & Miss Teen recognizes the gifted women from across the continent. The pageant focuses on gifted women, talent, accomplishments, and the personalities of each contestant. These are truly amazing women coming together to stand for what they have accomplished and what they believe in.


Interview by Brooke Hunter