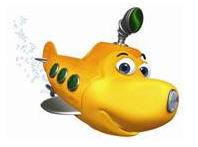 Kids who have a love of the ocean and underwater sea creatures are sure to be entertained by this colourful new 3D CGI animated series Dive! Olly! Dive!

Dive! Olly! Dive! is Flying Bark Productions?s first co-production with Mike Young Productions, who are well known for productions such as Jakers, Pet Alien and Bratz.

Script producer Sindy McKay-Swerdlove, worked on the Emmy winning Jakers.

Dive! Olly! Dive! is the first full 3D production from Flying Bark Productions, and was animated at China?s largest 3D company, GDC.

Dive! Olly! Dive! debuted on Channel Seven, Sunday 8 October this year, and will air each Sunday for 26 weeks (see your local TV guide for further details).

Created for a 5-8 year old audience, Dive! Olly! Dive! centres on the grand adventures of a young, unmanned, anthropomorphic research submarine in training. Named Olly, he and his best friend and fellow sub in-training Beth, live in a deep sea research facility called SURF (Special Underwater Research Facility), alongside their human supervisor and mentor Deep Sea Diver Doug, Doug?s transportation vehicle SKID - a young sea scooter with an inferiority complex - and a hermit crab sidekick named Brandt. Olly and Beth experience the joys and challenges of life in their beautiful, colourful underwater world, much in the same way that children experience life in theirs. Their playground is the gentle yet vast blue ocean, teeming with friends, discovery, and adventure. Each episode is filled with dilemmas and obstacles that provide opportunities for the characters to develop problem-solving skills through their curiosity, inventiveness and enthusiasm.

Under the guidance of Diver Doug, Olly and Beth are being trained to become fully-fledged research submarines. Diver Doug helps them discover and develop their potential by giving them training drills and manoeuvres, and sending them out to explore the amazing world that exists beneath the surface of the ocean.

Geoff Watson, Managing Director of Flying Bark Productions says, "This show is a prime example of the commercial benefits of production partners teaming up around the world. We?re setting out to produce a show with global appeal, while still tailoring to individual markets." Mike Young, Chief Executive of Mike Young Productions adds, "We?re intent on providing a world for children that stimulates their natural curiosity. Finding answers is not really the goal. Stimulating interest and provoking more questions is what we?re after here!"

For a review copy of the first episode or an interview with Geoff Watson, MD of Flying Bark Productions and Co-Executive Producer of Staines Down Drains and Dive! Olly! Dive!, please contact SueMacMedia.

Flying Bark Productions (previously named Yoram Gross EM.TV) is an internationally recognised Australian children?s television production company that is the creative force behind TV favourites such as The Adventures of Blinky Bill and Dot and the Kangaroo.

Flux Animation Studio is an award-winning character animation specialist based in New Zealand that have produced a wide range of commercials for local and international clients, as well as numerous television programmes for New Zealand?s leading television broadcaster, TVNZ - Tamatoa, Artoonz, Puzzle Inc. and The Adventures of Massey Ferguson

Mike Young Productions is one of the largest independent animation studios in the world. The state-of-the-art, completely digital production facility is based in Los Angeles, and their international production and distribution office is on the other side of the continent, in Cardiff, Wales.