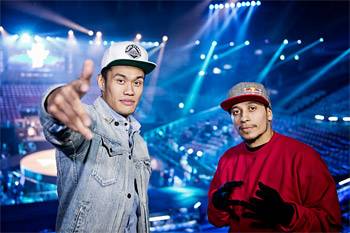 E-Man Breaking the Beat Interview
Part 1 of the series, Breaking the Beat, will premiere on GO! Sunday (9th March) @ 6pm.

With the rising popularity of break-dancing, Red Bull Media House is excited to announce that Breaking the Beat, an exhilarating two-part series about becoming the undisputed B-Boy champion of the world. Coming soon on GO! and hosted by Justice Crew front man and professional B-Boy, E-Man, Breaking the Beat takes viewers on a journey into the urban art-form that was born on the streets of New York City over 40 years ago.

'Watching the top B-Boys in the world on their path to greatness, and exploring the roots of breaking with the legendary Alien Ness was an epic experience. I can't wait for viewers all around Australia to join my journey through the Breaking The Beat series on GO!"

In its first 22-minute instalment, Breaking The Beat sees E-Man travel to Fukuoka in Japan to follow the fortunes of Australian B-Boy star Sette at the Red Bull BC One Asia Pacific Finals. E-Man explores the ancient cultures of the host city – from sumo wrestling to Taiko drumming – and then passes viewers on to Australian champ Sette's personal diary-cam. While preparing to compete against the best B-Boys in the Asia Pacific region, Sette reveals his hopes, motivations and fears before breaking with the best in front of a packed out crowd in Fukuoka.

Part two takes viewers to the birthplace of break dancing as E-Man jets off to New York City to meet one of the movement's most respected figures – Luis Martinez Jr, aka Alien Ness. Alien and E-Man explore the streets of the Bronx with Alien's Mighty Zulu Kingz crew and offers E-Man some break style tips before he departs for the World Finals in Seoul.

In Seoul, E-Man follows Korean Asia Pacific contenders Kill, Shorty Force and Differ through the hot spots of Seoul, before the climactic final showdown takes place at the Red Bull BC One World Finals. The competitors battle it out in a heated competition to become the undisputed world champion of breaking, a title respected on street's all across the globe. Tune in to find out who wins!

Produced by Red Bull Media House, Breaking The Beat will premiere soon on GO! – get a sneak peak now at www.redbull.com.au/breakingthebeat.



Interview with E-Man
Question: What is Breaking the Beat?

E-Man: Breaking the Beat is a two part television series, produced by Red Bull Media House, premiering this Sunday (9th March) @ 6pm on Go! It takes you on a "Hella Dope" history lesson through the art forms of hiphop and breakdancing. In Breaking the Beat, we interview bboys from all over the globe and watch their journey at attempting to take out 2014 title of "REDBULL BC ONE WORLD CHAMPION".


Question: Why did you want to host Breaking the Beat?

E-Man: I have a passion for breaking. It's the culture of dance I grew up in. I also have a passion for hosting and this was a great opportunity for me to get started on my professional presenting career.


Question: Can you explain what it means to become the B-Boy champion?

E-Man: It means you're the best boy in the world. There's nothing greater.


Question: What do you hope Australians learn from Breaking the Beat?

E-Man: When creating Breaking the Beat, Red Bull Media House was passionate about presenting the culture of breaking and its roots in a "unique way", which you will see in the series. Bboys often get judged as street kids up to no good. Breaking is a positive culture and one of discipline especially if you are wanting to take the title of Red Bull BC One


Question: What was the best thing about hosting Breaking the Beat?

E-Man: Getting to see the world's best being amongst athletes of that caliber was incredibly humbling and inspiring to me. My motto is "dream big" and it definitely made me dream bigger. It was also my first hosting opportunity so I was learning from the crew every day.


Question: What was it like to meet Alien Ness?

E-Man: Overwhelming!! I'm used to listening to Alien Ness share his knowledge on Bboy DVDs but to chat in person and receive his knowledge and passion was surreal.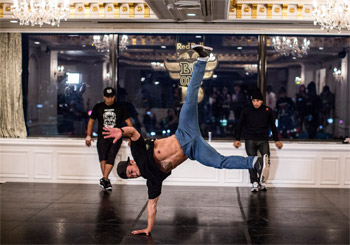 Question: What was it like to travel to Fukuoka in Japan and of course, Seoul?

E-Man: SICKKKK tick that off the bucket list. The people are so friendly. I felt like I was in a comic book!


Question: What advice do you have for others who may want to get involved with this urban art-form?

E-Man: Seek knowledge!! If you have friends that dance ask them where to train and how they got started and train hard. DREAM BIG NEVER LIMIT YOURSELF…..


Interview by Brooke Hunter