Meet the Ladies Making Waves in the Plumbing Industry
It's a male-dominated industry known for muck and grime, and physical labour, but plumbing is now becoming a sought after career for young female apprentices too. Rheem has recently awarded grants and recognition awards to a selection of apprentices across the country and again this year, several of the winners were women. These determined ladies are demonstrating every day that women can thrive in traditionally male-dominated industries. In fact, the supervisor of one of our winners said, 'She out performs any other apprentice I have been involved with in my 20+ year plumbing career across several countries."

The four female winners are:
Eilish Anderson-Grundon, 24 from Northlakes QLD
Amber Shelton, 26 from Adelaide SA
Nicole Harrington, 20 from Clontarf QLD
Laura Coombes, Mawson Lakes SA



Interview with Eilish Anderson-Grundon
Question: What inspired your career in plumbing?

Eilish Anderson-Grundon: There are a lot of female plumbers who fall into the industry because their dad or partners are plumbers and they follow their footstep however that was not the case for me. I attended all-girls Catholic Boarding College in a small regional town and all I knew after my five years of high school was I wanted to do a trade. The thought of being stuck inside for the rest of my life did not sit well with me at all. However after trying two other trades in the construction industry I began to question my decision that was until I was offered a plumbing apprenticeship within the first week onsite I knew this was the trade I was looking for! I have not looked back since that day.


Question: How long have you been a plumber?

Eilish Anderson-Grundon: I started my apprenticeship in 2014 so this year will be my fourth year in the plumbing industry.


Question: How did it feel to be recognised with a Rheem award?

Eilish Anderson-Grundon: To be recognised in the Rheem Award Program is such a rewarding feeling. I spent so much time re-reading my application and was worried about how it would be received to get the phone call I was over the moon and so was my manager. He invests so much time into me to be able to achieve something like the Rheem grant reflects on all the time he has put into me as well.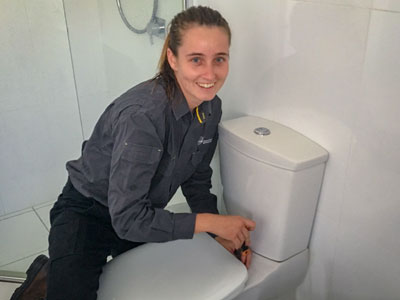 Question: What's a typical day like, for you, as a plumber?

Eilish Anderson-Grundon: A typical day in the life for me as a plumber goes little something like this:
5AM – rise and shine
5:30-6:30AM – Battle the Brisbane city traffic to arrive at my first job
7:00AM- Pray that my first job isn't a blocked toilet (only joking)
7:00AM – 3:30PM Axis Maintenance Services (the company I work for) carry out reactive, preventive and schedule plumbing maintenance for commercial buildings from Sunshine Coast to Gold Coast.
So very lucky for me I could be working anywhere between here there on a range of different jobs which is why I love the type of work my company carries out.


Question: How did you overcome the challenge of being a women in a male-dominated industry?

Eilish Anderson-Grundon: I think there was a mixture of reasons how I overcame the fact I am part of a small minority (that being a female plumber in a male dominated industry). The main reason would be although I have come into contact will males who think I am not right for the trade none of those have ever been my co-workers. I am so blessed to learn my trade from tradesmen who believe I am equal to them. You hear quite a lot of stories where women have been told -no' or that they can't do certain task because of their gender however I find it so important to emphasise and give credit to the tradesmen out there who have made me into the tradeswomen I am today as well as companies like Axis Maintenance Services who are willing to give females a chance. I also come from a family of strong women my three sisters are an absolute inspiration to me and have influenced me to aim for the stars and to never give up even when the going gets tough.


Question: Can you share your career goals, with us?

Eilish Anderson-Grundon: I hope to achieve a lot in the future, in the next two years I hope to finish my apprenticeship, start and finish a Certificate 4 in Plumbing and a Certificate 4 in Project Management. With those qualifications I hope to become a bigger and better asset to my company. I would love to travel overseas and learn how they plumb in such places like England and America. I hope one day I can volunteer in third world countries and use my knowledge and trade to help improve their lifestyles with the luxury of clean drinking water and adequate sewage facilities.


Interview by Brooke Hunter