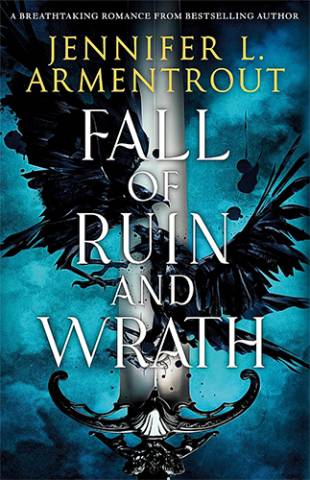 From the No. 1 New York Times bestselling author of From Blood and Ash, Fall of Ruin and Wrath is a scorching romance with high stakes, breathtaking magic and a searing enemies-to-lovers romance.

She lives by her intuition. He feeds on her pleasure . . .

Long ago, the world was destroyed by gods. Only nine cities were spared. Separated by vast wilderness teeming with monsters and unimaginable dangers, each city is now ruled by a guardian – royalty who feed on mortal pleasure.

Born with an intuition that never fails, Calista knows her talents are of great value to the power-hungry of the world, so she lives hidden as a courtesan of the Baron of Archwood. In exchange for his protection, she grants him information. When her intuition leads her to save a travelling prince in dire trouble, the voice inside her blazes with warning – and promise. Today he'll bring her joy. One day he'll be her doom.

When the Baron takes an interest in the prince, and the prince takes an interest in Calista, she becomes the latter's temporary companion. But the city simmers with rebellion, and with knights and monsters at her city gates and a hungry prince in her bed, intuition may not be enough to keep her safe. Calista must choose: follow her intuition to safety or follow her heart to her downfall.
Jennifer L. Armentrout is a No. 1 New York Times and international bestselling author and lives in Shepherdstown, West Virginia. When she's not hard at work writing, she spends her time reading, watching bad zombie movies, pretending to write and hanging out with her husband and her small menagerie. This includes her Border Collie, Artemis, and her Border Jack, Apollo. Also six judgmental alpacas, two rude goats and five fluffy sheep.

In early 2015, Jennifer was diagnosed with retinitis pigmentosa, a group of rare genetic disorders that involve a breakdown and death of cells in the retina, eventually resulting, among other complications, in vision loss. Since this diagnosis, educating people on the varying degrees of blindness has become another passion for her – right alongside writing, which she plans to do for as long as she can. Jennifer has been nominated for and won numerous awards for her young adult and adult fiction.
Fall of Ruin and Wrath
Jennifer L Armentrout
Pan Macmillan Australia
RRP: $34.99
buy this book