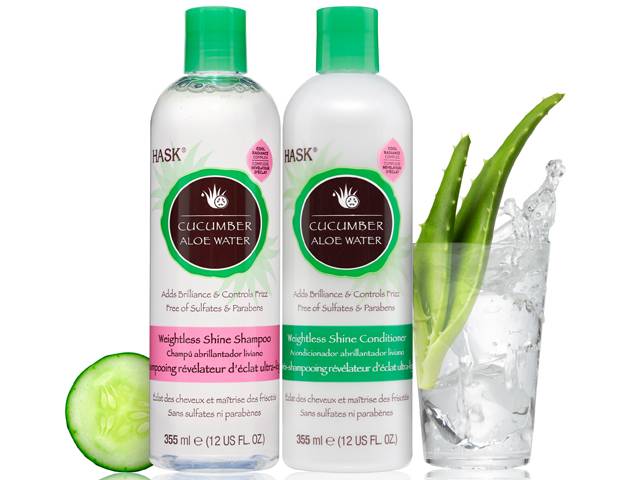 You Had Us At Aloe

The HASK Cucumber Aloe Water Weightless Shine collection is packed with nourishing nutrients, minerals and enzymes that work to boost radiance and seal in shine. The refreshing Cool Radiance Complex formula renews and nourish hair without weighing it down, making it easier to tame frizz and bad hair day ensuring the maintenance of luminous shine. Hydrating Cucumber Water and restoring Aloe Vera blend together to promote glossy, healthy and smooth hair.

Cucumber Water works to maintain the pH balance of the scalp and reduce flakiness caused by dryness. It also gives a soothing coolness to the scalp and hair, hydrating the hair shaft and promoting growth.

Aloe Vera has a similar pH level to the hair's natural pH level, meaning it can moisturise and condition the scalp with no irritation. It also possesses high water content, making it a very effective conditioning and detangling agent while hydrating the hair. Aloe Vera also contains Polysaccharides which can form a film on the hair, which provides styling and water-binding properties for easy hair management.

The HASK Cucumber Aloe Water Weightless Shine collection is also packed with Vitamin C, Silica and potassium to control frizz, lock in moisture and amplify strands' glow bringing locks back to their natural shine without weighing them down. Renowned for its use of luxurious fragrances, the collection is infused with a fruity, green oceanic scent.

Cucumber Aloe Water Weightless Shine Shampoo
Weightless & refreshing! This brilliant blend of hydrating cucumber water and moisturising aloe helps restore radiance and seal in moisture to enhance shine, leaving hair smooth and glossy.
355ml RRP $14.99

Cucumber Aloe Water Weightless Shine Conditioner
It's time to shine! Revive hair and lock in moisture with this lightweight blend of refreshing cucumber water for a splash of hydration, and juicy aloe to help seal in shine.
355ml RRP $14.99

Cucumber Aloe Water Clear Deep Conditioner
This hydrating gel formula blends invigorating cucumber water with juicy aloe to help moisturise and amplify shine without weighing hair down. Just rinse and glow for silky smooth locks.
50g $4.99

hask.com.au
Review: Absolutely love this, not only does it clean hair leaving soft and silkly, it's refreshing smell is totally additive and a great pick me up for the day.