Healthy Life Launches the Next Big Thing at New Victorian Store
Australia's leading health and wellness retailer Healthy Life has opened its first new-look store in Victoria at Tooronga Shopping Centre, with the store becoming the first to host its Next Big Thing sessions.

Healthy Life's Next Big Thing expands on the Wellness Hub, which the retailer launched last year as part of its new retail model.

While the Wellness Hub was created to start a health conversation with regular presentations hosted by the company's qualified practitioners, the Next Big Thing concept offers customers the chance to sample and learn about the 'next big thing' in health.

Healthy Life Chief Marketing Officer Simon Cheng said the Next Big Thing was aimed at celebrating the latest innovations and offerings in the evolving health and wellness industry.

"It's an exciting time for the health industry with new technologies and discoveries leading to some cutting edge new products and constant development of existing lines. As the experts in natural health solutions, we're always on the lookout for new, natural therapies to help our customers look and feel good from the inside out. From royal jelly and ginseng in the 70s to fish oil and evening primrose oil in the 90s, we've been leading the charge in the 'next big thing' in health and wellness for nearly 50 years and look forward to continuing the education process with our new Next Big Thing sessions," Mr Cheng said.

Healthy Life officially launched the concept at its Tooronga store this week with 'next big thing' tastings and samplings from some of Australia's most innovative wellness brands including Hemple, which sprung onto the market with hemp products after hemp seeds were legalised as a food source in Australia late last year; brand new millennial-minded supplement brand SUP, which launched in Australia last week; ethical nail polish brand Kester Black, which sells products that are free of the usual toxic chemicals found in nail polish; and INIKA Organic, a leading natural beauty brand with award-winning products including vegan mascara which uses 100 per cent plant derived and natural ingredients.

The retailer has more than 45 stores across Australia, including 11 in Victoria, and will continue to roll out the Next Big Thing as it opens new outlets and refreshes existing stores.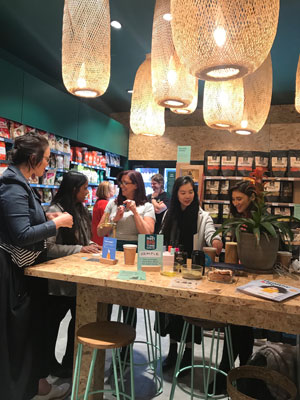 The Tooronga store is the third new Healthy Life outlet to open since September with the retailer in a phase of rapid expansion, a strategy which pits it against the current retail trend of closing bricks and mortar stores in favour of an online presence.

"The complementary medicines industry is booming in Australia - it's a $4.7 billion dollar industry that is growing at over 25 per cent annually and just as we have been for the past five decades, Healthy Life is at the forefront of that growth," Mr Cheng said.

"For everyday Australians, natural health is an area that requires some guidance and that's why all of our stores are a place where customers can learn and get expert advice from our qualified health practitioners – including nutritionists, naturopaths and dieticians – about the best everyday health and wellness products for them. We want to make it easier, more affordable and more convenient for all Australians to live a healthier life and to do that we need a presence in more communities."

In addition to the Next Big Thing and Wellness Hub, the store in the Tooronga Shopping Centre is home to a natural beauty bar and sports the retailer's fresh new look including a vibrant colour palette - all geared at bringing the traditional health food store into the modern era.

The interior has also been created with the environment in mind with sustainable timber used in the fit out. The use of bespoke beech timber allowed the retailer to widen its aisles making the shop more trolley and pram-friendly.

"It's not just a fresh look, it's about transforming a visit to a retail health store into a feel-good experience," Mr Cheng said.

The new store offers a wide range of health and wellness products including the latest in chemical-free beauty products, cutting edge supplements, organic and fair trade food, natural skincare and performance nutrition.

In line with other major retailers, Mr Cheng said Healthy Life was moving away from plastic with more than 20,000 reusable calico bags purchased since the retailer banned single use plastic bags in December. Healthy Life also supports eco-friendly and socially-conscious suppliers which source recyclable, sustainable and environmentally friendly packaging, while also doing their bit to support sustainable farming and growing communities around the world. Healthy Life staff wear organic bamboo uniforms from Australian eco clothing brand Boody.

For more information or to find a store visit healthylife.com.au