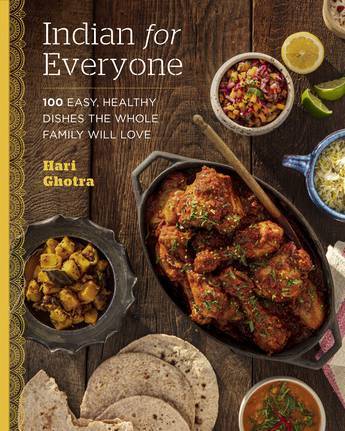 Popular chef and YouTube sensation Hari Ghotra offers more than 100 healthy, accessible and delicious Indian recipes that even the most casual cook can master.
Fresh, flavorful, and full of spices, veggies, and healthy proteins, Indian for Everyone presents over 100 curries, daals, and other classic Indian dishes to make and enjoy with your kids (or without).

A former chef at the Michelin-starred restaurant Tamarind, as well as a creator of a popular line of curry kits and sauces, Hari Ghotra offers delicious and easy-to-follow recipes which everyone can enjoy. She explores the many perks of traditional Indian spices-including reducing inflammation, lowering blood pressure, and easing pain-and shows how to stock your pantry with the most versatile ingredients. She covers basics like biryani and rogan josh, as well as street food, snacks, drinks, and holiday specialties. Many of the recipes are naturally vegan or vegetarian, but can easily be made with meat as well, as detailed in the substitutions section. And she even includes some flavorful Indian twists on beloved classics like mac and cheese and chicken wings.

With Indian for Everyone, families can break out of their food ruts, and prepare for a lifetime of adventurous eating!
Indian for Everyone
100 Easy, Healthy Dishes the whole family will love
by Hari Ghotra
Murdoch Books
RRP: $35.00
buy this book