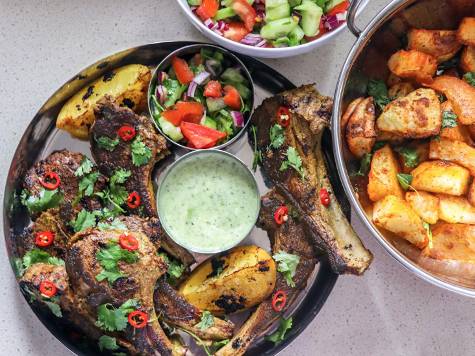 Indian-Australian comedic content creator Jeremy Franco has teamed up with Australian Lamb to share his grandma's recipe for succulent and spicy Indian-Style Lamb Chops with Masala Aloo.
This simple yet flavourful dish uses store cupboard spices to elevate an entertaining classic for any occasion; from family dinners to summer BBQs.
Prep time: 10 mins (plus 1hr marinating)
Cooking time: 30 mins
Serves: 4
Indian-style Lamb Chops
1kg Lamb Chops (either loin or forequarter)
2 teaspoon pepper
1 teaspoon garam masala
1/4 teaspoon turmeric
1 tablespoon ginger paste
3/4 tablespoon garlic paste
Juice of 1 large lemon
1/2 bunch coriander leaves
Salt to taste
Masala Aloo
4 Potatoes
1 teaspoon chili powder
1 teaspoon cumin
1 teaspoon crushed fennel seeds (optional)
1/2 lemon
Half bunch coriander leaves


Method:
Indian-style Lamb Chops
Mix the salt, pepper, turmeric, garam masala, ginger paste, garlic paste and lemon juice in a large bowl or dish
Add lamb chops to your marinade and use your hands to toss, until the meat is covered. Leave to marinate in the fridge for one hour
Preheat your BBQ or a pan on high heat. Add your lamb (use a tray if cooking on the BBQ) and cook for 4-5 minutes per side or until cooked through.
Serve hot, garnish with chopped coriander, fresh chilli and mint raita (optional).
Masala Aloo
Preheat oven to 200 degrees
Peel and quarter your potatoes and add to a large pan
Cover your potatoes with boiling water, and put on a med-high heat.
Parboil for 10 minutes, or until you can put a fork through your potatoes and feel some resistance at the centre .
Add your potatoes to a baking tray and sprinkle with chilli powder, cumin powder and crushed fennel seeds. Drizzle with olive oil and stir or toss to combine.
Cook in your pre-heated oven for 20 minutes until brown. Serve with fresh coriander and a squeeze of lemon.
Optional: Serve with fresh coriander tossed salad