Mesmerizing, gorgeous and one-of-a-kind dancer, twenty-three-year-old Sydney Mesher, is redefining society's beauty norms one powerful kick at a time. The first Radio City Rockette with a noticeable physical disability in the world-famous organization's 94-year-history, Sydney was born without a left hand - the result of a rare congenital condition - and her success now acts as a shining symbol for everyone pursuing their dreams, emphasizing that everybody is beautiful, no matter how different they may appear.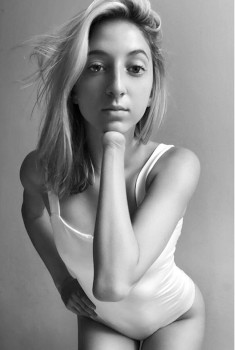 Born and raised in Portland, Oregon, Mesher grew up loving dance. When her parents found out during a routine ultrasound that she would be born without her left hand, they immediately resolved that nobody would treat her differently because of her disability. Her father simply removed his wedding ring from his left hand and placed it on his right. Sydney was going to have the same opportunities as everyone else. Before she reached elementary school, she started taking dance classes. By the time she was in third grade, she had joined her studio's competition team and was dancing 25 hours a week, training primarily in jazz, tap and ballet, in addition to hip-hop. It quickly became apparent that Mesher matched her passion with natural talent. While attending Pace University in New York City, she began auditioning for the Rockettes, and got all the way to the final round in her first outing - a rare accomplishment. It took a few more tries, but right after she earned her degree in Fine Arts, she got the call she had been dreaming of - she was going to be a Rockette! In a world where uniformity was paramount, Mesher had carved out a new lane. Now, she inspires thousands with every performance and is just getting started!
When she's not in the studio or on stage, Mesher loves to read and is a writer as well. For recreation she enjoys hiking, running, cross-training, and cooking. She's environmentally conscious, loves coffee and kombucha, and devotes her time to non-profit organizations like Lucky Finn Project, which provides education on limb differences and creates a support network for parents across the U.S. and around the world.