Joel Selwood Weet-Bix GO Interview
Aussie go-getters can now take Weet-Bix wherever they go in the mornings, with new Weet-Bix GO, a delicious breakfast biscuit from Australia's iconic breakfast cereal. Weet-Bix GO is wrapped up in single serve packs that are ready to take with you when you are on the run.

Developed specifically for those times when you're on the go, Sanitarium's delicious new Weet-Bix GO is made with real Weet-Bix, is very high in wholegrains and is a source of fibre. Weet-Bix GO scores a health star rating of 3-3.5 stars across the range.

Weet-Bix GO is now available in Coles supermarkets and will be available nationwide from 31 August 2015.

When asked what they would do if they had more time in the morning, Aussies said they would:
Sleep longer - 29 per cent
Exercise - 18 per cent
Cuddle their partner - 11 per cent
Eat a bigger and better breakfast - 8 per cent

Only 2 per cent would check Facebook or Twitter, or spend more time grooming themselves. Sleeping longer is more important to Gen Ys, with 34 per cent of 18-34 year olds opting to stay in bed, versus only one in five amongst 50-64 year olds (21 per cent).

Daniel Derrick, General Manager – Marketing, Sanitarium Health & Wellbeing said Weet-Bix GO has been developed to provide Australians with a quick and flexible breakfast option that provides a source of fibre and is very high in wholegrains.

'The research shows that there are a lot of people skipping breakfast in the morning. This is worrying when it is the best way to set yourself up for the day. Weet-Bix GO is a convenient option when time gets away and you don't have time for a sit down breakfast. It means you can still start your day with wholegrains and enjoy the wholesome taste of Weet-Bix GO anywhere," Mr Derrick said.

AFL sensation, Geelong captain and top midfielder, Joel Selwood, welcomes the new addition to the Weet-Bix family and is taking on the Weet-Bix GO Kart Challenge with his brother, former AFL player, Troy Selwood, on Friday 3 July, to celebrate its arrival.

'For me, breaky is a major goal post which helps me kick-start the day. Weet-Bix GO means I can add fuel to my morning on the run when my gruelling routine doesn't allow me to stop for breaky," he said.

As part of the challenge, Sanitarium is giving 12 lucky go-getters the chance to compete around the Auscarts Racing track in Melbourne in July with Team Joel or Team Troy, brother against brother, in the ultimate speed test showdown. To enter Aussies must head to the Weet-Bix Australia Facebook page between 4 - 8 June and tag a friend/rival you want to GO up against in the GOkart team challenge for your chance to race with AFL legends and leave it all out on the track.

'This is a great way to have some fun and show how as a nation we celebrate and make the most of our mornings. We're looking to send friends/rivals to compete against each other on the track on team Joel or Troy to see which will achieve GO glory on the track. So wake up and get ready to show us how you GO," said Mr Derrick.

Weet-Bix GO has an RRP of $4.49 for a multipack of five individual serves, and comes in a range of delicious flavours: Wild Berry Burst, Honey & Oat Crunch, Apple Cinnamon Twist and Apricot Coconut flavour Fusion.

To find out more, visit www.sanitarium.com.au, follow @weetbix and like www.facebook.com.au/weetbix. Join the conversation #WeetBix.



Interview with Joel Selwood
Question: What do you love about Weet-Bix GO?

Joel Selwood: They're biscuits made of real Weet-Bix wrapped up in single serve packs so I can take them with me when I'm on the run.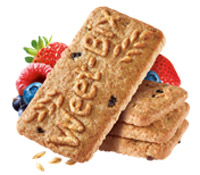 Question: How does products such as Weet-Bix GO making your life, easier?

Joel Selwood: Weet-Bix GO means I can add fuel to my morning on the run when my gruelling routine doesn't allow me to stop for breakfast.


Question: How important is breakfast to your day?

Joel Selwood: I've always been told that breakfast is the most important meal of the day. It's the fuel that'll help you get on with your day and it doesn't matter if you are going to training or playing a game of footy, going to school or work, everyone needs to have a wholesome breakfast!


Question: What would you do if you had more time in the morning?

Joel Selwood: Go for a walk, read the paper and have breakky at a café.


Question: Can you provide your top healthy eating tips?

Joel Selwood: Make sure to drink lots of water, eat plenty of fruit and veggies and don't skip meals.


Question: How does your diet change in the on/off season?

Joel Selwood: It doesn't change too much. I'm generally pretty healthy and don't really like sweet treats.


Question: How important is a healthy diet to your training and football career?

Joel Selwood: A healthy diet is very important. As they say, -a healthy outside starts from a healthy inside'. I make sure I'm fuelling my body with the right foods to perform the best I can on the field.


Question: What types of foods do you eat prior to a game?

Joel Selwood: I try not to eat too much before a game. I'll usually just have a banana, plenty of water and a sports drink.


Question: What's a typical day like, for you?

Joel Selwood: I always have breakfast before heading to training at 7.30am. Unless it's my day off, I'll train until around 4.30pm then have a massage at the club before heading home. I'll catch up on emails and phone calls before making dinner, watch some TV and then head off to bed.


Question: Are there any foods you avoid completely?

Joel Selwood: No, not really.


Question: Can you tell us about the Weet-Bix GO Kart Challenge competition?

Joel Selwood: To celebrate Weet-Bix GO's arrival, Sanitarium is giving 12 lucky people the chance to compete around the Auscarts Racing track in Melbourne on 3 July with myself and my brother Troy in the ultimate speed test showdown!

Troy and I are both naturally competitive so we're really looking forward to it!


Interview by Brooke Hunter