Christmas Cooking Tips
Justine Schofield, host of popular daytime cooking show Everyday Gourmet and Bulla Family Dairy brand ambassador gives us a sneak peek on what she's cooking and how she's celebrating this Christmas day.

Bulla Family Dairy is one of Australia's oldest family owned dairy companies, proudly making dairy products in country Australia for six generations. The company is continually evolving its time-honoured traditions to bring families nothing but the best. Bulla is dedicated to making products with more care, craftsmanship and passion from only the freshest milk and cream. Made with care by three families since 1910.


Interview with Justine Schofield
Question: How do you pre-prepare for Christmas feasts?

Justine Schofield: It's so important for me to write out the menu in advance, set a budget and then begin creating a shopping list that you stick to. This will always save you money and time.

I also like to do a quick raid in my kitchen to ensure that I don't unnecessarily double up on ingredients that I might already have, such as spices or frozen stock in the freezer.

Finally, I try to always get a head start on the food shop and look for items that can be bought a week or two in advance, such as dried goods, freezer friendly ingredients and alcohol.


Question: How will you be spending Christmas Day, this year?

Justine Schofield: I have Christmas at mum and dads, with my brothers, their partners and my dear Uncle Bill and Aunty Iris. I love helping mum prepare lunch with my first glass of champagne in hand!


Question: Should we be sticking to the traditional theme for our Christmas feast?

Justine Schofield: I love to use my grandma's old plates, cutlery and glassware for that traditional feel but modernise it with colourful tablecloths, serviettes and place mats. We're quite traditional with the food, too, usually starting with canapés, seafood entree, meats and the trimmings for mains, followed by cheese then dessert.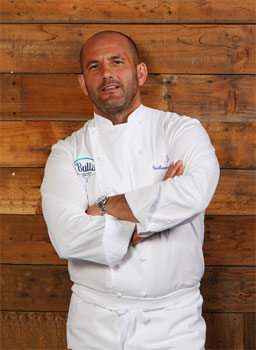 Question: Do you have any meat hacks for us to try this Christmas?

Justine Schofield: I like to Jazz up my summer Christmas feast with plenty of creative cold salads and cold cuts of meat with lots of great condiments and homemade sauces. I particularly love to mix Bulla Crème Fraiche with horseradish, mustard, herbs and lemon zest - it goes with fish but also is wonderful with any meat.


Question: What can we do to keep the heat down when cooking Christmas lunch on hot December days?

Justine Schofield: Seafood platters are a great way to cool down on hot Christmas day. Christmas in my house is not complete without dozens of oysters!


Question: What is the best part of your Christmas day?

Justine Schofield: My favourite part of the day is feasting at the table with my family, and listening to Uncle Bill's 'back in my day..." stories - there are many!


Question: What is your favourite Christmas recipe?

Justine Schofield: My personal favourite is a slow cooked salmon or trout side serve cold is always a showstopper for an entrée. Served with bitter lettuce leaves, radish and cucumbers in a tangy Bulla Crème Fraiche dressing is a great way to kick off the Christmas feast.


Question: And your go-to dessert?

Justine Schofield: This year we will be having Aunty Iris' famous passionfruit and mango Pavlova with lashings of Bulla Whipping Cream.


Interview by Brooke Hunter