Katherine Smith OVO by Cirque du Soleil Interview
OVO, meaning "egg" in Portuguese, is a headlong rush into a colourful ecosystem teeming with life, where insects work, eat, crawl, flutter, play, fight and look for love in a non-stop riot of energy and movement.

When a mysterious egg appears in their midst, the insects are awestruck and intensely curious about this iconic object that represents the enigma and cycles of their lives. It is love at first sight when a gawky, quirky insect arrives in this bustling community and a fabulous ladybug catches his eye - and the feeling is mutual.

The cast of OVO is comprised of 55 performing artists from 14 countries specialising in many acrobatic acts. One highlight of OVO is the stunning Flying Act in which a group of scarabs soar high above the stage, from both edges to the middle landing on a platform. This breathtaking act combines many circus disciplines: banquine, Russian swing and swinging chair.

The Creative Team behind the world of OVO is: Artistic Guides Guy Laliberté and Gilles Ste-Croix; Writer, Director and Choreographer Deborah Colker (first female director at Cirque du Soleil); Director of Creation Chantal Tremblay; Set and props Designer Gringo Cardia; Costume Designer Liz Vandal; Composer and Musical Director Berna Ceppas; Lighting Designer Éric Champoux; Sound Designer Jonathan Deans; Acrobatic Equipment and Rigging Designer Fred Gérard; Acrobatic Performance Designer Philippe Aubertin; and Makeup Designer Julie Bégin.

Cirque Du Soleil OVO 2012/2013 Australian Tour
Brisbane - From July 14 2012, Northshore Hamilton
Sydney - From September 13 2012, Showring at The Entertainment Quarter, Moore Park
Adelaide - From December 6 2012, Tambawodli (Park 24)
Melbourne - From January 17 2013, Melbourne Docklands
Perth - From April 14 2013, Langley Park

Tickets for OVO are on sale now at www.cirquedusoleil.com/ovo


Interview with Katherine Smith
Katherine was introduced to Acrobatic Gymnastics at the age of 7, following recreational gym classes when she was very young. ?She progressed through the levels and competed regionally, nationally, and eventually internationally for her country.?

She studied at St Mary's Grammar School in the Greater London area, but relocated to a Sports Specialism School in year 9 to allow her to dedicate more time to her gymnastics whilst still studying for her GCSE exams.

Katherine was part of Great Britain's Gymnastics Squad for 5/6 years, and won numerous medals at International level.

In her long-standing trio her top achievement was to win Silver at the 2008 World Championships at Junior level; the next year she progressed to Senior level with new bases and won Bronze at the Europeans, followed by the Silver medal again at the next World Championships in 2010.

She has also earned recognition and several awards from Gymnastic and Educational bodies for her dedication and results.

Whilst studying in higher education at Surbiton High School the chance to work for Cirque du Soleil was offered, and Katherine decided to relocate again for this opportunity - she has now been performing and touring in OVO for over a year. This has been a challenge for Katherine, learning new skills, both gymnastic and performance; but she has enjoyed the experience and has hopes of continuing her career with Cirque du Soleil for many years to come.

Katherine is 18 years of age and her insect in OVO by Cirque du Soleil is a Flea.

Question: Why did you begin Acrobatic Gymnastics, many, many years ago?

Katherine Smith: I attended an after school gymnastics club when I was 6 years old and was chosen to join a local acrobatic gymnastics club.


Question: How did joining Cirque du Soleil come about, for you?

Katherine Smith: I had seen many Cirque du Soleil shows before joining Cirque du Soleil and I always enjoyed them and could imagine myself hopefully joining one day. The scouts also attend acrobatic gymnastics European and world championships and had contacted my coach offering me a place in the show OVO when I was 16 years old.


Question: Had you always hoped to be able to perform in Cirque du Soleil?

Katherine Smith: I always thought about joining Cirque du Soleil but never thought it would happen at such a young age. But as soon as the opportunity came about I took the job as a flyer in acrosport.


Question: What is the best thing about being involved in Cirque du Soleil?

Katherine Smith: For me I love traveling around the world at such a young age. Getting to see so much and learning about all the different cultures.


Question: Can you talk about your character, a Flea, in OVO by Cirque du Soleil?

Katherine Smith: In OVO, the flea is seen as the feminine side of the insect community. We have big eyelashes to show this and bright red lips and eyebrows.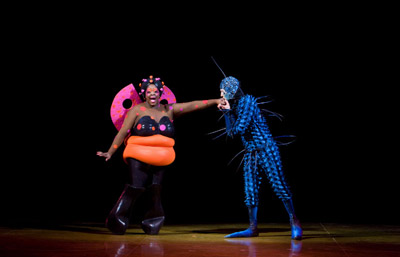 Question: You perform in the Acrosport act - can you describe what that is?

Katherine Smith: Acrosport is a mix of handstands, building pyramids and somersaults. I work in a trio with two bases and I am the flyer. Acrosport also shows a range of flexibility and agility.


Question: How much work goes into learning the routines for a Cirque du Soleil show?

Katherine Smith: We usually work a lot in training on new tricks and choreography before we would practice on stage. Once our director and coach are happy with the new trick/choreography or new routine we would then integrate it to the show.


Question: What's the best thing about being on the Cirque du Soleil stage?

Katherine Smith: I love to perform in front of large audiences, as the big top can fit 2,500 people when full.


Question: What difficulties have you had to overcome to perform in Cirque du Soleil?

Katherine Smith: The biggest difficulty I had to overcome on tour was moving away from home, friends and family.


Question: What's it like working with 54 other performers from 14 different countries?

Katherine Smith: It's great to work with such a wide variety of people but it can have its difficulties such as language barriers, but we always have translators traveling with us to help us out. It's also great fun to learn about all the different types of cultures.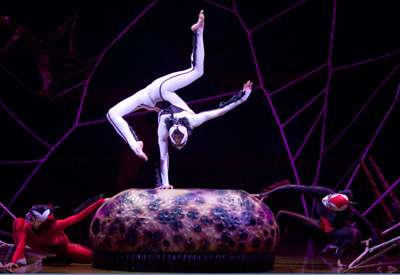 Question: What advice would you give someone hoping to join the Cirque du Soleil community, one day?

Katherine Smith: Train hard but enjoy what you are doing. Cirque love to see unique skills and it's always good to have a variety of skills as you never know what cirque could offer one day!


Interview by Brooke Hunter
Photo: Benoit Fontaine-Costumes Liz Vandal-2009 Cirque du Soleil