Kathy O'Hara Walking2Help Interview
Media personality Kris Smith, along with some of Australia's most notable Jockeys', are gearing up to embark on one of the world's toughest treks – the Kokoda Trail – in order to raise money for the Mark Hughes Foundation and The National Jockey's Trust.

Leading Jockeys Kathy O'Hara, Winx Jockey Hugh Bowman, Corey Brown and Stephen Baster have all committed to trek the Kokoda trail, alongside Kris Smith at the end of July, as part of the Walking2Help initiative to raise money for two worthy charities, the Mark Hughes Foundation and National Jockey's Trust.

Chairman of the Australian Jockeys Association, Des O'Keeffe says the team are training hard to ensure they are at their fitness peak to take on this mighty challenge.

'No doubt they will find it challenging, physically and mentally, but I expect that the levels of determination and dedication that they display in their professional careers on a daily basis will be a help to them as they face this challenge," says Mr O'Keeffe.

'The Kokoda Trail is 96 kilometres of gruelling, mountainous terrain that even the most experienced bushwalkers find challenging. It's ambitious, but the team are up for the challenge," Mr O'Keeffe says. Ambassador Kris Smith, says he jumped at the chance to be involved with Walking2Help, citing the devastating statistics brain cancer has on everyday Australians.

'When I found out that of the 1,600 Australians diagnosed with brain cancer each year, that only 400 survive, it shocked and deeply saddened me. If I can help increase the awareness for this awful disease and raise money for the wonderful work the Mark Hughes Foundation does, then I'll do what it takes. No-one, especially little kids should have their life end early and I am training hard to walk the Kokoda trek for those who can't," says Walking2Help Ambassador, Kris Smith.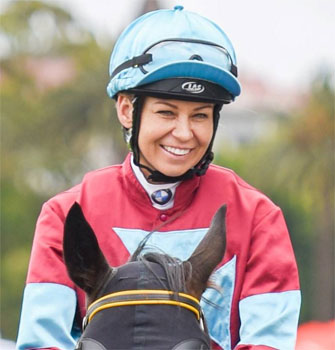 Despite the many advances in technology, research and medicine, Brain Cancer kills more children than any other disease, yet receives less than 5 percent of government funding for cancer. The Mark Hughes Foundation has been formed to raise much needed funds to promote research, heighten awareness and support patients battling this disease.

'I am so happy to reveal my involvement with Walking2Help – we are all taking the journey each step at a time and supporting one another through the process too," Mr Smith.

The other charity Walking2Help is supporting is the National Jockeys Trust, a charity that relieves financial hardship and provides families who have lost loved ones as a result of horseracing, with the support, kindness and recognition that they deserve.

As a registered charity organisation since 2004, the National Jockeys Trust has helped over 200 jockeys and their families to overcome their financial woes and cope during these uncertain times when recovery is not always certain.

'Although preventative measures have been taken to ensure the safety of jockeys over the past two decades, sadly, serious injuries are a frequent occurrence with 885 riders losing their lives since Australian Racing first began. While accident insurance has become an essential feature of racing, all too often there are cases where jockeys and/or their families are plunged into financial hardship," says Mr O'Keeffe.

'Every time a fellow jockey partakes in a race, it requires dedication and bravery. Australian jockeys are elite athletes who literally place their lives on the line every time they compete in a race," Mr O'Keeffe says.

Kathy O'Hara is an Australian jockey who has joined Walking2Help and is the only female who will be walking the Kokoda Trial, with the vision of providing more support for jockeys whose lives have changed due to injuries sustained whilst riding or to families who have lost loved ones to the sport.

'I feel it is my duty to raise the awareness of this charity and the great work it does for our community. Since 2004, The National Jockey's Trust has assisted 312 applicants, and I have made it my mission to ensure the Trust will be around to support more jockey's families for many years to come," ensures O'Hara.

O'Keeffe further explains the importance of the National Jockey's Trust and how the charity provides support for those families left behind after tragedy strikes.

'Racing is an inherently dangerous sport and sadly, life changing and career ending injuries occur. Tragically some riders have even lost their life in racing accidents. While Insurances have improved over the years, there are still times when injured riders slip through the cracks and find themselves in urgent need of support and assistance. That is where the National Jockeys Trust can help. And funds raised through great initiatives such as Walking2Help allow the Trust to continue with that work," Mr O'Keeffe says.



Interview with Kathy O'Hara
Question: Why did you decide to embark on the Kokoda Trail?

Kathy O'Hara: I was already booked to have a holiday with my boyfriend when I got the call asking if I would be interested in walking Kokoda.

I said YES straight away then rang my boyfriend and the travel agent to see what we could do. We got it sorted because no matter what I was going to walk Kokoda.

Kokoda is such a special place in Australian history and to be walking it to raise funds and awareness for two really special charities makes it even mean so much more. I can't wait to walk the trail and tell the story. I think it will be emotional for all of us but something I am really looking forward to.


Question: Who is undertaking this trek, with you?

Kathy O'Hara: I am the only girl doing the trek but that will not stop me from showing the lads up.
Fellow jockeys Hugh Bowman, Corey Brown and Stephen Baster are part of the trek team as well as fancy boy Kris Smith.

I don't know how Kris will handle the real jungle not like the TV jungle on -I'm A Celebrity Get Me Out Of Here'.


Question: Why is it important to you to raise money for the Mark Hughes Foundation and The National Jockey's Trust?

Kathy O'Hara: Being a jockey you see the devastation first hand. There has been cases where my colleagues and friends have been seriously injured or even killed due to our profession and the risk we put ourselves in.

Being a jockey can be glamorous but in a split second our lives can change dramatically or even end and that is a frightening realisation.

The Jockeys Trust do an amazing job looking after the jockeys that are injured and the families of an injured or killed rider.

I wished we didn't have such a charity but the stark reality is too many riders are injured or killed and we have to look after those affected.

I have learned a lot more about the work the Mark Hughes Foundation and the harsh statistics with brain cancer doing the national rugby league beanies for brain cancer round, aswell.

It's so sad how many people are being diagnosed and the survival rate is so minimal yet the government gives very little funding.

We as a society need to pick up the ball and do what we can and hopefully this Kokoda walk will not just raise money but continue to raise the awareness surrounding brain cancer and what we need to do together to help.


Question: What message would you like to spread for Walking2Help?

Kathy O'Hara: A very simple message for everyone is to make the world a better place than when you arrived.

It's not hard to be kind or help others that are doing it tougher than you. With walking2help.com.au we are wanting to make the public aware of the wonderful work the national jockeys trust and Mark Hughes Foundation do and that they need your support so donate whatever you can.

Every little donation counts and will make a difference.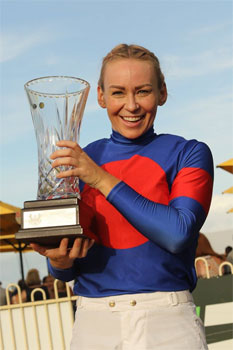 Question: How have you been training for the Kokoda Trail?

Kathy O'Hara: I started slowly but in the past few weeks I have really ramped up my bushwalking which I really enjoy.

I would usually do a 10km walk but with Kokoda coming up I have started doing harder walks through the national parks with more hills and rougher terrain and over a lot further.

Last weekend we walked 23km which was tough and I can tell you my boyfriend didn't get out of bed the next day.


Question: And, how have you prepared yourself mentally for the Kokoda Trail?

Kathy O'Hara: I am pretty tough mentally; I've had to be being a female in such a male dominated sport as horse racing.

Not many female jockeys survive riding in the city against the boys for over a decade so I am hoping that toughness that has helped me survive will help me when walking Kokoda.

I wonder if the boys will have the mental toughness? As for me, I am definitely do.


Question: How can Australians support you and Walking2Help?

Kathy O'Hara: Yes it's about supporting our team as we trek Kokoda but its more than that it's about making a difference and by donating and spreading the word of the great work that the Mark Hughes Foundation and the National Jockeys Trust do will make sure the flow on affect continues to help.

Head to https://www.walking2help.com.au/ and give what you can we really appreciate it and so the families and patients it will go to support.


Interview by Brooke Hunter