International Effort Completes Successful Reintroductions after Bushfire Rescue

Four koalas (and one new joey) that are representatives of a critically important and nationally significant population have returned to the Blue Mountains in Australia. The first four of 12 koalas rescued from approaching bushfires were reintroduced back into the eucalyptus forests today by Science for Wildlife and the support of San Diego Zoo Global. The koalas had been sheltered in safety at the Taronga Zoo until the area was deemed safe for their return after the devastating mega-fire that moved through the area in January.

"While they have coped well in care we are delighted to finally send our koalas home" said Dr. Kellie Leigh, Executive Director of Science for Wildlife. "We have been busy assessing the burnt area that we rescued them from, to establish when the conditions have improved enough that the trees can support them again. The recent rains have helped and there is now plenty of new growth for them to eat, so the time is right. We will be radio-tracking them and keeping a close eye on them to make sure that they settle in ok."

The research team discovered that the Blue Mountains World Heritage Region is home to the most genetically diverse population of koalas in the world, and Science for Wildlife, along with San Diego Zoo Global, is committing resources to help ensure that the population is recovered. Mega-fires raced through the region over the last few weeks, devastating more than 2.5 million acres (1 million hectares) of habitat and threatening wildlife.

San Diego Zoo Global has been a core partner for the Blue Mountains Koala Project since it started 5 years ago, and have been raising funds to support the rescue and other emergency wildlife work that Kellie and her team have been undertaking "Successful conservation work to save species requires working collaboratively in regions all over the world, supporting partners in a variety of ways," said Paul Baribault, President and CEO of San Diego Zoo Global. "This is a crucial time for Australian wildlife and we are proud that our long-standing relationship made it possible for us to save these koalas."

"During the massive fires, as 80% of the World Heritage Area burnt, we were at risk of losing the entire koala population at this site and so that's what drove us to try something so radical and pull these koalas out before the fire hit." Said Dr. Leigh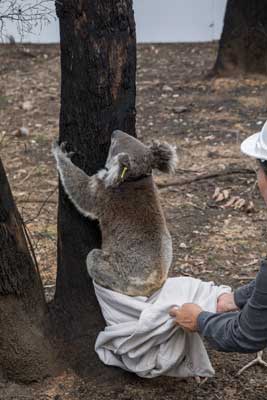 The reintroduction of the koalas is just the next stage in what conservationists know will be a long-term effort to recover koala populations in the area.

"There is still a lot of work to be done to assess what is left of koalas in this region and plan for population recovery." said Jen Tobey, Population Sustainability researcher, San Diego Zoo Global. "We are dedicated to continuing to support this critical work to conserve a significant koala population."

The release back into the bush is just the beginning of the story for these koalas. "The radio-tracking devices that enabled us to find the koalas quickly and move them from in front of the fire will now allow us to follow them and find out more about how koalas use the landscape

after fire" said Dr. Leigh. "including where else we might find pockets of surviving koalas. That will help us to plan a future for koalas under climate change, where we expect more frequent and intense fires"

"Due to the extensive experience and expertise of our keepers and veterinary staff, Taronga is best placed to assist in emergency situations when animals, like these 12 koalas, need emergency housing and care," says Nick Boyle, Taronga's Director of Welfare, Conservation and Science. "We were so pleased to be able to assist Science for Wildlife on their mission to save these incredibly valuable koalas. Taronga is committed to ensuring the survival of koalas in Australia. During the bushfire and drought crisis of the 2019/20 summer our vets and vet nurses treated more than 100 koalas across our two hospitals and in the field. Whilst we still have a number of koalas being cared for at Taronga Western Plains Zoo, our attention is also turning to the long-term recovery of koalas in the wild."