Health and Wellness Experts and Business Owners Share How They Go Plastic Free
In a time where people are becoming increasingly environmentally conscience and understand the impacts of plastic on our environment, health and wellness experts join in with Plastic Free July to help make our environment a better place to live in.

We spoke to four health and wellness experts about their contribution to reducing the use of plastic in our environment:

Dr Lewis Ehrlich, Holistic Dentist – Sydney Holistic Dental Centre

"I use a biodegradable toothbrush or electric toothbrush. We are meant to change our #toothbrush every 3 months or after we have been unwell In Australia, we use about 30 million toothbrushes a year, all of which eventually go to landfill. If you decide to make the switch like I have, keep your old toothbrushes as cleaning utensils around the house rather than throwing them out. If you are concerned about going back to a manual brush put your #dentist to work and get them to spend the time going over good brushing technique. Do the right thing by your teeth and the environment."

Ali Cotton – Designer and founder First Base, ethical and sustainable Sports Lifestyle Brand

At First Base we are constantly working towards being a fully ethical and sustainable sports lifestyle brand. Solving the packaging problem as a fashion brand has been a priority from the get go. All our good are individually packed in plastic bags and that's thousands of bags each year that would ultimately go to landfill, and that is not cool! We researched many options for a more sustainable solution and landed on biodegradable poly bags. All of our poly bags are now made fromD2W Biodegradable plastic, which will degrade completely within 3-5 years and leave no harmful traces in the environment.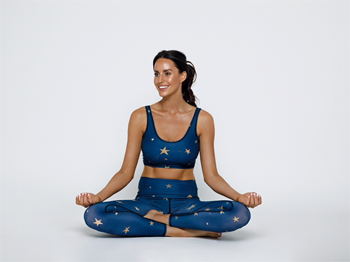 Lauren Vickers – Model, Personal Trainer and founder of eco-friendly activewear Paco Loves Luna

Made using recycled plastic bottles to create lightweight, quick dry eco-friendly clothing for women - Paco Loves Luna showcases activewear for all shapes & sizes, including maternity and plus sizes. Following her love of fitness, beauty and activewear Lauren Vickers is weaving her worlds together and has launched online activewear store Paco Loves Luna.

The brand ranges from simple colours through to creative prints with all the fabrics being eco-friendly, even down to the stitching being hand sewn with 100% organic cotton. Paco Loves Luna brings comfortable and quality activewear to all forms of fitness, from your yoga class right through to your weights and cardio workouts. Lauren, along with Paco Loves Luna are looking forward to bringing more sustainable, eco-friendly options to Australian shores.

Heather Beekan Founder of the Natural and Australian Skin and oral care brand KOHLE

As a beauty brand, we've become really conscious of our impact on the environment, we're aware that our products have a lot of packaging and so now we look at how we can reduce and use more eco-friendly options. We steer away from standard shipping satchels and opt for bio-degradable satchels or boxes. In addition, when buying the ingredients to manufacture the products we purchase the exact amount that we need if we don't manage to use all the ingredients we put it aside to use in the next batch so there is no wastage.


Interview with Lauren Vickers – Model, Personal Trainer and founder of eco-friendly activewear Paco Loves Luna
Question: What inspired the creation of Paco Loves Luna

Lauren Vickers: I have a serious passion for health and fitness and had worked with many activewear brands over the course of my modeling career. I hadn't seen a lot of my favourite brands in Australia and so I decided to bring some of my favourites to one marketplace. Since giving the choice to my customers about whether they prefer eco-friendly or traditional activewear, the preferences have been overwhelmingly eco-friendly, so now I'm looking at finding more stockists who have sustainable practices. Our business motto is "sweat in style whilst being kinder to the planet".


Question: How is PLL an ethical and sustainable sports lifestyle brand?

Lauren Vickers: We buy from labels that employ both eco-friendly and ethical practices in their manufacturing. Many of these labels have been created out of love and wanting to change how we treat the planet, so they incorporate sustainable practices such as using natural dyes, recycled materials (like fabrics made from recycled plastic bottles) and new techniques that are far less harsh on the Earth. They treat their employees well, have regulated working hours and pay above the minimum wage and offer support. This can be rare in the manufacturing industry.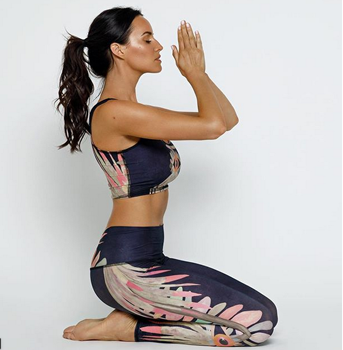 Question: How does PLL decrease their footprint by implementing plastic free practices?

Lauren Vickers: We're a digital business, with digital document storage and we keep any printing to a bare minimum. We don't use any plastics in our packaging and shipping of products. All the materials we use for packing and shipping are made from recycled paper. It's also all about the little differences we can make individually - I buy my groceries from a small family business that source as much as possible locally, and I always take all my fresh veggies home in a cardboard box or buy from Bulk Source where I take my own glass jars from home. I have my own cloth bags in the car for when I need to buy or carry other things. I use aluminum water bottles and keep cups to stay hydrated throughout the day!


Question: How did you go about researching the best plastic-free alternative for your business?

Lauren Vickers: I looked up what small changes we could make, and to be honest, due to personal preference - most of them were already in place! It's really easy to find information on all the little things you can do. There are so many great blogs, organisations and even groups on Facebook that share tips about finding plastic-free alternatives and reducing your carbon footprint.

Eventually, I would like to design my own range of eco-friendly activewear and work with one eco-friendly manufacturer, so I can reduce the number of logistics to the office and carbon offset all of the shipping myself! It's a big process to find the right facility, but I'm certain I can do it.


Question: How are you reducing your plastic consumption at home and in the office, this month?

Lauren Vickers: To start with, I like to target the main four - plastic bags, bottles, straws and coffee cups. It's so easy to make the right swaps and you end up with so much less rubbish to recycle or throw out! I love to cook, and I've been doing a lot of cooking from scratch at home to reduce not only my plastic consumption but my food bills. The added bonus is that I know exactly what is going into my food and it always tastes better super fresh!


Question: What's a typical day like, for you?

Lauren Vickers: I'm not a morning person, but I try to wake up early, make a pot of tea, stretch out with some yoga and then head to the gym to work out. When I come back home, I make a nice healthy breakfast, usually with poached or scrambled eggs, get ready for the day and tuck into my emails/socials/to-do list; all three are a never-ending stream. There are orders to be organised and sent out, pictures to edit, products to put online, new stock to order, photoshoots to organise and general snaps that need to be taken every day to have plenty of content. I also still model full time, so I have a lot of events and shoots to attend, as well as working on my blog, pitching to new clients, organising content and keeping on top of all my beauty to make sure I'm at the top of my game. Many things in my world are last minute, and I travel a lot, so sometimes things can be a little haphazard and overwhelming, but I have learned to prioritise what needs my attention right away, and what I can pre-plan to make my life easier. I don't really have time to watch TV, but I like to be out and about as much as possible in my free time, keeping moving, healthy and active.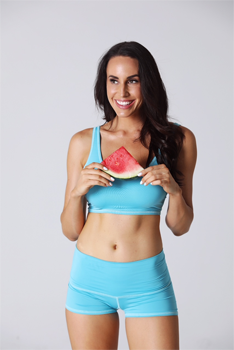 Question: What's the biggest business challenge you've had to overcome at PLL?

Lauren Vickers: The biggest challenge so far has been learning that I can't do absolutely EVERYTHING myself. There are simply not enough hours in the day. I have also had hard lessons in prioritising and figuring out that not everything needs to be responded to right away. There's so much pressure for us to be on emails, calls and messages all day long, but it truly interrupts your productivity. I like to work in one-hour blocks; I'll set a timer then put my phone away, knock out a bunch of work, then take a break and respond to something, walk around, drink some water or do something active before getting back to the next block.


Question: What's next for PLL?

Lauren Vickers: We're still a new business, and the biggest challenge is to find the right manufacturer to grow the business to a new level. For now, the plan is to keep researching and making contacts, building the customer base and spreading our message about not only supporting eco-friendly businesses but also embracing health and wellness in your everyday lifestyle. I want all women to be confident and healthy in their own skin, whatever that might look like to them, and to encouraging them to move more and push themselves.

Interview by Brooke Hunter