Luke Hines G Active Interview
Aussie fitness and nutrition experts Amanda Bisk, Daniel Conn and Luke Hines are coming together to share their top tips and expertise to help encourage Aussies to live healthier, more active lives, and create an exclusive floating gym.

All of this is to launch G Active - a new water from Gatorade enhanced with electrolytes, specifically formulated for fitness enthusiasts who lead busy work and home lives. Why? Well when we sweat we lose more than just water and G Active replaces what's lost during exercise, without sugar. AKA water with benefits.

To celebrate, all three experts will be joining forces to create an exclusive fitness hotspot: G Active HydroGym - a floating gym in the middle of Sydney Harbour available only for the 28th – 29th April.



Interview with Luke Hines, My Kitchen Rules contestant, Personal Trainer and Nutritional Therapy Practitioner
Question: What is G Active?

Luke Hines: G Active is water made active. It is a flavoured electrolyte-water, containing no sugar that helps replace what you lose when you sweat, helping address the needs of fitness exercisers.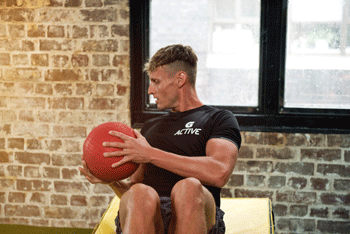 Question: Why did you decide to get involved in the launch of G Active?

Luke Hines: I'm really passionate about helping people live healthier happier lives so becoming a G Active ambassador seemed like a natural fit for me. I also get to work alongside Amanda Bisk and Daniel Conn – two people as equally passionate about helping people live healthy lives.


Question: What do you love about G Active?

Luke Hines: I love G Active as it's sugar free and packed with sodium which is important to replenish what is lost in sweat during a workout. I know that drinking it is going to allow me to hit my goals and feel great.


Question: Why is it important to have water with electrolytes after training?

Luke Hines: When we workout, we lose an important electrolyte called sodium. If we don't replenish sodium we can feel tired, run down and fatigued, which is why hydration post-workout is so important.


Question: What are electrolytes?

Luke Hines: Electrolytes are minerals that support nerve and muscle function as well as regulate body fluids, and sodium is the main electrolyte lost in sweat. Dehydration is associated with a decrement to performance so staying properly hydrated during exercise is important for getting the most out of your workout.
Question: How else can we nourish our body before and after exercise?

Luke Hines: Nourishing our body can be done in many ways. For starters, you always want to warm up safely and effectively to prepare the body for exercise and post-training, cooling down to recover is equally as important as the session itself to reduce soreness and promote flexibility. Food wise, pre-training I always love to celebrate energy rich food that keep me feeling energised enough for a great session. Think foods like nuts, bananas, berries and cacao! After a session I love to replenish my system with something nutrient dense and satiating so it might be scrambled eggs with heaps of vegetables or even a home-made granola packed with lots of good fats.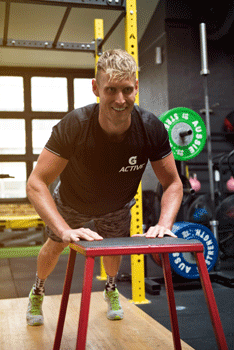 Question: What are your favourite pre and post workout foods?

Luke Hines: I'm all about eating foods that will fuel my body for the session ahead and bananas, berries, coconut oil are just some of my favourites. After exercising, I love to have a smoothie made with my G-Active Water. I use the berry flavour, add half a banana, some chia seeds, some coconut yogurt and ice and blitz it up to help refuel my body with energy to get through my day.


Question: What are your top tips to encourage Aussies to live healthier, more active lives?

Luke Hines: Ensure you switch off the devices and make time for being active outdoors! I absolutely love getting myself down to Sydney Harbour and moving my body outside to feel great. Nourish yourself with good food and remember to have a healthy thought pattern and always back yourself.


Question: Can you tell us about the G Active HydroGym?

Luke Hines: G Active is bringing something Sydney has never seen before – the G Active HydroGym. Imagine a stunning location with access to incredible functional training, yoga and nutrition classes, all in one place.


Question: What's a typical weeks training like, for you?

Luke Hines: A typical weeks training for me is about doing the best I can and making sure that each day I do something, even if it is just a beach jog. Most days I go to the gym and do some compound body movements in a high intensity format like a HIIT session. Cooling down is a nice walk and swim at the beach near home and if I am feeling extra energised I might run some hills at the national park for some extra cardio.


Interview by Brooke Hunter