Lucy Bartholomew Ultra-Trail Australia Interview
Ultra-Trail Australia (UTA), the Southern Hemisphere's biggest trail running event, is gearing up for its 10th Anniversary and its largest participation numbers to date, with over 15,000 athletes and spectators expected to converge in the Blue Mountains.

Taking place in Katoomba, NSW, from 18-21 May 2017, the four-day running festival will push even the most experienced athletes to their absolute limits, with participants travelling from around the globe to tackle the mountains of The Great Dividing Range; Australia's most substantial mountain range and the third longest land-based range in the world.

Participants will scale up stairways and down steep descents ranging from sea level to an elevation of 1,100m, power through dense bushland and creeks, and maneuver through narrow curving paths, all whilst battling the elements of the Blue Mountains, making Ultra-Trail Australia an endurance test of the body and the mind.

There are five different races that cater to varying levels of fitness and skills including; the gruelling long distance trail runs, the 100km UTA100 and 50km UTA50; the 21.6km trail run, Pace Athletic UTA22; the thigh-pumping 1.2km stair climb Scenic World UTA95; and the free, Injinji 1km-4-kids trail run.

'We are looking forward to the level of participation at this year's UTA. Entries to the UTA100 and UTA50 filled up within two days of opening and the Pace Athletic UTA22 has doubled in size since its introduction last year. We anticipate that 2017 will be the biggest and best year yet, putting Australia on the trail running map," said UTA Director Tom Landon-Smith.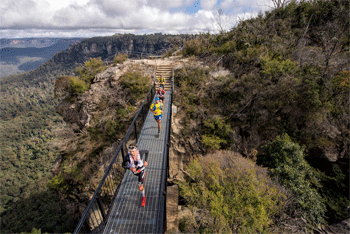 Notable Australians participating this year include Running Mum's editor Nicole Bunyan who will tackle the UTA100 for the first time, and six-time Winter and Summer Paralympic gold medalist Michael Milton. Milton holds the open Australian speed skiing record at over 213km/hr and ran the 43km Gold Coast Marathon on crutches. He will attempt the UTA50, becoming the first person with one leg to do so. The Canberra native is no stranger to treacherous trails, walking the Kokoda Trail twice and scaling Mount Kilimanjaro, all on crutches. While acknowledging that this will be difficult he is looking forward to the challenge.

'I know the UTA50 will be tough; it's an enormous endurance test, physically and mentally. It will be the longest run I have ever done but I am excited to be part of this world-renowned race," commented Milton.

Internationally-acclaimed North American ultra-marathon veterans, Rob Krar and Mike Wardian, will also be competing in the UTA100. Celebrities in the trail running world, Krar holds the fastest time for crossing the Grand canyon and Wardian holds the record for completing the fastest 50km marathon on a treadmill, and the fastest marathon dressed as Elvis.

Registration is still available for the Pace Athletic UTA22 and Scenic World UTA951 online. Participants can register for the Injinji 1km-4-kids on the morning of the race.

For further information or to register, please visit http://www.ultratrailaustralia.com.au
Check out the video for Ultra-Trail Australia 2017 on YouTube



Interview with Lucy Bartholomew
Question: What inspired your passion for running?

Lucy Bartholomew: Running began for me as something I did to keep fit for other team sports, I didn't love it and I wasn't very good at the short, fast races but I realised pretty early I wasn't winning these races but I was finishing feeling like I could do it all again and again. I then saw my Dad taking on some big challenges in running and traveling to amazing places plus getting to eat so much food... I was interested! Now I love it; the places, the people and the opportunity to push my limits and inspire others keeps me going.


Question: How does your Dad inspire you?

Lucy Bartholomew: My Dad is my hero. He has run 20 Melbourne marathons and when he realised that he wasn't getting any faster he signed up for the challenge of Ultra-Trail Australia 100km (Formally the North Face 100 in 2012). I trained with him and loved sharing some time together on the trails and then the time travelling to and from the bush are some of my favourite memories. It was at this race for him that I knew I wanted to be a part of this event, I was inspired the age and shape of everyone, including my Dad getting out into the Blue Mountains willing to push their limits.



Question: What's a typical day's training like?

Lucy Bartholomew: My favourite days are double run days. I will wake up around 6am, put my shoes on and run for 60minute just around my home. I then follow this with a big smoothie and some core and stretching. After lunch has digested I will head out for another 60-90minutes where I try to run the back half faster and finish with tired legs. Then it's time for some more food and using my Compex machine for some recovery!


Question: How important is your diet to your performance?

Lucy Bartholomew: My diet is everything to me. I am a plant based athlete, choosing to fuel on vegan food has made me take the time to prepare meals that give my body everything that I need to recover and build. I love nutrition and it is something that I am continually learning about and a big passion for me. I believe the quality of the fuel we give our engines affects how we perform and how we recover after the hard efforts.




Question: What do you typically eat when preparing for a run?

Lucy Bartholomew: In the lead, up to races I don't believe in the -carb loading' theory. I try to eat clean and fresh produce, eating a wide variety of colours and foods to give my body all the nutrients that it needs. Another big focus for me leading into a race is drinking a lot of water; I normally drink 4-5L a day.


Question: Where do you enjoy running, most?

Lucy Bartholomew: This is so hard! I am not a picky runner, as long as I get to put my shoes on and move freely I enjoy it! I love running by the sea and finishing with a swim in the water, I love running in the mountains with the views and the challenging terrain but sometimes I even just love the road where I can run mindlessly. Running has taken me to some amazing places around the world from the Gobi Desert to Norway and I enjoy so many aspects of every run!


Question: Can you talk us through your training leading up to the Ultra-Trail Australia?

Lucy Bartholomew: Leading in to Ultra-Trail Australia it's been a crazy few months. I returned from a Hong Kong and New Zealand trip and have just finished 3 weekends of racing including the Oxfam 100km team event. Now, the focus is to get more specific and even try to get up to the Blue Mountains and run some of the course! I think that my body is ready for the hours and physical challenge of running 100km but the important thing to prepare now is the mind and feeling fresh after a big start to the year. In 100km it's a mental challenge more than any.


Question: Can you share your instagram name, with us? Why do you like using Instagram to update your followers?

Lucy Bartholomew: My Instagram is @Lucy_Bartholomew. I love Instagram, I get to explore some amazing areas and to be able to share them with people through Instagram gives me so much pleasure. I also want to use the platform to inspire people; especially women to push themselves and get dirty on the trails and become a part of this awesome community.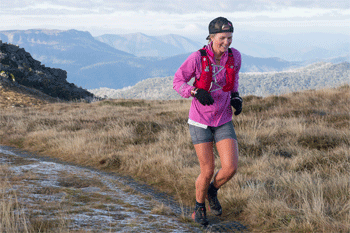 Question: What training tips do you have for someone who is returning or beginning to run?

Lucy Bartholomew: Make it fun. I have been running for 5 years now and I race a lot, many tell me that it is too much but I am very confident in my approach to races. Just because I put a bib on doesn't mean that I am there to win. I began running to complete rather than compete with my Dad and these were my favourite races. Now it's different and I am pushing to win in a lot of races but I still try to include races where I am there to support others and enjoy. This balance has left me uninjured and continuing to enjoy this sport!


Question: What would we find in your gym bag?

Lucy Bartholomew: In my gym bag would be: A total change of clothes; I sweat a lot!
Vital Greens and protein shake
A CLIF bar
And my Birkenstocks (my feet appreciate any time out of the running shoes)


Interview by Brooke Hunter