As Mother's Day fast approaches, the annual dilemma creeps closer to hand– what does one buy her?
Fear not – Two Trees and Waxworks has a wonderful selection of useful and beautiful gift options to ease your worries. From stylish printed citronella candles, to bold, trendy floral hammocks, Mum deserves to put her feet up, kick back and unwind this Mother's Day.
Hang Loose in the Zen Zone
The ultimate relaxation position, give Mum a good book and cuppa as she unwinds in the beautiful floral or tropical Two Trees Double Cotton Hammock (RRP $49.95). Able to be hung independently, or with the Two Trees Universal Hammock Frame (RRP $129), this little bit of heaven is ideal for a few minutes of me-time.
Holiday Vibes at Home
When you can't take Mum away on a much-needed break, bring the holiday vibes to her!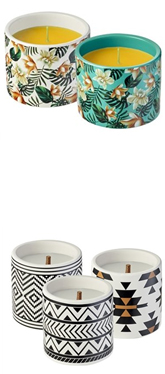 Waxworks Funky Florals Citronella Tropical Strength Candle (RRP $9.95) celebrates the tropics with its unique designer glossy print. Boasting a burn time of 16 hours and wind resistant wick, feel protected from the little buzzers, leaving no reason to cut a balmy evening short. The candles are available in two assorted gloss patterns: Blue Hawaii, Aloha white, and are certain to add holiday vibes and functionality to an outdoor setting.
A Stylish Secret Weapon
Bring a home to life with statement tribal piece, the Waxworks Tribal Pot ($ 13.98) comes in 3 trendy prints and will bring a sense of adventure and strength to any home, doubling as a stylish secret weapon against mosquitos with natural citronella essential oils.
All products are available at Bunnings stores nationally, and can delivered direct to your door.