Blistex to be Official Lip Balm Supplier of the Gold Coast 2018 Commonwealth Games
Blistex will be the Official Lip Balm Supplier of the Gold Coast 2018 Commonwealth Games (GC2018) and introduces famed sprint hurdler, Michelle Jenneke as the Blistex brand ambassador.

Australia's trusted brand for lip protection will supply lip balm to athletes, volunteers and staff in the lead up to and during the Games.

Clive Addison, CEO of Key Pharmaceuticals, the Australian distributor of Blistex comments "This is an exciting opportunity for Australia's favourite lip care brand to support the largest sporting event Australia will see this decade."

"We're looking forward to protecting and caring for the lips of athletes like Michelle Jenneke, as well as volunteers and visitors from around the world."

Michelle Jenneke is ranked as the second fastest Australian women's 100m Hurdler of all time and is well known for her pre-race warm-up 'dance' which she became the world's most watched hurdler with YouTube views of her warm-up currently sitting at more than 27 million.

Many athletes like Michelle, are constantly subjected to harsh weather during outside training, especially on the much-exposed lips. Blistex has quality lip products that will protect athletes and volunteers against the elements, especially the sun, at the 2018 Commonwealth Games.

"A large part of my working day is spent training outside and my lips need constant protection. I'm a huge fan of Blistex and I never go without a Blistex lip balm or two in my bag."

"You always remember to use sunscreen on your skin, but if you don't have reliable, high level SPF protection for your lips, the sun can do so much damage. I love that Blistex now contains SPF50+ - you won't see me racing without it at the Commonwealth Games!' comments Michelle.

Blistex will be one of the proud family of sponsors supporting the 2018 Commonwealth Games, which will feature 18 sports and seven para-sports, all being contested and broadcast to a cumulative global audience of 1.5 billion. Over 6,600 athletes and team officials from 70 nations and territories will converge on the Gold Coast from 4 – 15 April 2018.

Gold Coast 2018 Commonwealth Games Corporation (GOLDOC) CEO, Mark Peters said sun safety is a key priority of Games organisers.

"The Gold Coast has a great outdoor lifestyle and some of the best beaches in the country but we all need to be sun smart year round," Mr Peters said.

"GOLDOC have a number of measures in place to protect our Games Shapers from the sun.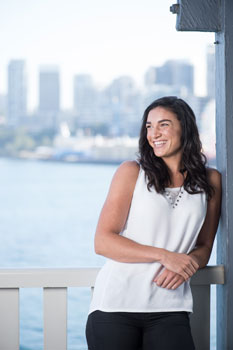 "We've developed UPF50+ uniforms for staff and volunteers with a wide brim panama style hats and have worked closely with Blistex and Hamilton sunscreen to make these leading products available to GC2018 athletes, officials and our workforce who will help to deliver the Games."

Blistex offers a full range of twelve innovative and differentiated products with highly effective formulas, including the new Ultra Lip Balm SPF 50+, a cutting-edge sunscreen blend to provide the ultimate broad spectrum sun protection against both UVA and UVB rays. Blistex Ultra lip balm is also infused with hydrating conditioners and antioxidants. Perfect for the Australian sun!

Blistex Ultra SPF 50+ Lip Balm RRP: $3.95
Stockists: Blistex Ultra SPF 50+ is available at Woolworths, Priceline, Chemist Warehouse and other leading pharmacies nationally.
For your nearest stockist please call 1800 653 373
Always read the label. Use only as directed.



Interview with Michelle Jenneke
Question: Why did you decide to become a brand ambassador for Blistex?

Michelle Jenneke: I've always been a fan of the Blistex products, I've always used and loved them – especially the Intensive Repair. It was a really natural fit for my lifestyle to align with the brand.


Question: How long have you been using Blistex?

Michelle Jenneke: have been using Blistex for as long as I can remember.


Question: How does your Blistex aid in protection when training and competing?

Michelle Jenneke: find my Blistex really important to have when I am out training and competing because I am in the sun a lot, my sport being a summer sport. I use sunscreen to protect my face and body but what some people often forget is the lips, which are just as important to protect from the sun. That's where my Blistex Ultra SPF50+ lip balm comes into play, it is my absolute favourite product to protect my lips from getting sunburnt and damaged.


Question: What other products do you use to protect your skin when training and competing?

Michelle Jenneke: like to keep my routine basic when I'm training and competing, there's no need to use to much because I will just sweat it off. I just use sunscreen as well as my lip balm.


Question: Can you talk us through your training and preparations leading up to the Gold Coast 2018 Commonwealth Games?

Michelle Jenneke: My training involves 3 track sessions a week and 2 gym sessions. I have a few competitions the week before the Commonwealth Games in Brisbane and I'll be in the village for about 10 days before I compete to settle in.


Question: How important is your diet to your training schedule?

Michelle Jenneke: My diet is very important to my training schedule, a lot of it is about timing food, making sure that I am eating at the right times so I have enough fuel for my sessions and obviously trying not to eat too much that I put on weight.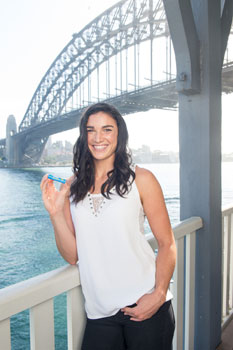 Question: How do you ensure you find time to study around training?

Michelle Jenneke: I'm only part time at Uni so that definitely helps a fair but. You just have to prioritise things at different times. I set aside time where I know I need to be training and times I need to be studying.


Question: Can you tell us what we would find in your training/gym bag?

Michelle Jenneke: In my training bag I always have lots of water, a towel, whatever training shoes I need for that day, I generally have a speaker with me so I can listen to music while I'm practising and I always carry sunscreen including my Blistex Ultra SPF50+ lip balm.


Question: What are your personal goals for the Gold Coast 2018 Commonwealth Games?

Michelle Jenneke: My goal is really just to get out there and run as fast as I can and put on a good performance for the Aussie crowd. I've never run an international competition on home soil so it will be so great to wear the green and gold in front of a home crowd.


Question: What advice do you have for young Australians hoping to represent Australian in their chosen sport?

Michelle Jenneke: My best advice would be to just have fun and enjoy yourself. If you love what you do it doesn't seem like hard work, just passion. Yeah you have to train hard but you're always going to have fun along the way.


Interview by Brooke Hunter