Transplant Australia partners with TECMASK in the lead up to the World Transplant Games in a dual commitment to the health of our nation
$1 from every TECMASK 5-pack sold will be donated to the new 'living with a transplant' program designed to help recipients adapt to their new life

This year, Transplant Australia will once again be putting together a team to join athletes from 55 countries to compete at the largest sporting event for transplant recipients in the world, taking place in Newcastle-Gateshead. Held every 2 years, Australia placed 6th in the medal tally in the 2017 World Transplant Games Federation.

For the first time, Transplant Australia has partnered with Australian company TECMASK, the leading producer of personal protective disposable stylish flu and travel masks as part of their commitment to the health of our nation.

Chris Thomas, CEO Transplant Australia commented on the partnership, "We are thrilled to be partnering with TECMASK in the lead up to the Transplant Games. It has concerned Transplant Australia for many years that our transplant athletes spend many months travelling, only to have their participation, and that of others compromised because they pick up a cold or flu while travelling. It is vital that we have an illness-free village and so we need to do everything to reduce the incidence of infectious disease."

TECMASK will provide athletes travelling to the games with protective disposable flu and travel masks to avoid catching a cold or spreading germs or viruses. "If wearing a TECMASK helps one person to avoid a cold when travelling to the Games, and stops the spread of infectious disease, it will be worth it," said Thomas.

Transplant Australia will be advising athletes to wear the masks while travelling abroad and through congested and public areas such as airports and on the airplane.

"Transplant recipients are immune-supressed so taking that extra precaution to ensure you don't catch or pass on germs if really beneficial", said Thomas.

Maddy Scarf, General Manager of TECMASK added, "Research studies support the wearing of face masks when travelling and if worn correctly, the wearer is 80 per cent less likely to come down with an illness or prevent the spread of infectious diseases. TECMASK face masks incorporate a high-quality PM2.5 filter which has been tested and certified by the Nelsons Laboratory in Salt Lake City, USA to be effective in warding off 99 per cent of BFE and PFE particles."

Sam Ira underwent a double transplant due to his Cystic Fibrosis in 2009 and again in 2013 which enabled him to feel fit and travel. He then competed in the 2018 Australian Transplant Games and took out two medals." It took me more than five years to accept my condition and sign up for my first transplant. I had to undergo a second transplant four years later, when my lung function levels dropped dangerously low, and I was experiencing other health complications. 2018 was the first time I have been fit and healthy enough to be involved in the games and to travel and I have been planning for the International Transplant Games. It was an amazing feeling to be able to travel again and meet other Transplant Recipients," said Sam Ira.

Sam firmly believes that wearing a mask while travelling is imperative. "The benefit to wearing a mask on a plane is to prevent catching any bugs, especially after having a transplant, we don't have an immune system so it is important to reduce the risk of catching serious infectious diseases", said Ira.

The partnership will also see TECMASK donating $1 from every 5-pack sold to the new 'Living with a transplant" program designed to help recipients deal with their new life. It is an important education program and these funds will help Transplant Australia produce educational tools including videos to show recipients how to make the most of their lives.

At any one time there are 1,500 people on the transplant waiting list. But this is only the tip of the iceberg – there are hundreds of people on dialysis who could benefit from a transplant. Transplant Australia is a charity which supports transplant recipients and their families and all people touched by organ and tissue donation. The goal is to make sure every Australian who needs a transplant one day has access to one.

Transplant Australia's goal is to make sure that every Australian who needs a transplant one day has access to one.

Transplant statistics:
• One organ and tissue donor can transform the lives of 10 or more people
• Australia is a world leader for successful transplant outcomes, but we still have a long way to go
• Around 1,400 people are on the transplant waiting list at any one time
• In 2018, 554 deceased organ donors and 237 living donors gave 1,782 Australians a new chance in life.

For more information or to purchase a TECMASK visit www.tecmask.com


Interview with Sam Ira, Double Lung Transplant Recipient 2009 and 2013
Question: Can you tell us about your experience as a double transplant recipient?

Sam Ira: It's been an incredible journey of life.
I was born with Cystic Fibrosis and required daily medication and physio therapy. After the years went by my lung function kept dropping. I pretty much got to the point where I did have to seriously convince myself that I had CF and I did need to think about signing up on the waiting list for a Double Lung Transplant as my lung function was no higher than 21%

7 weeks after I signed up on the waiting list I did receive a call which I will never forget. I was in complete shock to receive a set of Lungs…

It was an amazing feeling after the Transplant. I could actually breath as a normal human breath which I never knew how it felt until after that very special day of my "Gift of Life". I then recovered and got to about 96% Lung Function and also went back to work as a video producer at the RCH and I also decided to finally achieve my next goal to build x2 townhouses with my brother who also has CF.

It was an amazing feeling until I started to drop lung function a little bit at a time. I still couldn't believe what was happing as I dropped to about 18% and still trying to go to work!...

I didn't have a choice. I did sign up once again for another set of lungs.

10 months later I was admitted to hospital due to my health and lung function results. Basically I was hoping that I would receive a Transplant ASAP.

That same week as I was admitted to Hospital (Alfred) the doctor and Nurse had given me great news and prepared me for my Second Double Lung Transplant.

Unfortunately, just as I was about to have anesthetic for the Transplant. It was cancelled, which I was in Shock and still never forget that particular day.

That same week I was in shock once again I finally did go through the my 2nd Double Lung Transplant 23rd April 2013 which I still have today! I'm currently back at work and even traveling. I'm also working on fundraising and a documentary of my journey of life and also interview other Transplant recipients.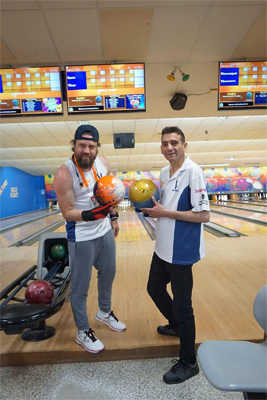 Question: Did your passion for sport come after this transplant?

Sam Ira: I had a passion for Sport Ten Pin Bowling before the Transplant but unfortunately I wasn't well enough to even play I didn't have the energy or health.

But now I've joined a team at Wyncity Bowling to basically practice for the games.

Yeah my passion for Sport is even better after the Transplants.


Question: What sports are you competing in at the World Transplant Games?

Sam Ira: Ten Pin Bowling (Singles and Doubles), Darts, Table Tennis (Singles and Doubles) and 5k Walk.


Question: Can you tell us about your training ahead of the World Transplant Games?

Sam Ira: I've Joined a AFL Ten Pin Bowling League at Wyncity Point Cook so I'm now playing once a week in the league and it's great for training and practice.

I've also purchased a Table Tennis Table and a Professional Dart Board. So pretty much everything! I was even thinking to add a Ten Pin Bowling lane at my house… so I'm definitely training for the World Transplant Games 2019.


Question: What are your hopes for the World Transplant Games?

Sam Ira: I really hope that I win Gold medals, but I'm sure it will be a great experience to talk to other Transplant recipients and families and achieve another goal in my life.


Question: What is a TECMASK?

Sam Ira: A TECMASK is a great product to protect you from catching and spreading germs in any situation especially if you're travelling on a plane.


Question: Why have you chosen to travel with a TECMASK?

Sam Ira: Transplant Australia has partnered with TECMASK in the lead up to the World Transplant games and will be donating $1 from every pack sold and this will go towards the 'living with a transplant' program, which is a very important part of a transplant recipient's life. I have been trying out TECMASK's product and I highly recommend wearing the masks as they even look pretty good.

TECMASK face masks are the most comfortable mask I've worn and it's so important to add a layer of protection when travelling as my immune system is very low.

I will definably recommend everyone to purchase the masks and wear on the plane.


Question: Why is keeping healthy paramount for transplant recipients when travelling?

Sam Ira: I'm sure everyone is aware of the risks especially after a Transplant that it's very important to prevent catching infections and to be safe while your overseas as your Doctors won't be nearby overseas.


Question: How does the TECMASK support your immune system, whilst travelling?

Sam Ira: By wearing a mask it definitely protects you from catching bugs and Infections. Whether its in the air or near someone that already has an infection or even a cold/Flu. It's very important especially for Transplant recipients as we are on immunosuppressant's to reduce the risk of rejections and I'm sure most people won't also be covered by health Insurance as part of their travel Insurance.


Question: What else do you do, to ensure you stay healthy, especially whilst travelling?

Sam Ira: To stay healthy, I make sure I take double the medication, especially in my hand bag and also in the Luggage + even a medical script and also medication list and doctors contact details. I've travelled last year and I did also have full Travel Insurance which also included my health including the Transplants.

Look after yourself overseas, especially as the weather changes and especially of what food do you eat. Be a lot more concerned on your health in general to make sure you arrive back in your home town as healthy as you can be.


Interview by Brooke Hunter