With the silly season fast approaching, it will soon be time to get your butt into gear for 2019, and there is nothing like new stationery and desk accessories to drive some excitement around being organised for the year ahead!

Whether it's jotting down important dates in a new diary or writing to-do lists on notepads more exciting than the tasks themselves, here is our round-up of all the must-have desk essentials that are sure to make you feel like you totally have your life together.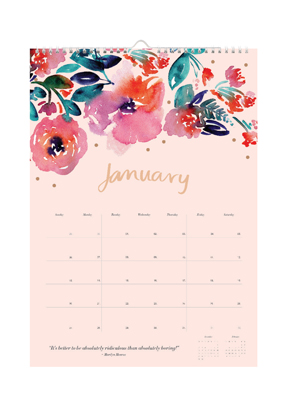 Pink Floral Hard Cover Agenda 2019
Blushing Confetti: $35
Pretty in pink floral illustrations and rose gold foil detailing will have you ready to tackle the year in style. The perfect combination of style and practicality, Blushing Confetti's hardcover agenda is sophisticatedly feminine and will guarantee every week and month will be planned to precision. Not to mention, it is bound to be the envy of all co-workers!

Delfonics Medium Cotton Pouch
Milligram: $29.95
Store your writing tools in one place with this gorgeous denim chambray and apricot dotted pencil case. From scribbling down grocery lists to drafting love notes for lunch boxes, this is the cutest case to store your pens, pencils, highlighters and more!

Next Generation Frank Green Reusable Coffee Cup
Frank Green: $32.95
It's inevitable you'll be reaching for a coffee more often than usual as you ease back into work life after the holiday break. Stay caffeinated while environmentally friendly with a reusable Frank Green Reusable Coffee Cup this year. Being conscious of our environmental footprint is both super important and totally on trend for 2019! Customisable with a variety of colours and an option to make-your-own, your barista-made morning coffee has never been so personalised or delicious. There is also a range where you can pay with your cup – yes, you heard right! You never have to worry about leaving your card at home again.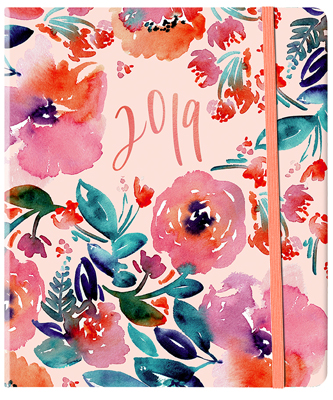 Floral Wall Calendar 2019
Blushing Confetti: $39.99
It's almost impossible to forget important dates when they're staring you right in the face from the stunning pages of Blushing Confetti's 2019 wall calendar. The colourful design of hand painted florals with rose gold details can also double as desk-art, meaning it is not only a great way to keep track of any important dates, but it also adds a pop of colour to your workspace.

Faux Succulent Stem
West Elm: $19
Spice up your desk space with a touch of greenery to bring a fresh, calming vibe to your daily work tasks. This vibrant faux Echeveria stem will add a pop of greenery to your office space, and issue to stay looking lush year-round without the maintenance. There's no danger of killing this desktop plant with neglect either when you're too busy on a work deadline, #win!