Actor Nolan River has grown up watching his father behind the scenes and is finally ready to step into the spotlight. The 9-year old newcomer has been on-set his entire life, observing and learning from his dad Thomas Nicholas – whose infamous roles include the American Pie franchise, Rookie Of The Year, Red Band Society, and more. Taking after his dad, Nolan is starting his career young and strong. He will soon be seen in M. Night Shyamalan's upcoming Universal thriller, "Old", set for wide release in July 2021. The film, which was shot in the Dominican Republic, also includes cast members Gael Garcia Bernal, Rufus Sewell, Embeth Davidtz, Emun Elliott, Eliza Scanlen, Thomasin McKenzie, Aaron Pierre, Alex Wolff, Vicky Krieps, Abbey Lee, Nikki Amuka-Bird and Ken Leung.

Early this year, Nolan will also play a smaller role alongside his dad in Lionsgate's "Adverse" which just hit select theaters nationwide and will be available on-demand beginning March 9th. Nolan's first acting experience was on the set of the widely popular FOX comedy series "New Girl," in which he nailed the role of Jess (Zoey Deschanel) and Nick's (Jake Johnson) future son 'Reginald Veljohnson' (named per a bet Nick had lost to Schmidt). While short and sweet, the role ignited Nolan's passion for acting and his true love of the craft.

Outside of acting, Nolan enjoys spending time playing soccer, baseball, Nintendo and Wii videogames (everything from Super Mario to Zelda), building Legos, reading all the Harry Potter books, taking piano lessons (which he began at age 3), and just being a kid!


Interview with Nolan River
Question: Tell us about your role in the upcoming thriller "Old"?

Nolan River: I play Trent Capa, a smart inquisitive 6 year old boy.


Question: Without giving too much away, what's your favourite part of "Old"?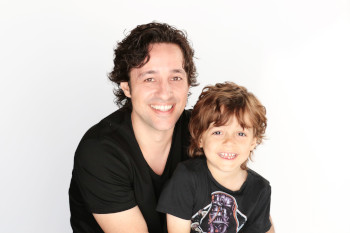 Nolan River: I liked filming in the Dominican Republic. It was my first time being out of the country and I got to go to a tropical place.


Question: What was your first performance?

Nolan River: I was in the TV show "New Girl". I got to be in the last episode of the last season. I played Reginald Veljohnson, the flash forward son of Zooey Deschanel and Jake Johnson's son.


Question: How does it feel to be following your dad's footsteps?

Nolan River: It's nice because I can ask my dad for advice.


Question: Who's a better actor, you or your dad? 😉

Nolan River: Let's be honest here. I've only done one TV show and two movies. Clearly, it's me.


Question: If you could work with any other actor, who would it be?

Nolan River: Daniel Radcliff.


Question: Do you want to be a full-time actor when you grow up or what is your dream?

Nolan River: My dream is to be a video game designer for Nintendo.


Question: What's next for you?

Nolan River: I'm working on a children's music project with my dad and my sister called "The Robot Kid".


Interview by Gwen van Montfort