Juice Your Way to a New You This New Year
Fuel your body with nutritious and fresh juice every day
At the beginning of each year, hope shines again as people commit to their new year resolutions, with many looking to improve their diet. Instead of taking up the latest weight loss fad, it's important to focus on achievable milestones and find easy ways to integrate better habits into your lifestyle.
Recent research[1] has shown that only 7 per cent of adults eat sufficient serves of vegetables, while half of adults eat enough fruit. To tackle these deficiencies, NutriBullet has a solution for anyone looking for simple ways to make healthier choices this new year.
Incorporating juicing into everyday life can help make sure you are getting your daily intake of fruit and veg energy. These palatable plants are rich in nutrients and are great sources of minerals, vitamins and antioxidants that the body needs to function properly. By juicing, this nutrient rich liquid is separated from the fibrous parts of fruit and veg, allowing for immediate absorption to the body.
NutriBullet has introduced two new juicers into its innovative portfolio, perfect in time for the summer weather, the health veterans, or those who are embarking on a new healthy living journey.
The NutriBullet Juicer Pro (RRP $249) delivers smooth, delicious juice from your favourite fruits and vegetables, with three precision speeds, an adjustable chute, and a powerful 1000-Watt motor.
It's both easy to assemble and easy to clean, with a self-contained pulp basin, a no-drip spout, and dishwasher safe components. It also comes with a storage pitcher, 60mL and 120mL sectioned freezer trays, and two to-go glass bottles to make your juice routine part of your daily life.
Enjoy the taste of the tropics this summer with a sweet and spicy Tropic Wonder Juice: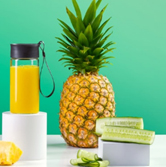 Tropic Wonder Juice
Ingredients (serves 3):
- 4 spears fresh Pineapple
- 2 Cucumber
- 3 2-inch pieces of Turmeric
- ½ lime
Directions:
1) Start on HIGH and juice the pineapple, lime and cucumber.
2) Switch to TURBO and juice the turmeric.
3) Enjoy!
A compact juicer designed for easy, everyday use, the NutriBullet Juicer (RRP $179) features a wide 3-inch feed chute to cut down on prep time, with easy-to-clean, dishwasher-safe parts, so you can juice and go in minutes. With its 800-Watt motor and 3-speed turn dial, you can now get the most out of every ingredient.
To give you a bright start to the day, enjoy this balanced blend of fruit and veggie goodness.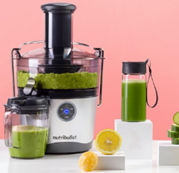 A Bright Start
Ingredients (serves 1):
- 1 cup of Kale
- 1 Cucumber
- 1 Lemon – peeled
- 1 Green Apple
Directions:
1) Juice all ingredients on HIGH speed
2) Enjoy!
Both devices separate the juice from the skin and pulp, which can be emptied into an airtight container and refrigerated or frozen for future use, instead of being wasted and thrown in the bin. Pulp, the 'by-product' of the juicing process, is a fibre gold mine, and can be used in a variety of tasty recipes from muffins, to veggie patties, dips and Bolognese sauce. You can find creative and delicious recipe suggestions in the unit's user guide, and on the NutriBullet website.
Whether you're looking to increase your intake of plant-based vitamins and minerals, enjoy real juice without the sugar and additives or simply sip on something tasty, the NutriBullet Juicer and Juicer Pro lets you make it exactly how you want it, right at home.
To find the perfect Nutribullet for you, a friend or a family member, visit The Good Guys, JB Hi-Fi, Harvey Norman, Target, Myer, Big W, Bing Lee and other select retailers. For further information, visit www.bulletbrands.com.au.
Review:
I never knew how much I needed a juicer till I tried this beauty. Smoothie bowls, quick wake me up breakfasts drinks and a great way to include those nutrient boosts. This NutriBullet Juicer is so easy to incorporate into your daily routine and start fresh everyday. Get your health on track in 2021 with juicing.