The Wellness Walk
Olivia Newton-John lead The Wellness Walk on Sunday 11th September with Bindi Irwin, at La Trobe University – Bundoora Campus, as well as launching the first Research Run, which was led by former Olympian, Steve Moneghetti.
Olivia Newton-John announced the total, on the day; "It's the best we've ever done; $218,000" was raised. 'I feel so proud; it's been a fantastic day. Thank you one and all to everyone who contributed their time and effort, thank you," enlightened Olivia Newton-John.
"The highlight for me was sharing stories with people, when we were walking; I met so many wonderful people and I asked them who they were walking for and I heard stories about Aunties, Grandpas, Mums and it was very heart-warming and heartbreaking, as well. It really reinforced why I'm here and reinforced why everybody is walking: so we can see an end to cancer and I know we will. I'm very proud of my Centre and everyone working for it," Olivia Newton-John shared.
The walk took place at La Trobe University – Bundoora Campus. 'What a beautiful place to walk, the trees, the birds, I love Australian birds. The nature here, it has been wonderful and to everyone who works at La Trobe who donated their time, I'm very appreciative," explained Olivia Newton-John.
Walkers and runners raised money for the Olivia Newton-John Cancer Wellness & Research Centre. The 5km walk, 5km run and 10km run were open to all-ages to participate and united all to walk or run for a very worthy cause.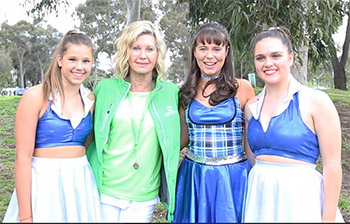 Olivia Newton-John explained 'The funds (raised) today, for the first year, will be split between the Wellness Centre Program which is located on the side of the hospital, a beautiful place, within the hospital grounds where patients and their families can go for treatment and receive wonderful care and nurturing including therapy of art, music, acupuncture, yoga, massage and the list goes on. We have a huge list of therapies and because of you we will be able to add more therapies. The other half of the money is going to the research at the hospital and help to improve and increase research facilities. It's all great, so thank you."
Lastly, Olivia Newton-John thanked all those who contributed; 'I'd like to say thank you, one and all to my family, Fiona, my husband who bought the sun; to all of you who walked and to all of you who raised money thank you and to everybody here and particularly the volunteer's thank you, you did a wonderful job."
Entrants and onlookers enjoyed a variety of performances including Bethany Fisher.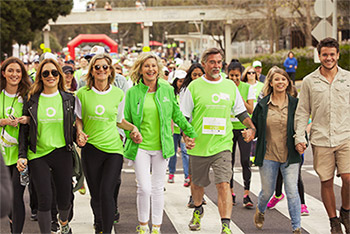 The Olivia Newton-John Cancer Wellness & Research Centre (the ONJ Centre) is located at the Austin Hospital in Heidelberg, Melbourne. Their vision is for a world-class Cancer Wellness & Research Centre dedicated to providing the very best in medical care and treatment; combined with research programs for new treatments to help stop cancer from destroying the lives of so many people.

The Olivia Newton-John Cancer Wellness & Research Centre stands amongst the best in the world. Putting the needs of patients first, delivering the most thorough and individualised cancer treatments and care available. The Centre builds on the years of cancer care at the Austin Hospital that has been provided since 1882.

It brings together the hospital's extensive, existing, cancer services, and the research facilities, adding the wellness and supportive care programs, all under the one roof in a purpose-built facility.
A succesful day raising $218,000
Watch Olivia Newton-John for the Wellness Centre Program