Jess Sepel Cotton On Foundation's Nutrition Mission Interview
In September, Cotton On Body will again join forces with the Cotton On Foundation to expand its life-changing project - Nutrition Mission – an initiative empowering women and families in Southern Uganda to create healthy and sustainable futures.

In order to combat malnutrition, which is particularly dangerous for women and is all too common in developing countries, the eight-week course focuses on education. Targeting women in remote communities, the Nutrition Mission program highlights the importance of nutrition and provides tools and knowledge to prevent undernourishment.

In addition, women are empowered to generate their own income streams by creating vegetable gardens and growing fresh produce, not only for their families, but for sale within the communities they live.

For the month of September, proceeds from Cotton On Foundation products including; totes, bracelets, mints and water sold in Cotton On Body stores, will help fund the program with the aim of raising $100,000.

Since launching the program last year, there have been incredible results in the communities targeted:
$200,000 has been raised to fund the program
460 participants have graduated
Over 2000 family and community members have benefitted from the health lessons learnt, practiced and shared
40 graduates are now teachers within their own community, passing on the skills and knowledge to other women in the village

This year, supported by Jess Sepel, Cotton On Body is expanding Nutrition Mission by ordering the program across more communities within Southern Uganda.

'My greatest passion is to support everyone to lead a healthy life and I believe this can be achieved through empowering people with knowledge around nutrition. The Nutrition Mission helps women in Uganda understand how food directly impacts the way you feel and your quality of life. I wholeheartedly encourage everyone to support this cause and help these women create healthy, sustainable futures," Sepel said on her involvement.

Sepel will create a series of nutritious recipes, based on the available produce and cooking equipment in the average Uganda home. These recipes will be given to women in the course, as part of their take home toolkit.

'The program educates women, through practical classes, on how to cook more nutritious and nourishing foods for themselves and their families - it's everything JSHealth is about and I'm proud to support the initiative," said Sepel.

The aim is to see women graduate and become teachers, sharing the skills and lessons with family and community members, which will help to see evolution of the -student to teacher' model, ensuring a lasting impact of Nutrition Mission programs within Ugandan communities. Customers can take part and support the powerful initiative by purchasing Cotton On Foundation product in store throughout September, with proceeds helping to support the Nutrition Mission. Cotton On Body is also raising funds year-round to build a school in the community of Nambaale, Southern Uganda, through Cotton On Foundation product proceeds.

The Cotton On Foundation is the Cotton On Group's philanthropic arm, focused on developing and supporting projects that eliminate poverty. Since 2007 the Foundation has supported projects through the sale of products in Cotton On Group stores globally. In partnership with the Group's retail teams and the generosity of customers, the Cotton On Foundation is working with Ugandan communities and others globally, to break the cycle of poverty.


Interview with Jess Sepel
Question: What is Cotton On Foundation's Nutrition Mission project?

Jess Sepel: Targeting women in remote communities, the Nutrition Mission program highlights the importance of nutrition in every home. The eight-week, practical program educates women on how to prepare and cook nourishing foods for themselves and their families. It was designed to empower women to create healthy, sustainable futures.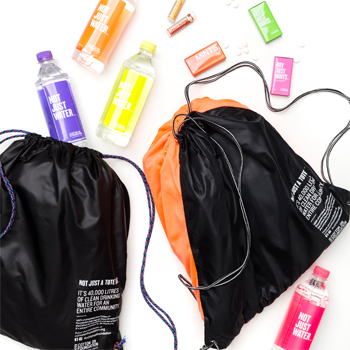 Question: Why did you decide to support the Nutrition Mission project?

Jess Sepel: Nutrition is close to my heart and I enjoy creating healthy recipes, but what I love most is being able to use my knowledge to create positive change. For us here in Australia, it's great there are now so many fun and interesting superfoods or health initiatives, but I think it's important that we balance by remembering that health is simple – the recipes I create take no longer than 20-25 minutes, but they are still healthy and delicious. That's really just the key: keeping things simple and using the fresh, seasonal produce around us.

Since the first Nutrition Mission class in January 2015, 460 participants have graduated from the program in Busibo, Southern Uganda. And the results have been incredible. When I was given the opportunity to be involved in the expansion of the program and reach even more women, families and communities – I jumped at the chance.


Question: What's your goal for Cotton On Foundation's collaboration with the Nutrition Mission project?

Jess Sepel: The program creates sustainable futures and we want women to walk away empowered to make positive change in their lives.

The aim is to ensure all women participating leave with the skills and resources to teach fellow community members the skills they've learnt, including how to grow and maintain their own vegetable gardens and start up their own income streams through growing and selling produce.

My greatest passion is to support everyone to lead a healthy life, and this program helps me achieve that.


Question: How does Nutrition Mission allow women and families in Southern Uganda to create healthy and sustainable futures?

Jess Sepel: The eight-week, practical program educates women on how to prepare and cook nourishing foods for themselves and their families. It's all about hands on cooking and learning.

The idea is that the women who graduate will become teachers, sharing the skills and lessons with family and community members, ensuring a lasting impact.


Question: How can Australians support the Nutrition Mission?

Jess Sepel: Customers can take part and support the powerful initiative by purchasing Cotton On Foundation product in store throughout September, with proceeds helping to support the Nutrition Mission. Look out for Cotton On Foundation products such as totes, bracelets, mints and water sold in Cotton On Body stores.


Question: What choices do you make daily to ensure you live a healthy life?

Jess Sepel: I prioritise rest and my health – it's all about balance and giving myself permission to enjoy the foods I love in moderation. Balance is everything and maintaining a healthy relationship with ourselves is so important and often a piece that's missed in the health puzzle.


Question: Can you talk us through a day on your plate?

Jess Sepel: I start my day with a warm lemon water and some gluten-free toast with almond butter and a little cinnamon. For lunch I usually have a big chopped salad with a protein – either salmon from the night before or a few pieces of grilled chicken breast. For dinner I'll have some sautéed greens and another protein (usually fish, as it's lighter at night time). At the moment I'm really loving red apple with cinnamon as a quick snack on the go, or a handful of almonds to keep me satiated and my blood sugar balanced between meals.


Question: What's next, for you?

Jess Sepel: I'm currently in the process of finalising my second book, which will be published and released in February 2017. I'm also writing an online program to complement the second book, which is really going to be a practical tool for people to use to implement my health and nutritional philosophy into their lives. We're also working on a few exciting projects internally at JSHealth… but more on that soon.


Interview by Brooke Hunter